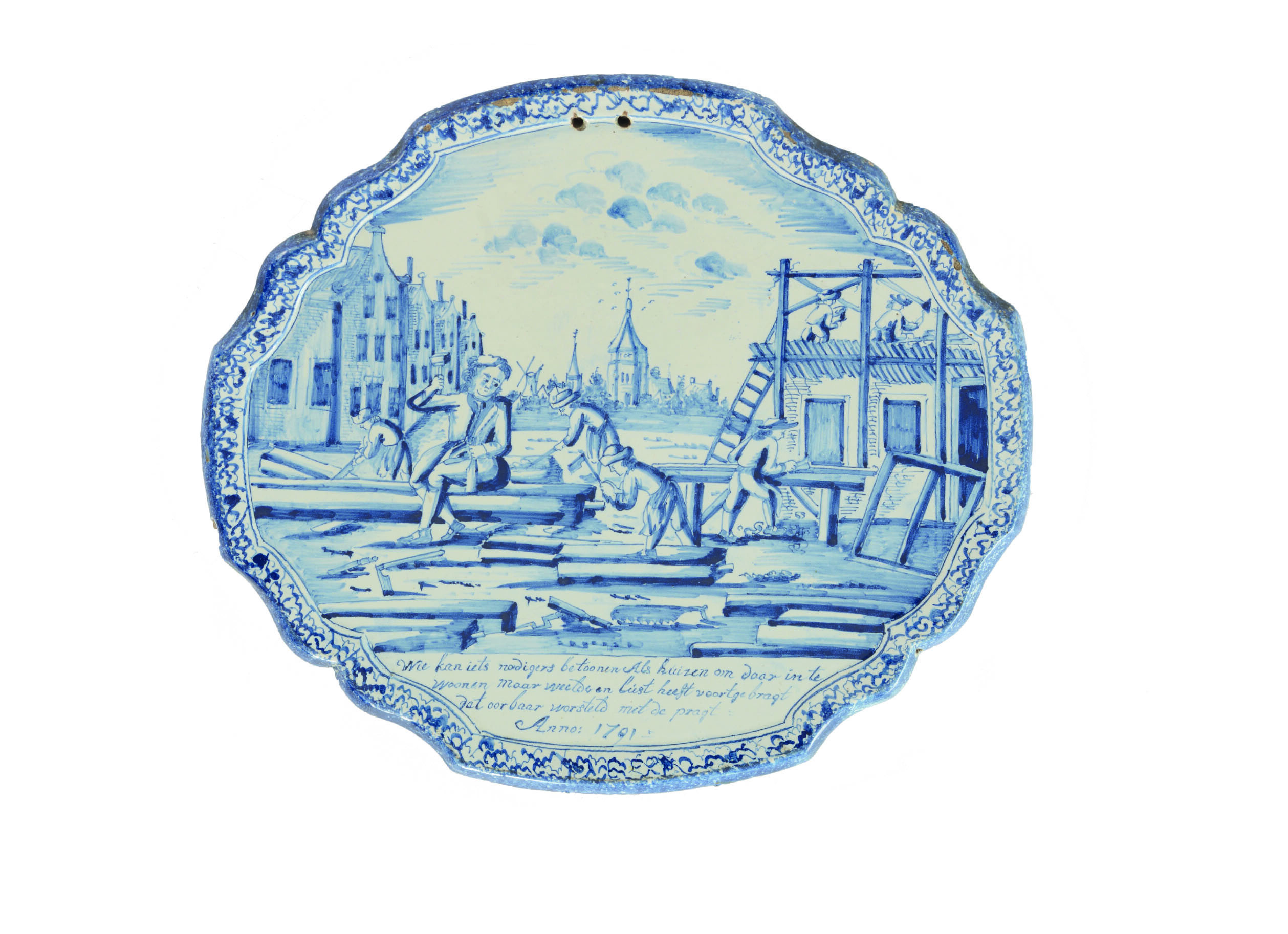 [popup_trigger id="13756″ tag="span"]

[/popup_trigger]
OBJECT
D2142. Blue and White Oval-Shaped Plaque
Makkum, circa 1791
Attributed to Gatse Sytses (circa 1724-1798), painter at Tichelaar Factory, Makkum, Friesland
Painted in the center with five carpenters sawing, chopping and sanding wooden beams, on the right two carpenters working on a house to be built and on the left a row of houses, in the background a city view with houses, churches and a windmill, all above the following moral: "Wie kan iets nodigers betoonen, Als huizen om daar in te woonen. Maar weelde en lúst heeft voortgebragt dat oorbaar worsteld met de pragt: Anno: 1791."
DIMENSIONS
Width: 34.5 cm. (13.6 in.)
PROVENANCE
Aronson Antiquairs, Amsterdam;
The Van der Vorm Collection, The Netherlands
LITERATURE
Described and illustrated in Aronson, Dutch Delftware, 2000, ill. 50.
NOTE
The fall of Antwerp occurred in 1585, when the Netherlands revolted against Spain and caused a major migration northward. With this, a generation of potters settled in Middelburg, Rotterdam, Haarlem, Gouda, Utrecht, Amsterdam and Delft. Shortly after 1600, some potters continued north to Friesland, establishing their businesses with workers recruited from the potteries in the western regions of Holland where the techniques of the earthenware industry were best known.
Founded in 1699, the Tichelaar tile factory was located in the town of Makkum in Friesland. However, as early as 1572, two brick or tile factories appear on a map of Makkum, one exactly on the spot where the later Tichelaar company operated, suggesting an even earlier history for this factory, perhaps under a different name. Eventually named Royal Tichelaar Makkum, the factory continued to create many objects in the traditional Frisian way, but it is also famous for its constant renewal and its inspiring projects with contemporary artists and designers. Recently, the factory returned to its roots, specializing in tiles and other ceramics for architecture. The Kingma factory, also in Makkum, was not as successful and long-lived. Founded in 1784, after less than fifty years in business, it closed, and part of the inventory was sold to Jelmer Tichelaar in 1824.
Genre painting enjoyed enormous popularity in Northern Europe, particularly in the seventeenth century, and especially in the Netherlands. Many of the Dutch practitioners elevated what was once considered a humble art form into a desirable subject, which even rivaled classical subjects such as history paintings. Genre painting depicts aspects of everyday life. Although subjects widely range, there are several reoccurring themes. One of the more common themes found in genre paintings and prints was the depiction of craftsmen. Delft painters relied on genre art and prints for source material, therefore many plaques and plates are similarly decorated with typical seventeenth century professions. Although genre paintings often have a moralistic message, a deeper meaning behind the depiction of crafts and trade is not always apparent on Delftware. On this plaque however the verse is moralistic, which translates freely into: "who can show anything more necessary than houses to live in, but lust and wealth has produced struggles with the splendor."
The scene on the present plaque is painted after a print by Jan Luyken from 1694, titled Timmerman (Carpenter), from the series Het Menselyk Bedryf, a hundred-part print series of professions. The print could be used as a pouncing stencil in order to reproduce the motifs: This technique involves transferring a design
by dusting a fine charcoal powder known as 'pounce' through the perforation in the stencil, leaving a dotted outline on the surface beneath. The charcoal powder burns off during the glost firing. As can be seen on the present plaque, only certain figures are borrowed from the original print, such as the seated carpenter in the foreground, the standing carpenter in front of the house and the house with the window in front in itself.
SIMILAR EXAMPLES
A tile tableau of twenty tiles depicting a carpenter's workshop made in Makkum and painted by Gatse Sytses (circa 1724-1798), after the same print by Jan Luyken, is illustrated in Fries Aardewerk, Majolica, Faience, Kerfsnee, Harlinger Aardewerk Museum, Minze van den Akker, 2007, p. 269, (inv. no. 0262601).