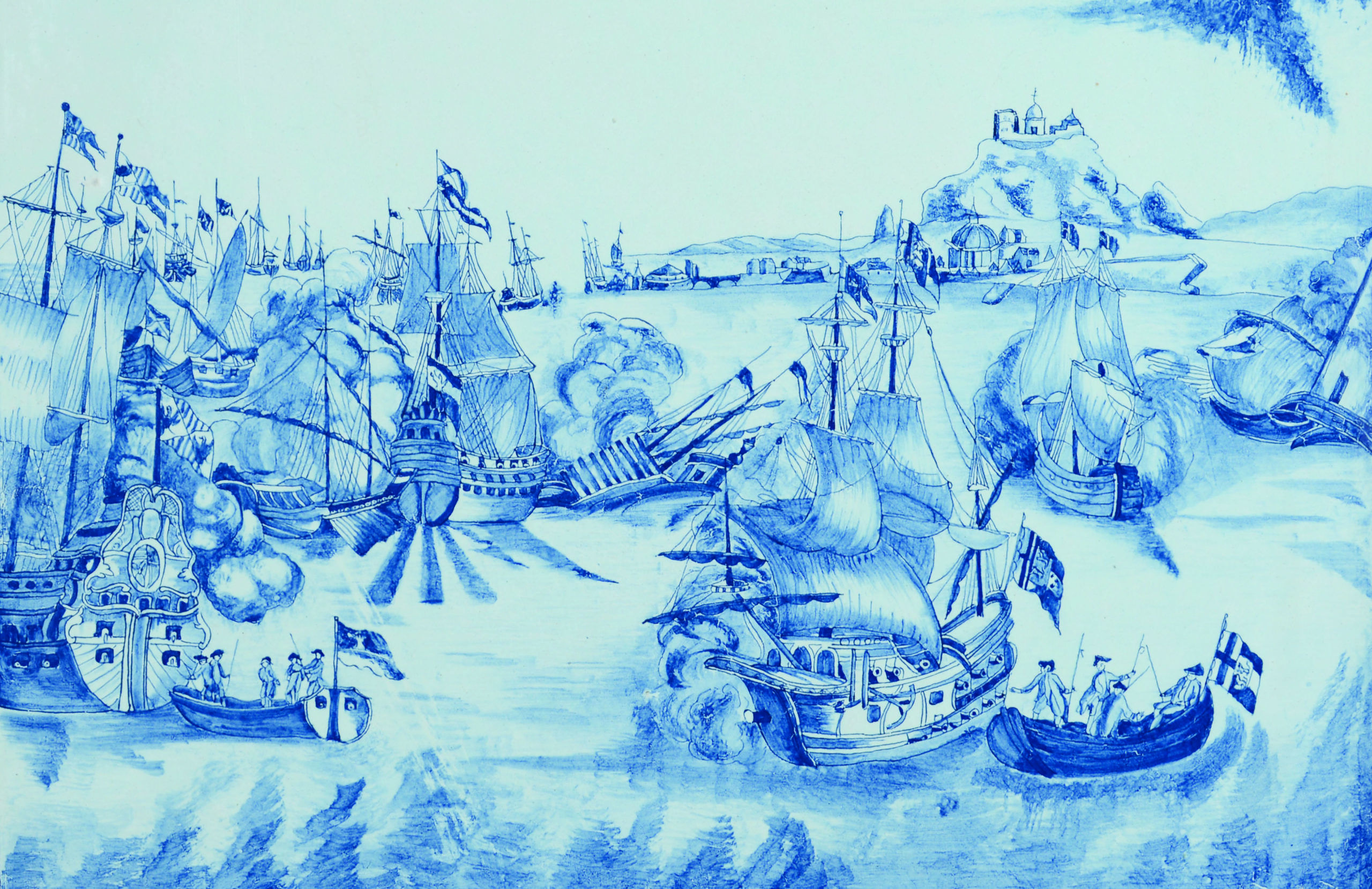 [popup_trigger id="13756″ tag="span"]

[/popup_trigger]
OBJECT
D2141. Blue and White Rectangular Marine Plaque
Delft, circa 1780
Painted with the 1705 sea battle at Gibraltar with several large ships variously rigged and flying multiple flags and pennants, amidst smoke and damaged sinking ships, in the foreground two smaller vessels also flying flags with people standing and in the background buildings on the rocky far bank, and the top inscribed "GIBRATAR".
DIMENSIONS
Length: 41.9 cm. (16.5 in.); Height: 38 cm. (15 in.)
PROVENANCE
Collection Maurice de Ramaix (1850-1918), before 1913 and thence by family descent.
As we continuously try to innovate and contribute to the future of our business, the provenance of this item has, as part of a pilot, been registered with independent and secured registration agency Provenance+ Amsterdam.
NOTE
This plaque shows the battle of Gibraltar on March 21, 1705, with a victory of the English fleet over the French fleet. The battle ended the siege of Gibraltar by the French and the Spaniards. This so-called Twelfth Siege of Gibraltar was fought between September 1704 and May 1705 during the War of the Spanish Succession. The Spanish Succession War started when Charles II of Spain died childless in 1700. This meant the end of the Habsburg royal house in Spain and caused great turmoil among European royal houses. In 1704 acombined English-Dutch fleet conquered the strategic point of Gibraltar, since the Strait of Gibraltar could be controlled between the Mediterranean and the Atlantic Ocean. The French and Spanish forces did not give in, but the battle was decided by Admiral John Leake in 1705: with a combined English, Dutch and Portuguese force of 35 ships, the French lost five of their 18 ships in the Strait of Gibraltar.
The plaque is painted after the print La Forteresse Gibraltar Enforce des Espagnioles by Balthasar Friedrick Leizelt from 1780. Leizelt produced a series of European and American scenic views at a time when pictures of foreign countries were popular. These prints belong to a genre called vue d'optique, which was popular during the second half of the eighteenth century and into the nineteenth century. Characteristic for these prints is that the series title is a mirror image because optical viewers made use of mirrors to reverse the image. Leizelt, who was active in the second half of the eighteenth century in Augsburg, produced the engraving after the engraving Die Glückliche Entsezung der Haupt Vestung Gibraltar from 1712-1715 by Johann Jakob Kleinschmidt, who was active from circa 1687 until 1742 in Augsburg. Kleinschmidt in turn used a drawing by the German painter and print artist Paul Decker.