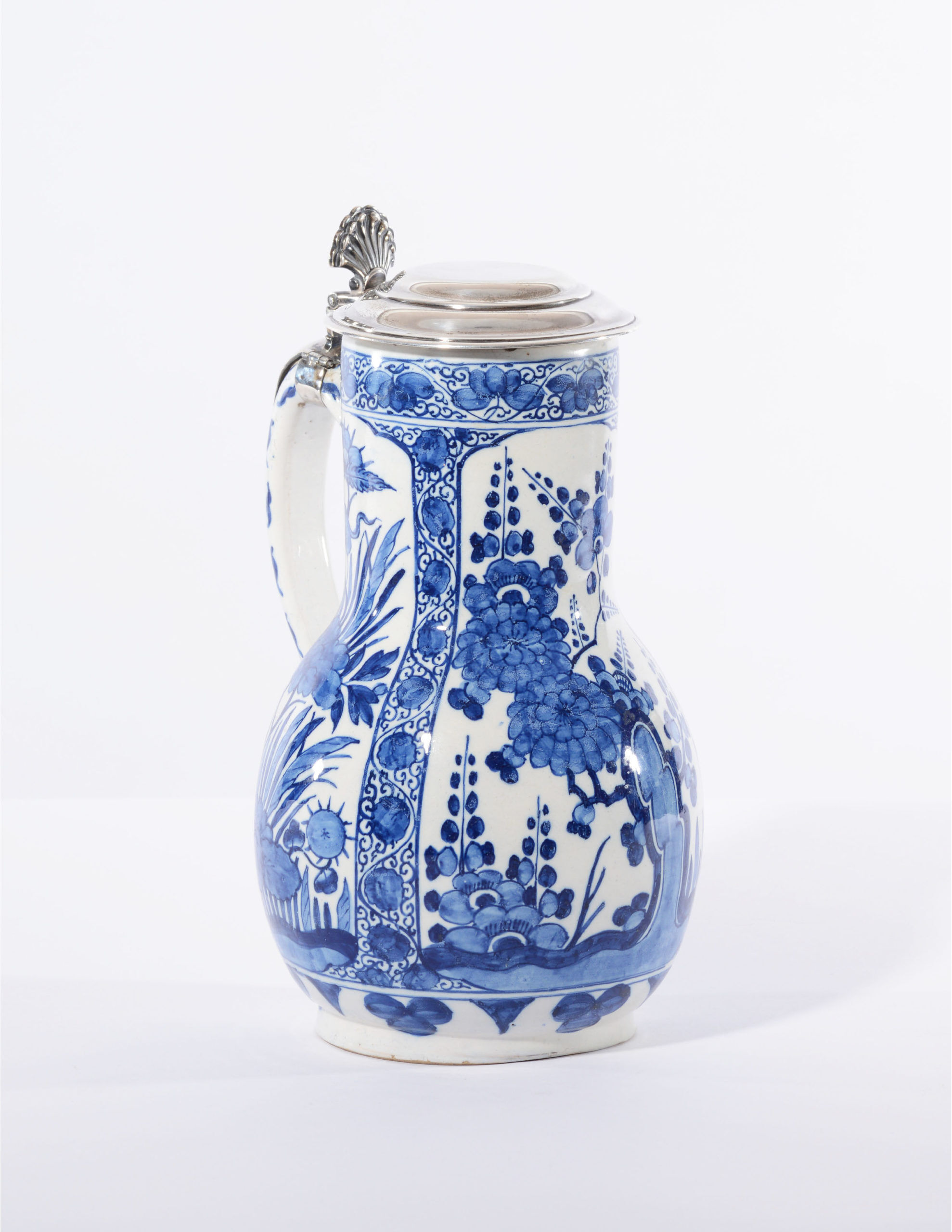 [popup_trigger id="13756″ tag="span"]

[/popup_trigger]
OBJECT
D2133. Blue and White Silver-Mounted Jug
Delft, circa 1700
The ovoid body and cylindrical neck painted with flowering shrubbery, grasses and stylized rocks within three tall panels separated by vertical bands of flowering vines repeated as a wider border around the rim, the loop handle with foliate-scroll devices on its spine between 'scrolls' on the sides, and the lower body encircled by a border of triangles and 'hearts'; the eighteenth century Dutch silver cover with a shell-form thumb-piece and affixed to the handle with a hinged foliate Dutch silver mount, marked.
DIMENSIONS
Height: 24.7 cm (9.7 in.)
NOTE
The present blue and white jug is decorated in a typical Japanese Arita style with three large panels and a floral scroll pattern in between. In Arita export porcelain was made from around 1660 to 1683, and later in the eighteenth century, VOC employees privately ordered Japanese porcelain. Initially, underglaze-blue wares were inspired by Chinese Kraak and transitional examples, and even on Delftware executed in a Chinese style. Eventually, a more Japanese decorative style gradually supplanted the Chinese models. Japanese jugs on which the present Delftware is inspired, were usually fitted with tin, pewter or silver covers in the Netherlands, for which during the production process a hole in the handle was made. Accordingly this Delftware jug is mounted with a silver cover, which is marked for silversmith Hendrik Nieuwenhuys (1763-1803), who was a prolific tableware worker for objects such as candlesticks, tobacco jars and tea sets with his workshop located on the Kloveniersburgwal in 'Het Gekroonde Cromhout' in Amsterdam.
SIMILAR EXAMPLES
A similarly decorated tankard marked for Ary Jeronimus van der Kloot, of De Metaale Pot (The Metal Pot) factory is illustrated in Boyazoglu, de Neuville 1980, p. 249 and another one in Aronson 2015, p. 29, no. 15. Another one with a pewter cover, and marked for De Grieksche A (The Greek A) factory, is illustrated in Lavino, p. 184. A pair marked for Pieter Gerritsz. Kam, from De Drie Posteleyne Astonne (The Three Porcelain Ash- Barrels) factory from 1700 to 1716 is in a private collection.