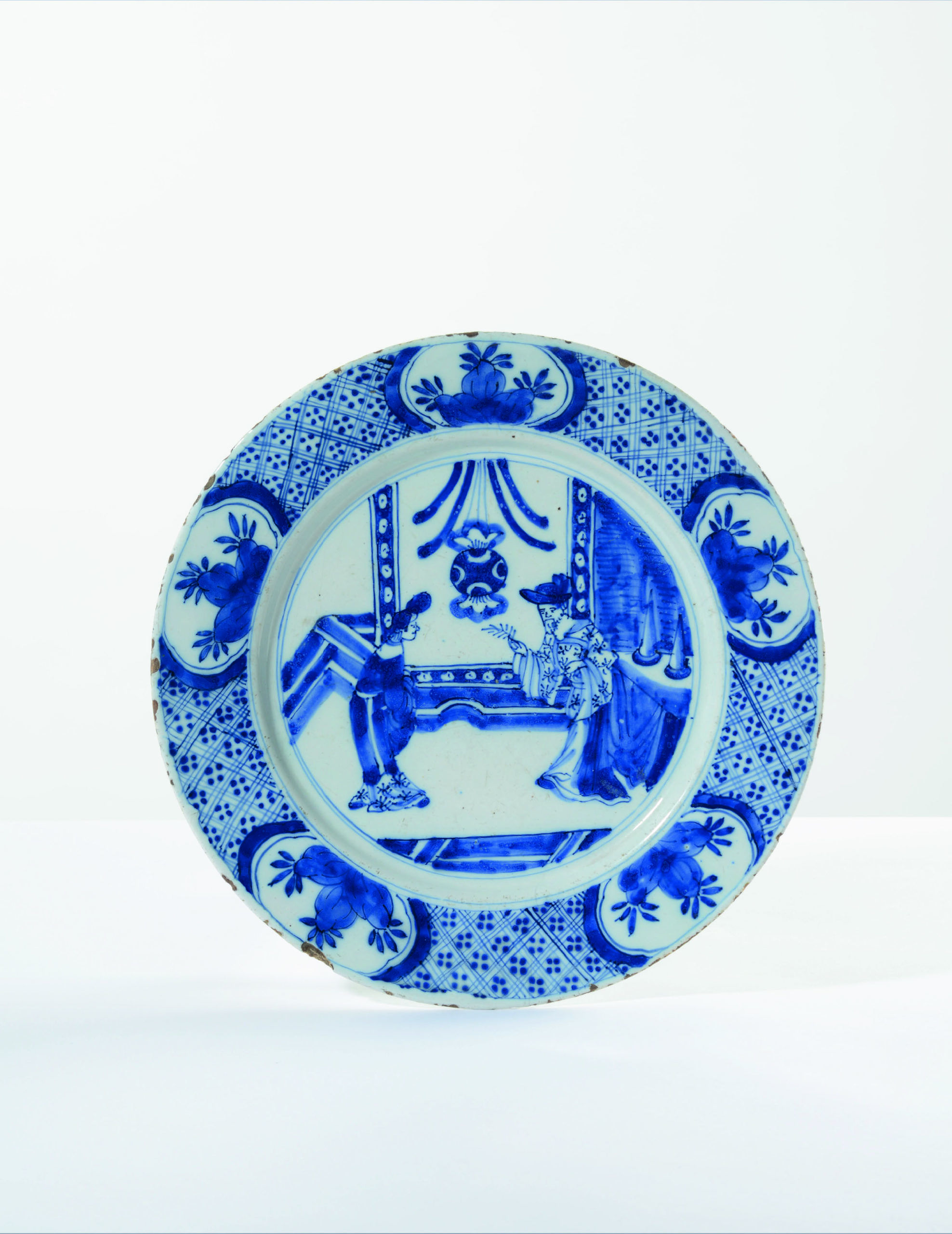 [popup_trigger id="13756″ tag="span"]

[/popup_trigger]
OBJECT
D2132. Blue and White Plate
Delft, circa 1700
Marked AK and LVE in blue for Adrianus Kocx, the owner of De Grieksche A (The Greek A) factory from 1686 to 1701 and Lambertus van Eenhoorn, the owner of De Metaale Pot (The Metal Pot) factory from 1691 until 1721
Painted with a Chinese lady slightly bowing to a gentleman holding a feather in an interior setting with a lantern suspended above, the rim with a trellis diaper border interrupted with five quatrefoil panels of fruit and foliate clusters, and painted on the reverse with five four-dot motifs.
Diameter: 22.5 cm. (8.9 in.)
NOTE
This plate is painted after a Chinese porcelain example from the Kangxi period (1662-1722), illustrating a scene taken from the popular Chinese novel 'The Romance of the Western Chamber'. The love story was written by the Yuan dynasty playwright Wang Shifu and set during the Tang Dynasty. The novel tells the story of a young scholar Zhang Sheng, who went to the capital city to take the highest imperial examination. When he stayed in a temple, he met Cui Yingying, daughter of the then Prime Minister and fell in love with her. At that time, a group of robbers besieged them. Yingying's mother declared that she would marry her daughter to whomever could save them. Zhang Sheng managed to do that with his friend's help. But her mother refused to keep her words because he was poor. However, Yingying and Zhang Sheng loved each other very much. With the help of Hong Niang, Yingying's maid, they broke the traditional barrier.
This play has enjoyed unparalleled popularity since its debut in the thirteenth century. The story has given rise to innumerable sequels, parodies, and rewritings; it has influenced countless later plays, short stories, and novels and has played a crucial role in the development of drama criticism. It also formed an inspiration for the Chinese porcelain painters and thus the Delftware painters.
Adrianus Kocx was married to Lambertus van Eenhoorn's sister Judith and thus they were brothers-in-law. It is often perceived that the factories were only in competition with each other while in many cases we see them cooperating. It is unclear why this seems the only known plate to carry the marks of both factory owners.
SIMILAR EXAMPLES
This decoration after 'The Romance of the Western Chamber' was a popular scene which can be found on plates produced at several Delftware factories. A similar plate marked for Lambertus van Eenhoorn is illustrated in Aronson 2009, p. 32, no. 15. Two other LVE marked dishes in the Kunstmuseum The Hague are illustrated in Van Aken-Fehmers 1999, p. 175, no. 58 (inv. no. OC(D)41-1904, besides a Kangxi version (inv. no. OC9VO059-13), and another LVE-marked dish (inv. no. OC(D)273-1904) is illustrated on p. 176, no. 59. A dish possibly marked for Lambertus van Eenhoorn or De Drie Posteleyne Flessies (The Three Porcelain Bottles) factory is in the V&A museum, London (inv. no. C.2375-1910). Another plate with the same scene, marked LV3, is illustrated in Van Geenen 2017, p. 142, no. 12.22.