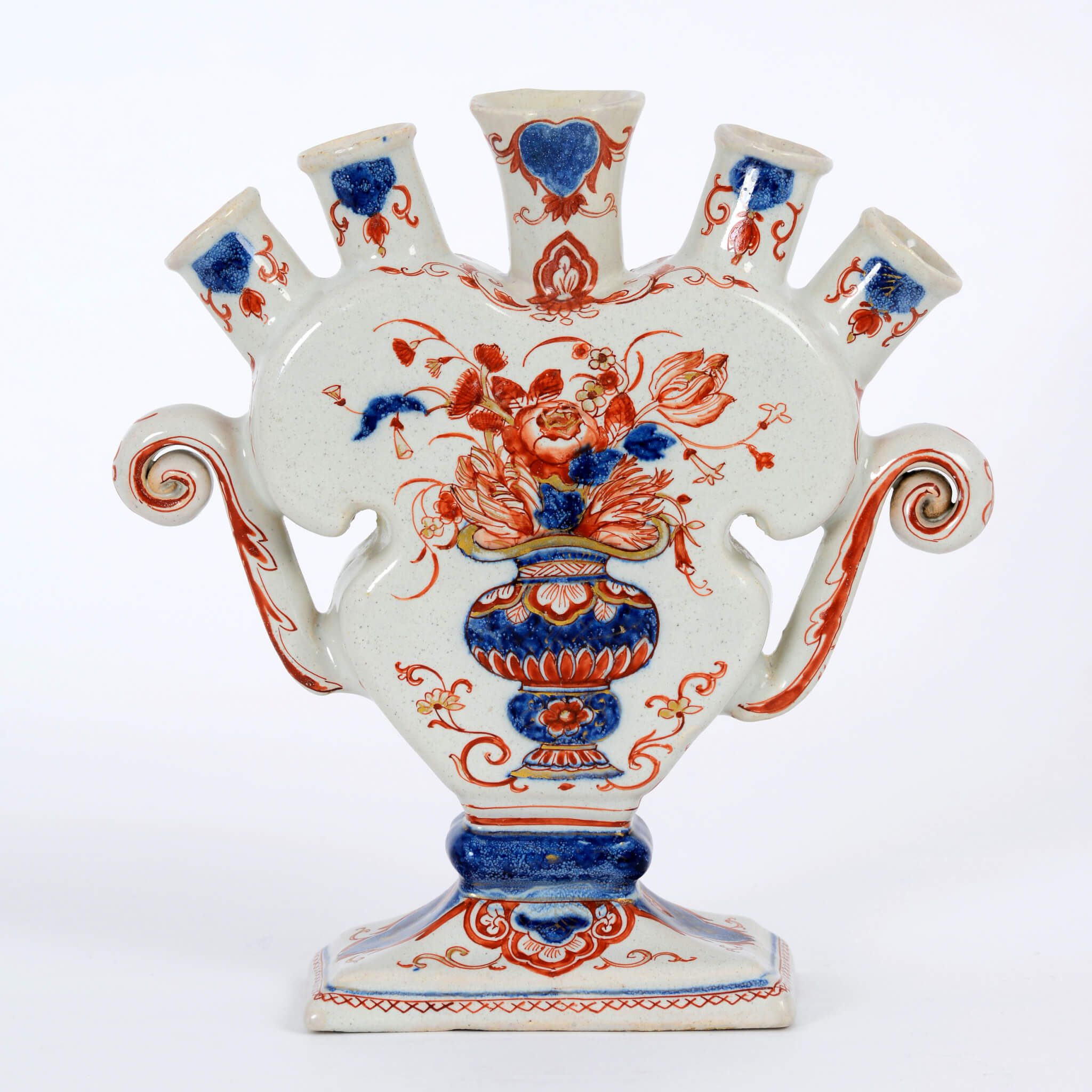 [popup_trigger id="13756″ tag="span"]

[/popup_trigger]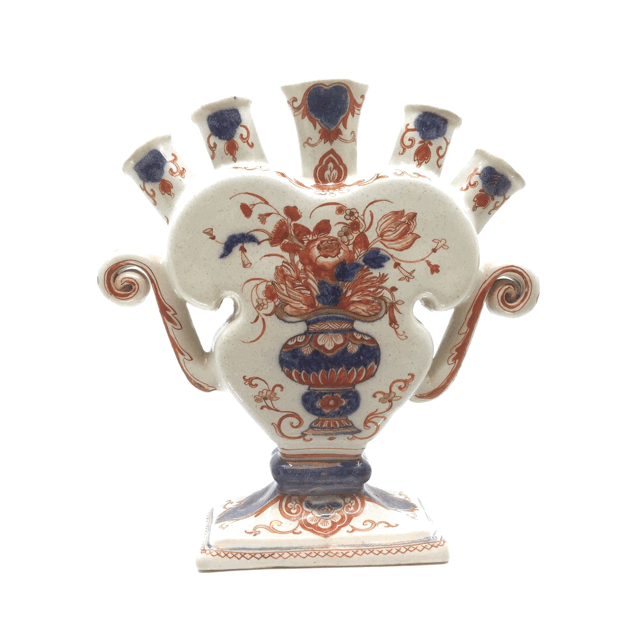 OBJECT
D2121. Polychrome and Gilded Flower Vase
Delft, circa 1710
Marked R in blue for De Roos (The Rose) factory within four four-dot clusters and three concentric lines
The flattened cartouche-shaped body painted in the Japanese Imari palette of blue, iron-red and gold with a lush bouquet of tulips, carnations and other flowers and foliage in a baluster-shaped vase above floral scroll motifs and beneath a ruyi-head and floral scroll devices, the top issuing a larger central spout and four flanking spouts painted with floral scroll devices, the sides affixed with S-scroll handles decorated with a leaf and floral scroll device, and the blue knopped ankle above the rectangular foot with four large ruyi-heads enclosing floral scrollwork.
Dimensions
Height: 21.3 cm. (8.4 in.)
Note
This flower vase is decorated in the Imari palette, inspired by the Japanese porcelain wares that reached the Netherlands with the Dutch East India Company (VOC). The Japanese porcelain, which is known for its rich blue, red and gold decoration was at first intended for the company's own use in Batavia or for trade in Asia and, lastly, for the home market. Based on its limited importation and high cost in comparison to Chinese porcelain, Japanese porcelain could only satisfy a small demand in the Netherlands. However, Imari porcelain was exceptionally popular in the Netherlands throughout the whole eighteenth century. Delftware potters seized the opportunity to capture this sector of the market with the wares inspired by the popular Japanese objects. Soon after the first pieces of Japanese Imari porcelain arrived in the Republic, the colorful Delftware objects were produced. The Imari porcelain was an inexhaustible source of inspiration for the Delft potters. The Imari-style palette briefly adorned all sorts of utensils that responded to the latest fashion in dining objects and interior decoration. Although the colors were directly inspired by the Japanese wares, the forms and decorations were taken from European, mostly Dutch, objects, such as this flower vase. Also, the decoration on this flower vase is mainly European with a lush bouquet in a vase.
Similar examples
The shape of the present flower vase was a popular form at the turn of the seventeenth century, produced in both blue and white and polychrome. Although the majority of known vases are blue and white, a few polychrome flower vases are often painted in the cashmere palette, an example of which can be found in the collection of the House Museum Van Gijn in Dordrecht (inv. no. 1672), illustrated in Van Aken-Fehmers 2007, p. 219, no. 7.14; and another in Aronson 2009, p. 58, no. 36. Flower vases painted in an Imari palette are more rare. A comparable flower vase painted with a flower vase in the Imari palette, but with so-called salamander handles and PAK mark, is illustrated in Fourest 1980, p. 109, ill. 103.