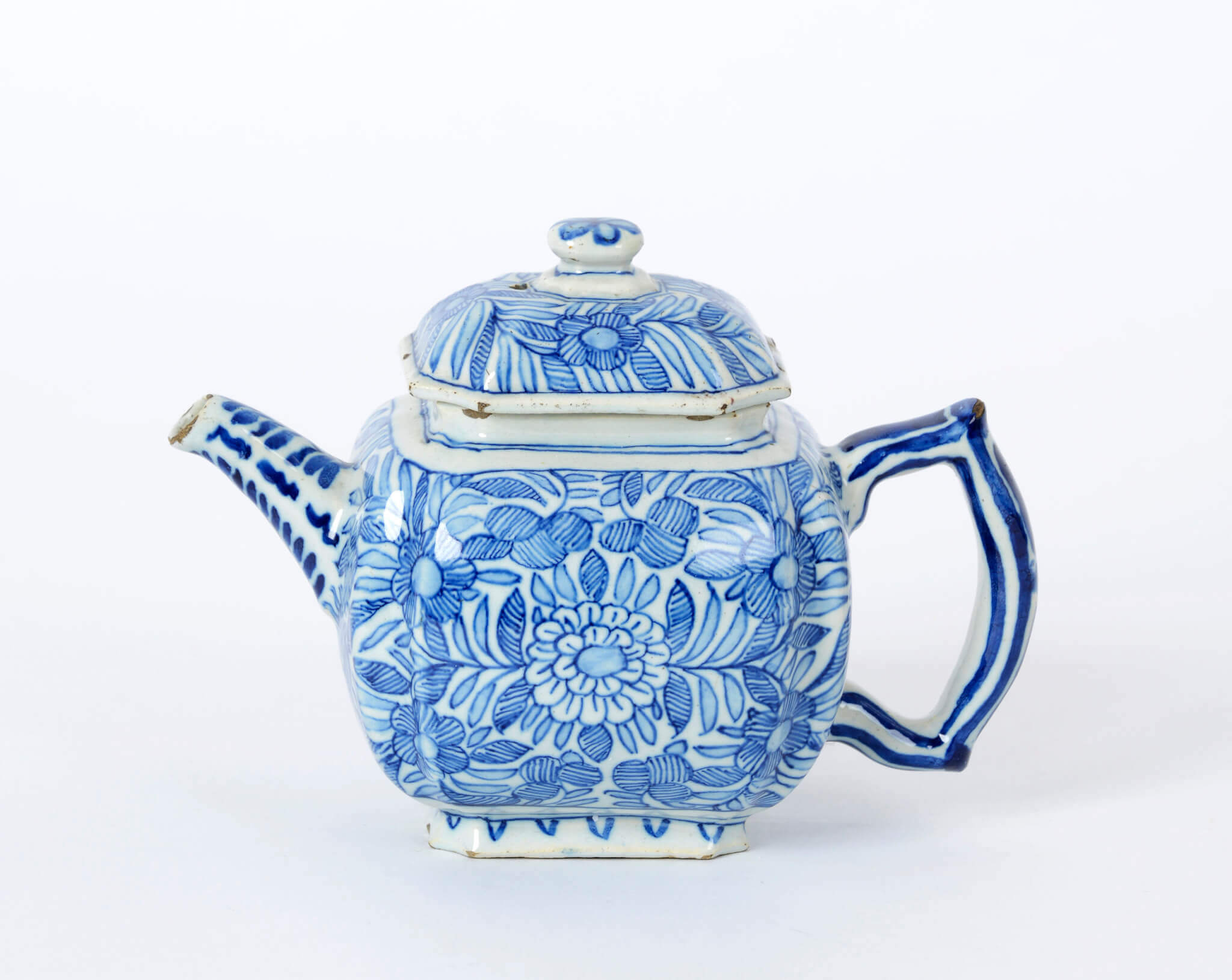 [popup_trigger id="13756″ tag="span"]

[/popup_trigger]
OBJECT
• D2111. Blue and White Teapot and Cover
Delft, circa 1730
Marked D 2 in blue, possibly for De Dissel (The Pole) factory
The rectangular body with indented corners slightly molded on either side and painted with a large peony flanked by two smaller blossoms amidst leaves, the curved spout with sprigs and a delineated angular handle, and the cover decorated with four blossoms amidst leaves encircling the knop painted with a flowerhead.
Dimensions
Height: 12 cm. (4.7 in.)
Provenance
Gary Atkins Collection, London
Similar examples
The decoration on this teapot was most likely inspired by the curving lines of leaves and flowers on Kangxi porcelain objects. Several Delftware objects bear this same common pattern. These objects are often marked for the factories De Metaale Pot (The Metal Pot) under the ownership of Cornelis Koppens from 1724 to 1757 and De Witte Ster (The White Star), under the ownership of Cornelis Brouwer from 1724 to 1738. A dish with scalloped rim and marked CK 2 for Cornelis Koppens, the owner of De Metaale Pot (The Metal Pot) factory from 1724 to 1757, decorated with the same pattern of leaves surrounding a large peony, is in the collection of Museum Prinsenhof, Delft (inv. no. LM 2108). Another similar dish is in the collection of the Gemeentemuseum in The Hague (inv. no. OC (D) 92-z.j). Also, two octagonal vases with vertical ribbing, belonging to the collection of the Museum of Decorative Arts in Prague (inv. no. 61.464 and no. 61.465) illustrated in Kybalova 1973, p. 100, no. 123, as well as a ewer, a pair of baluster-vases and a charger with a similar flower pattern, marked for De Witte Ster factory, in the Musée de l'hôtel Sandelin in Saint Omer (inv. no. 82.7), illustrated in Boyazoglu 1983, p. 95 and 98, no. 185 and 190 display the same patterns. A small garniture with comparable decoration, marked De Witte Ster factory is illustrated in Aronson 2017, p. 87, no. 53.