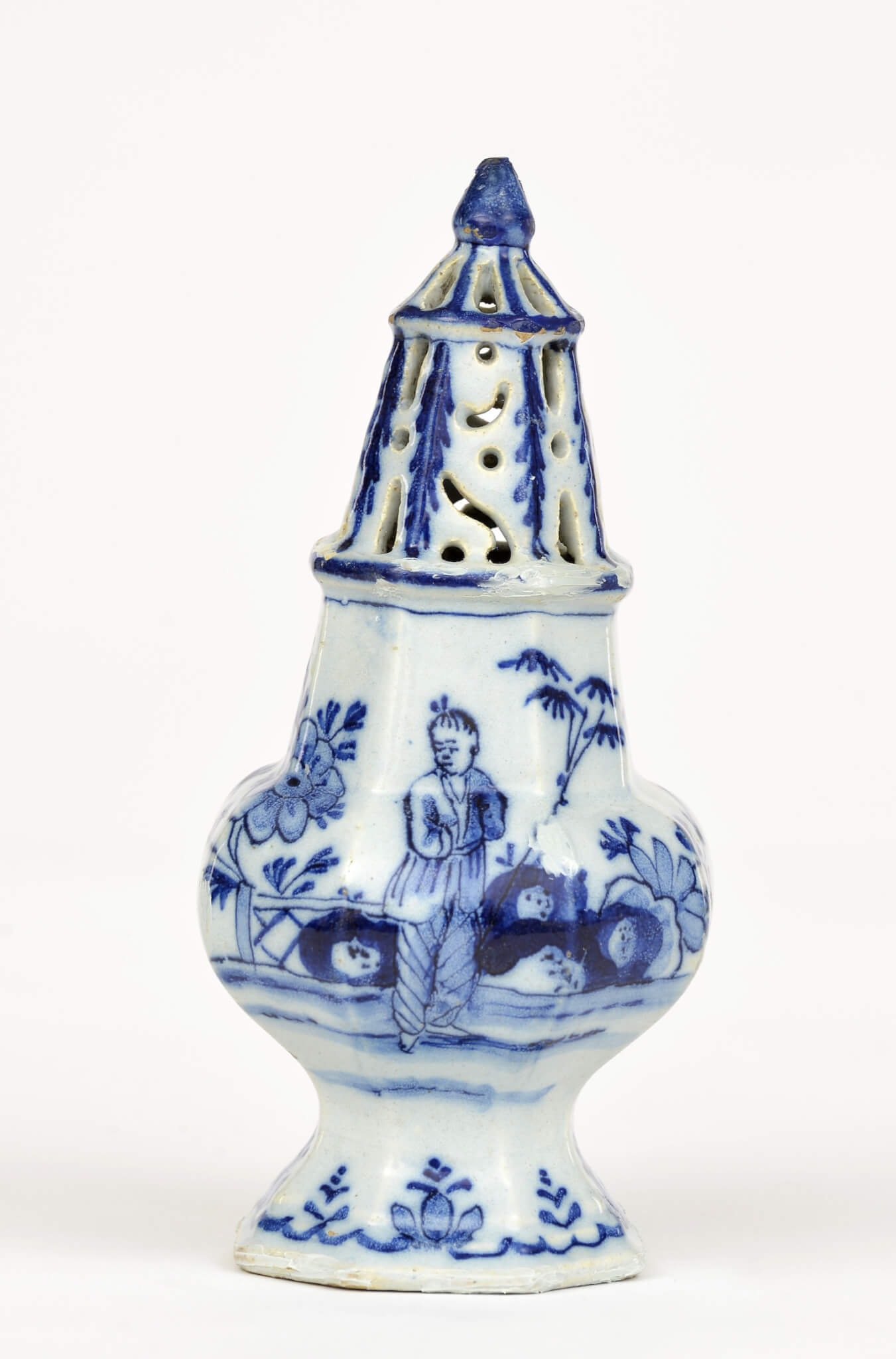 OBJECT
D2102. Blue and White Octagonal Sugar Caster
Delft, circa 1710
After a silver original, the pronounced baluster-form body painted on the front with a chinoiserie figure standing before pierced rocks and a garden fence amidst bamboo and flowering shrubbery, the reverse with a floral sprig, and the faceted foot with floral devices above a scalloped line, the integral tapering upper section pierced with small holes and variously shaped slits around pendent foliage between two horizontal ridges and surmounted by a blue conical knop, the underside pierced with a circular aperture for filling.
Dimensions
Heights: 16 cm. (6 5/6 in.)
Note
Sugar was initially limited to a wealthy elite who used it as a symbol of power and wealth. Before the prevalence of sugar, honey was used as a sweetener. Gradually, refined cane sugar replaced honey as sugar became increasingly affordable. Also, the taste of sugar is more neutral than honey, which was possibly too strong for some recipes or drinks such as tea and coffee. Moreover, honey sometimes contained a disagreeable amount of beeswax. And lastly, the solidity of the sugar also allowed for more elaborate confections, which were simply impossible to make with liquid honey or molasses.
The demand for sugar also made another significant change in the consumption of tea, coffee and chocolate. At first, the elite emulated the Chinese practice of drinking tea without sugar. However, adding sugar became more and more fashionable, and consumers started to accumulate the necessary accoutrements when "taking tea." This also triggered the inventiveness of the ceramics field.
The form of this sugar caster is based on a metal model, generally silver, which remained popular on the Continent and in England from the early eighteenth century onward and was used for both pepper and sugar. A Dutch silver example by Pieter van der Toorn, s' Gravenhage, 1778 is in the Boijmans van Beuningen Museum, Rotterdam (inv. no. M.B.Z. 78), illustrated in J.R. ter Molen, Zilver (Boijmans Van Beuningen Museum: Rotterdam 1994), p. 226, no. 100.