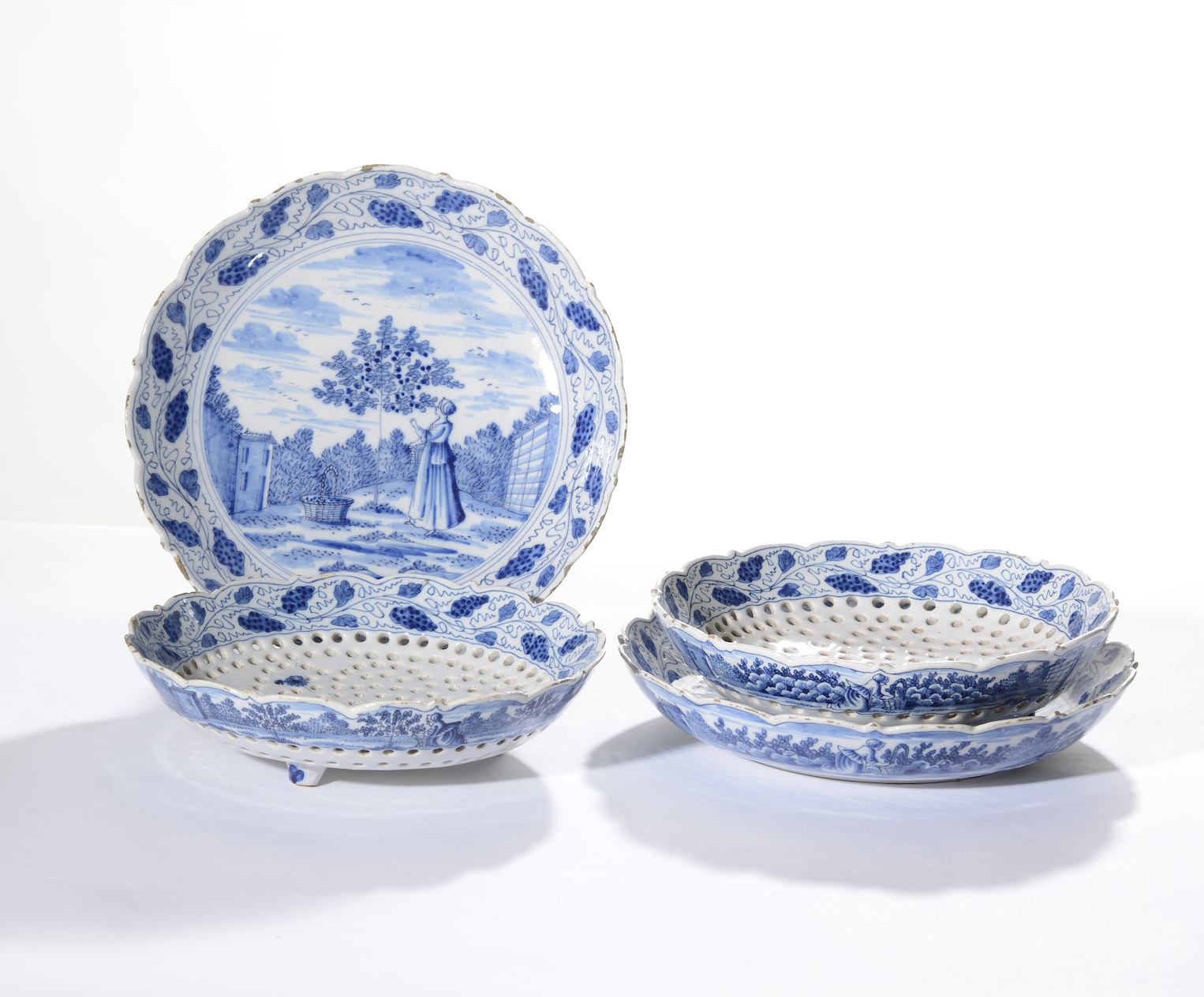 [popup_trigger id="13756″ tag="span"]

[/popup_trigger]
OBJECT
• D2101. Pair of Blue and White Reticulated Fruit Strainers and Stands
Delft, circa 1760
Marked IB in blue for Justus Brouwer of De Porceleyne Byl (The Porcelain Axe) factory from 1739 to 1775
Each piece with a scalloped and barbed rim edged with a border of scrolling vine tendrils with bunches of grapes, the interior of the stands painted with a woman standing next to a tree from which she is picking fruit, in the foreground a basket of fruits and in the background several trees between structures to the side, the dishes with an elaborately pierced openwork in the center and the exterior of the dishes with a border of a woman picking fruit in an orchard with fences on one side and a woman picking fruit by a bush on the other, alternating with a cityscape and affixed on the bottom with three short scroll feet.
Dimensions
Width of stands: 24.5 cm. (9.6 in.)
Provenance
Belgian Private Collection
Note
The well-laid table was the culmination of splendor. Inspired by the French court of Louis XIV (reigned from 1643 to 1715), the dishes were laid out on the table per course and guests could serve themselves from the platters within their reach. This of course resulted in the most beautiful tableware, such as these extraordinary Delftware fruit strainers and stands. The fruit strainers were often used at the end of the dinner, when fruits and various pastries were served. The fruits were placed on the strainer and rinsed under a pump, whereafter the stand could be placed directly on its dish on the table. The strainer also allowed the fruits to ventilate and thus remain fresh for a longer time. Not only were these objects highly efficient and functional, they were also a feast for the eye. Lavishly decorated strainers were always created in pairs in the most beautiful shapes.