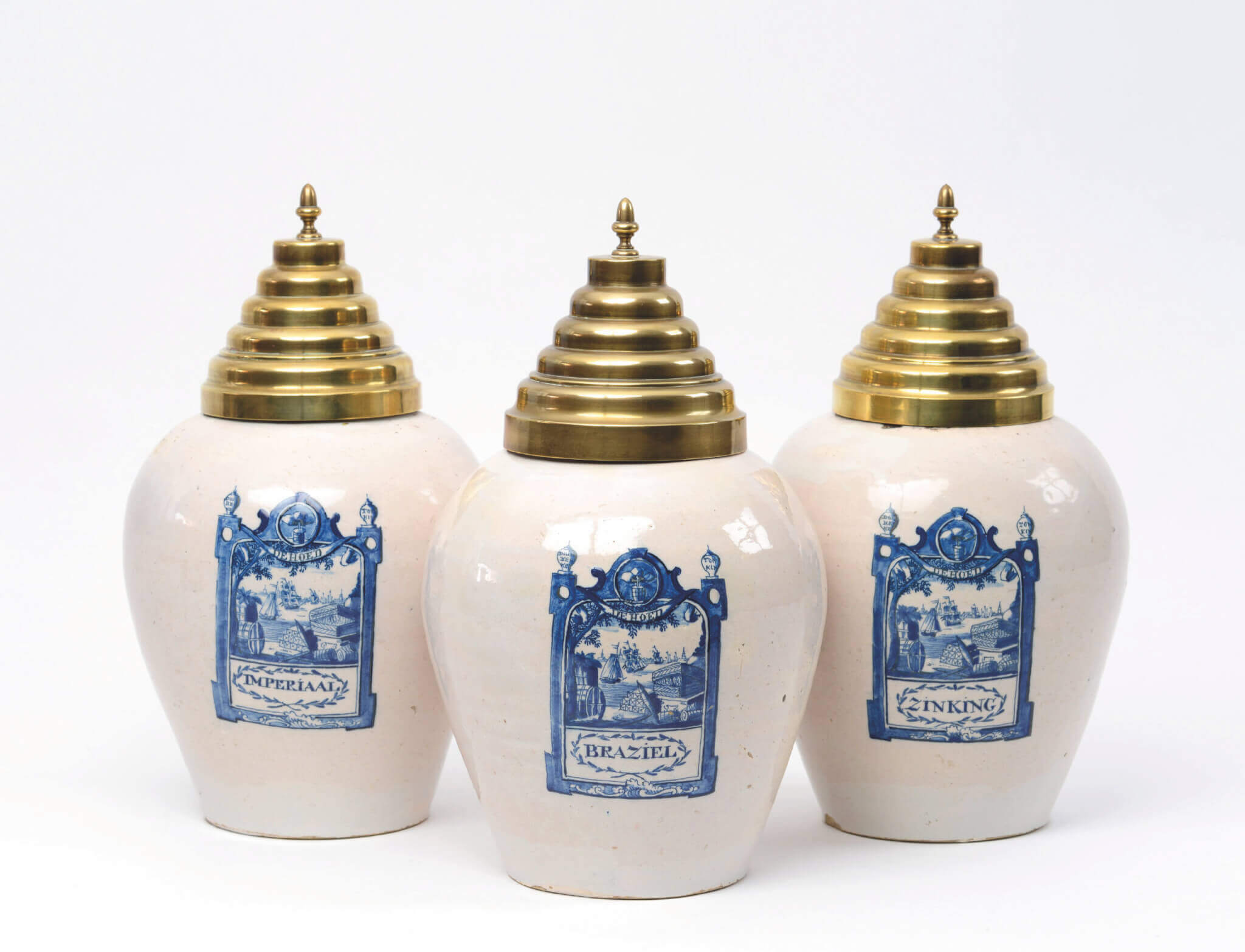 OBJECT
D2060. Set of Three Blue and White Tobacco Jars
Delft, circa 1790
Each marked with three bells in blue for De Drie Klokken (The Three Bells) factory
Each painted on the front with a panel of a harbor scene with a cargo of barrels and crates, and ships in the distance beneath a drapery inscribed DE HOED below a medallion and flanked by a tobacco jar inscribed DUINKERKE and one inscribed TONKIN, all above a rectangular panel with a laurel wreath inscribed with IMPERIAAL, BRAZIEL or ZINKING, each with a brass stepped-dome cover surmounted by an oval-ball-shaped knop encircled by a mid-rib.
Dimensions
Overall heights: 34 cm. (13.4 in.)
Note
In 1700 a large tobacco industry flourished in Amsterdam. The tobacco leaves, already cured, fermented and dried on the plantations, arrived in Europe in the form of large rolls, which at the tobacco shops were often stored in large Dutch Delftware jars appropriately labeled with their contents. The inscriptions on tobacco jars refer often to the place where the tobacco was made, or to the port where the tobacco was traded. At a customer's request the tobacco was either cut to smoke or chew, or rasped to create snuff, so-called "Rappee" (from the French 'tabac rappé': finely grated tobacco for a strong, moist snuff). Once at the smoker's home, the tobacco could be stored in humidors or in specially designed jars or boxes, also made of Dutch Delftware, to keep it moist.