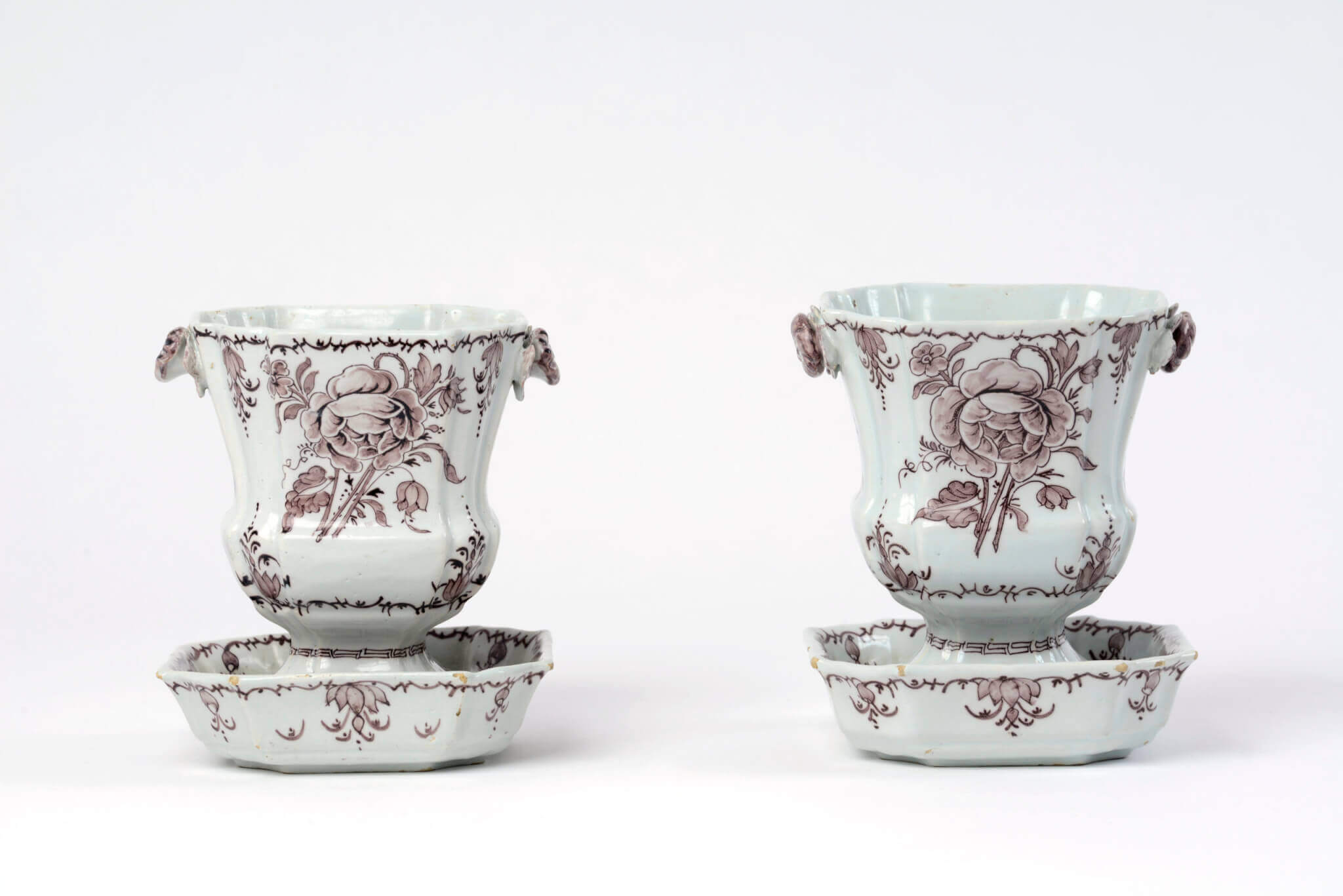 [popup_trigger id="13756″ tag="span"]

[/popup_trigger]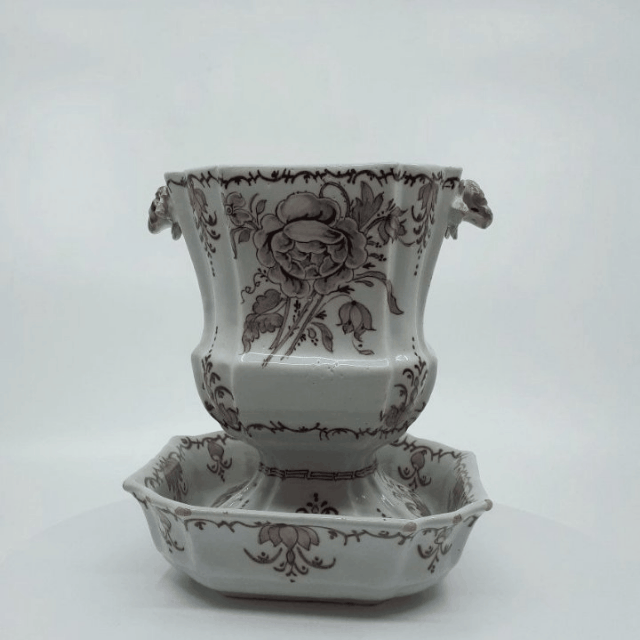 OBJECT
•D2057. Pair of Manganese Jardinières and Stands
Delft, circa 1780
Each marked HB 2 and the jardinières with further numerals in manganese for Hugo Brouwer, the owner of De Porceleyne Byl (The Porcelain Axe) factory from 1785 to 1790
Each campaniform jardinière of rounded square shape, with flowerhead and leaf-molded handles on either sides, and painted on the front and reverse with a large peony, and other smaller flowers and leaves, the flaring foot with floral motifs, the bottom of each pierced with drainages holes, the stands painted in the center with a large floral sprig and the sides with floral motifs.
Dimensions
Heights: 15.2 cm. (6 in.)
Provenance
Dutch Private Collection
Note
This type of jardinières or flower pots in Delftware complied with the then prevailing international fashion image. They are, such as the present pair, rare survivors of what probably was a limited production originally because in serving their function, their glaze and the porous clay beneath were subject to disintegration from both the minerals in the soil and the necessary watering of the plants within. However, so-called 'tuinpotten' (garden pots) are often found on price lists, such as at De Metaale Pot (The Metal Pot) factory, where they were marketed in many sizes.
Similar examples
A similarly shaped pair of yellow-ground jardinières, marked for De Porceleyne Lampetkan (The Porcelain Ewer) factory is illustrated in Aronson 2015, p. 113, no. 64, and another identical pair in the Rijksmuseum, Amsterdam (inv. no. BK-NM-11351-A, B) is illustrated in Hudig 1929, p. 252, fig. 243. Another jardiniere of this shape, but with more elaborate scroll handles, decorated only with a turquoise ground and lacking its stand is in the Evenepoël Collection at the Musées Royaux d'Art et d'Histoire, Brussels (inv. no. Ev. 557), illustrated in Helbig, Vol. II, p. 152, fi g. 153. Another example of this shape, with a brown ground and the axe mark of De Porceleyne Byl (The Porcelain Axe) factory, 1750-80, is in the Kunstmuseum, The Hague (inv. no. OC(D) 258-1904), illustrated in Van Aken-Fehmers 2001, pp. 173 and 235, no. 1.