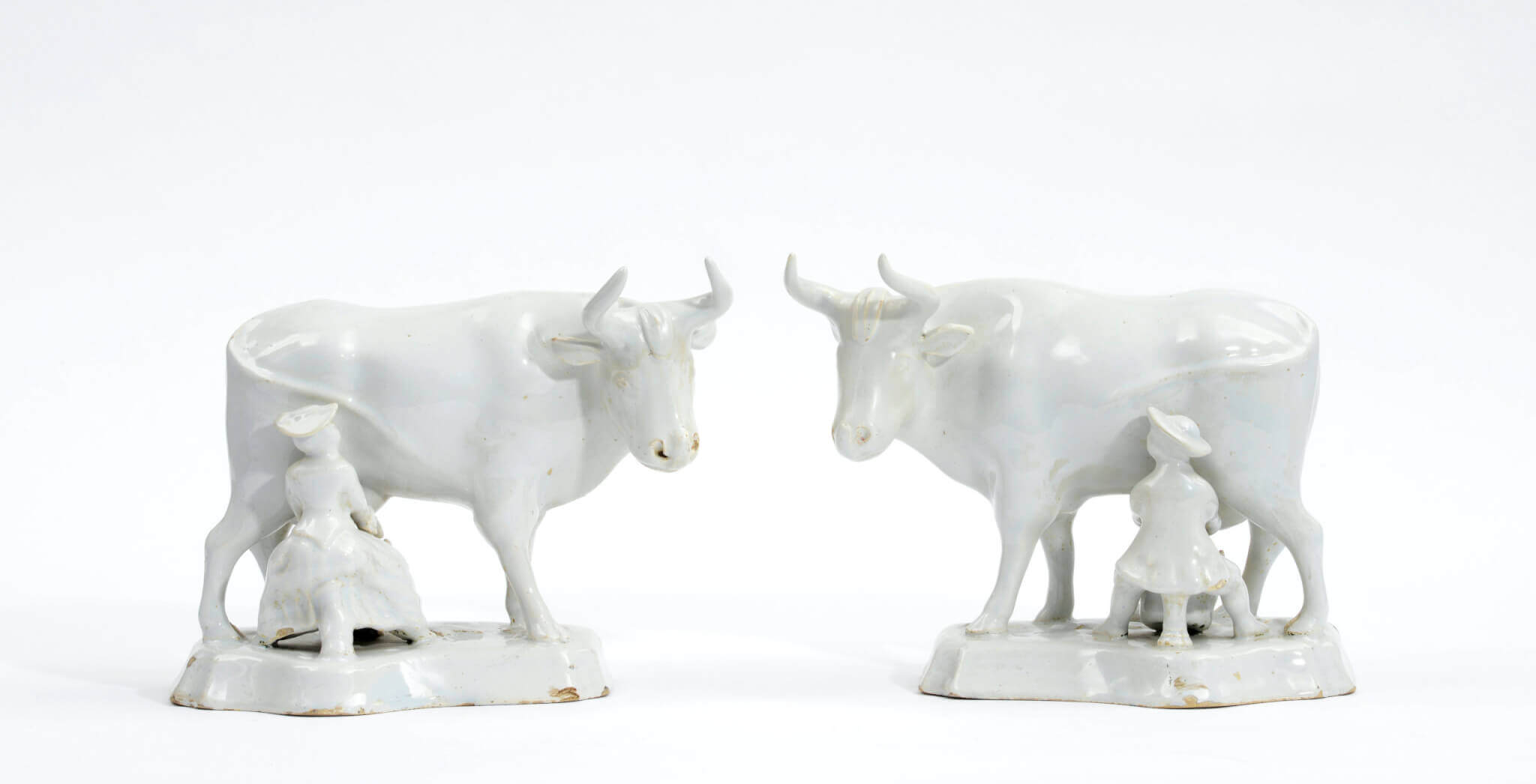 [popup_trigger id="13756″ tag="span"]

[/popup_trigger]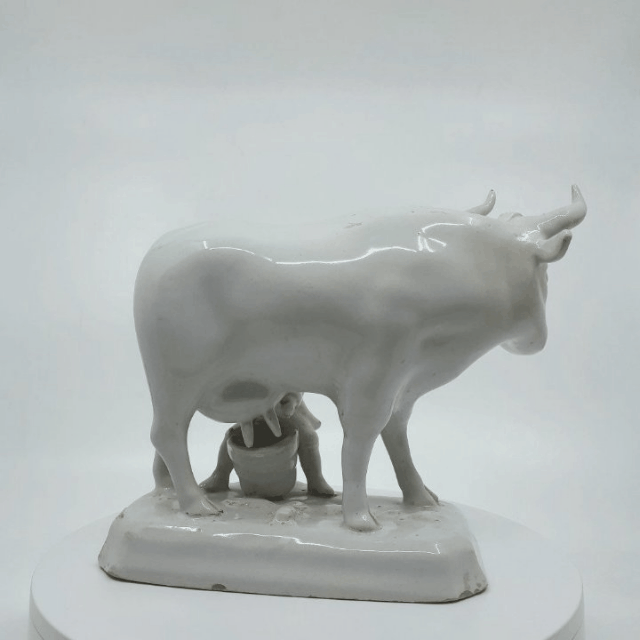 OBJECT
D2053. Pair of 'White Delftware' Milking Groups
Delft, circa 1770
Modeled standing affronté with slightly turned heads, and being milked by a seated lad or a maid wearing a round broad-brimmed hat, on a high chamfered rectangular base with a serpentine front.
Dimensions
Heights: 17.8 cm. (7 in.)
Provenance
J.F.H.H. Beekhuizen, Amsterdam;
The Van der Vorm Collection, the Netherlands
Note
Faience with an undecorated white tin glaze was first produced in Italy around 1550. Primarily dishes and other large vessels, the ilk became known as 'bianchi di Faenza', and eventually simple objects such as plates, jugs or bowls, were made in serial production to serve as affordable utilitarian wares. By 1600, Dutch potteries began to manufacture the sought-after white faience. Many different potteries made white Delftware, each using a unique combination of raw materials that caused a range of white shades, from grey, blue, yellow, green and even pink. These white Delftware objects were produced mainly for the domestic market and are rarely marked or dated.
Research and discussions continue as to whether many of the white-glazed and unpainted groups, such as the present pair of cows with milkers, were cold-painted after their production, perhaps outside of the factory, and that this unfired and thus relatively perishable form of decoration might either have worn off or have been removed intentionally for aesthetic reasons at a later date. On the other hand, it can be assumed that white-glazed, unpainted objects were produced specifically as more affordable alternatives to the more labor-intensive, and thus more costly, decorated examples. Although the white, undecorated ceramic objects were less expensive to produce than the blue and polychrome Delftware, the objects were initially only affordable to the upper class. By the end of the seventeenth century, white Delftware was more commonplace and affordable as factories produced greater numbers of white kitchenwares for everyday use. The factories also manufactured decorative white objects of figures and animals that were displayed on a mantelpiece.
Similar examples
A comparable pair of white Delft cows, but accompanied by calves, is illustrated in Aronson 2008, p. 105, no. 74.