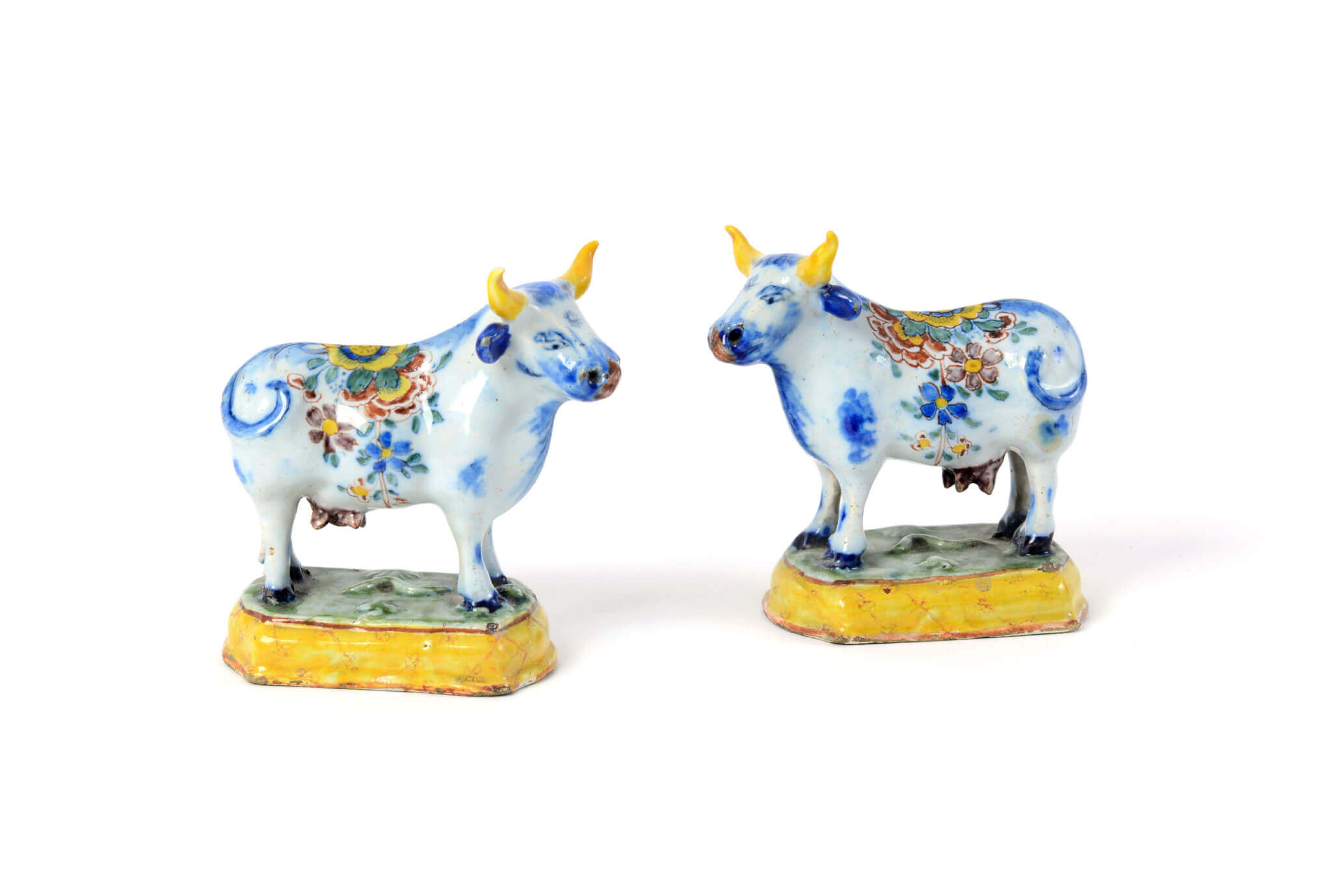 [popup_trigger id="13756″ tag="span"]

[/popup_trigger]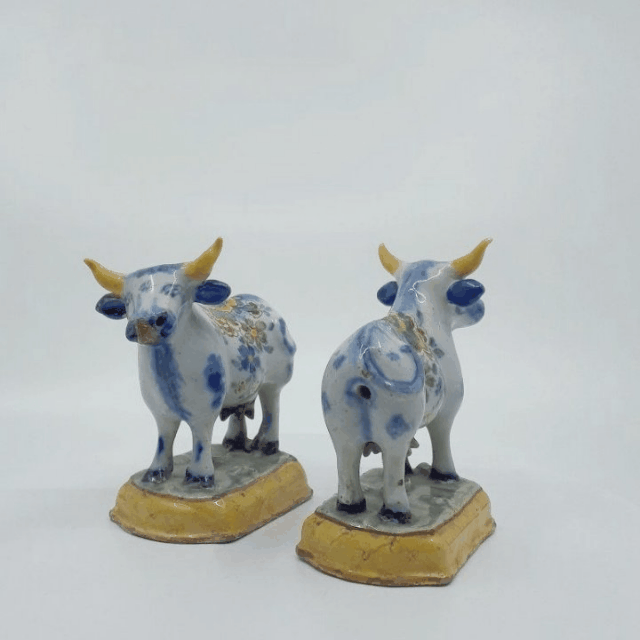 OBJECT
•D2050. Pair of Polychrome Small Figures of Cows
Delft, circa 1760
Each with a blue-spotted hide, a blue muzzle, eyes, ears, tail and hooves, a manganese udder, yellow horns and an iron-red lapping tongue, wearing a garland of blue, yellow, iron-red and manganese flowers and green leaves around its back, and modeled affronté, standing foursquare above a green sinuous snake, leaf sprigs and  grasses on the green top of an iron-red-edged and lightly marbleized yellow rounded rectangular base.
Dimensions
Heights: 9.5 cm. (3.7 in.)
Length: 9 cm. (3.5 in.)
Provenance
Dutch Private Collection;
Aronson Antiquairs, Amsterdam, 2012
Note
Delftware cows are typically decorated with flower wreaths and garlands around their necks and backs. This decorative scheme derives from the seventeenth-century 'guild oxen,' when the Butcher's Guild would hold an annual parade celebrating the best-bred bull or cow from their guild on the day of its patron saint (St. Luke, whose attribute is the apocalyptic beast, the winged ox). The beast would be decorated with floral wreaths and ribbons, its horns often gilded and sometimes topped with ranges. The festive procession of the animal was joined by musicians and great merriment. The meat of that animal was intended for the subsequent guild dinner, and a portion of it was donated to the church and the poor. The expression the guild-ox is on parade" became synonymous with "this is a feast."
In the 1627 Sinne- en minnebeelden by the Dutch poet Jacob Cats (1577-1660), a print depicting a Butcher's Guild parade is illustrated with an accompanying metaphorical poem relating the ox, well-fed and beautifully decorated, but about to be slaughtered, to the evanescence of prosperity. A nearly contemporary bull with a flower garland around his neck is illustrated in the painting 'Portrait of a White Bull' attributed to Paulus Potter (1625-54), circa 1647.