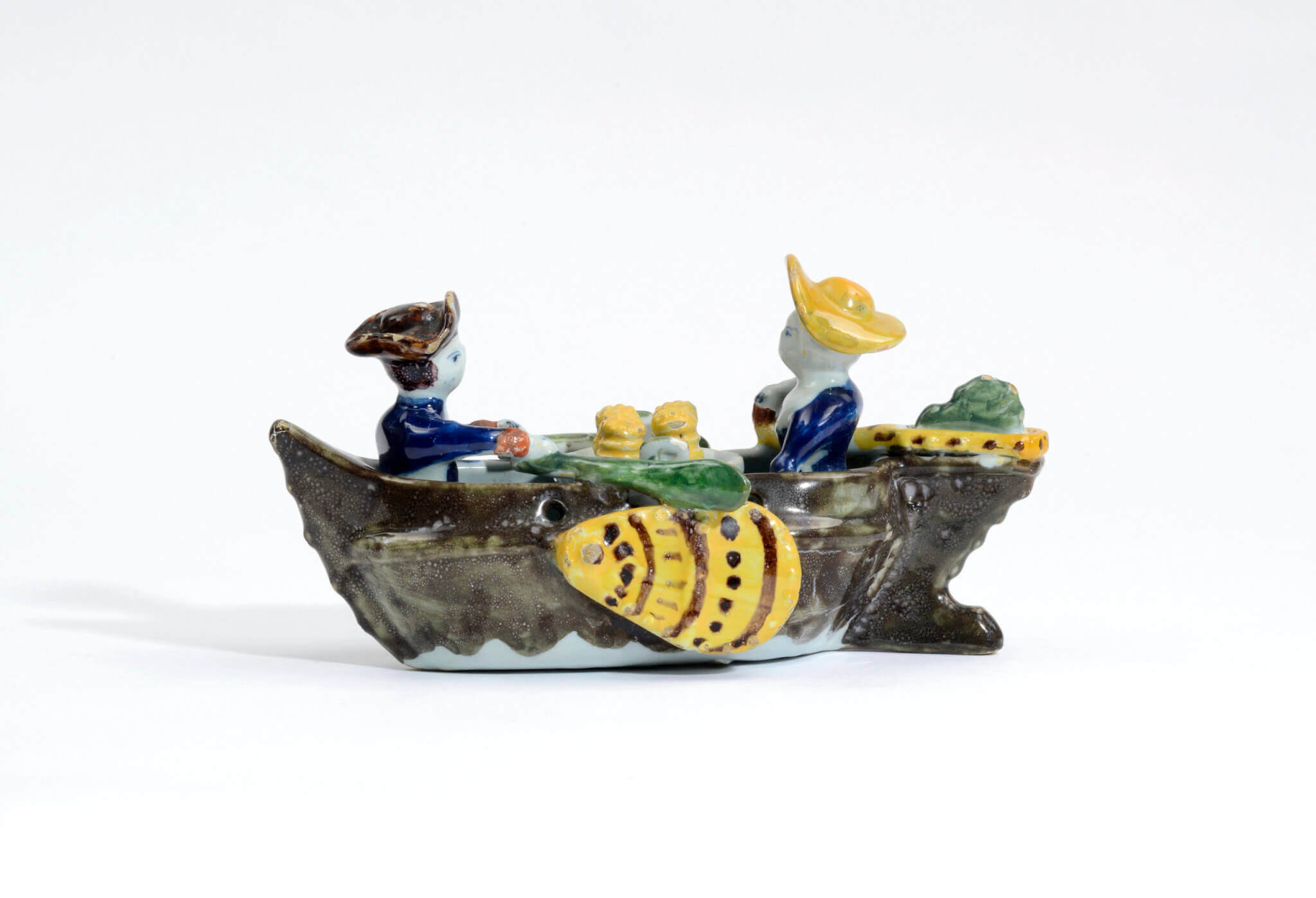 [popup_trigger id="13756″ tag="span"]

[/popup_trigger]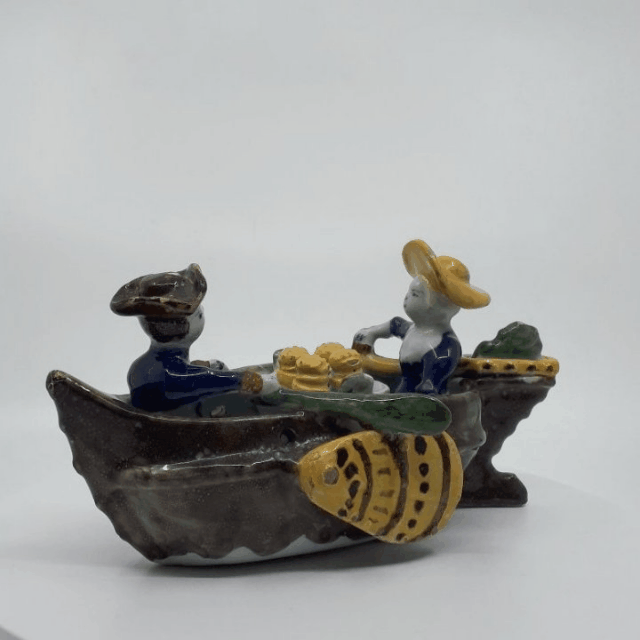 OBJECT
•D2048. Polychrome Group of a Couple in a Boat
Delft, circa 1765
Modeled as a man wearing a brown tricorn hat and a blue jacket, rowing the brown boat steered by his companion wearing a yellow hat and a blue dress, between them a tub filled with four stacks of butter.
Dimensions
Height: 10.8 cm. (4.3 in.)
Length: 20.6 cm. (8.1 in.)
Provenance
Aronson Antiquairs, Amsterdam, 2003;
The Van der Vorm Collection, The Netherlands
Note
Although Delft potteries produced many miniature replicas of everyday objects, polychrome figural groups sitting in a boat are rather rare due to the elaborate and expensive production process of these detailed objects. The smaller and more fragile details of these boats, such as the rowers and the oars, were made in separate molds and added later. Whereas the larger European porcelain factories employed full-time designers to make the molds, the designs for these boats were probably created by the Delft potters themselves. The design may have been derived from porcelain examples, however no similar  porcelain boats are known. Thus, it is more likely they originated from the Delft potter's creativity.
The present boat contains a peasant and his wife who are transporting butter, but some boats also contain a large stack of cheese. Butter and cheese were sold at regional markets in Amsterdam, Alkmaar and Edam, which boasted a well-known cheese trade. With the abundance of waterways, butter and cheeses were transported to the markets in small boats because the roads were sometimes impassable. The Netherlands had a favorable reputation for its cheese as early as the seventeenth century. The small round cheeses were ideal fare for the sailors to take with them, as they were practical and nutritious, and could also be exchanged for spices and other commodities.
Objects like this polychrome group of a couple in a boat are evidence of exceptional craftsmanship. These brightly colored Delft objects found a ready market in the Netherlands, customers for whom German porcelain was too expensive or perhaps too refined. A number of factories must have been producing an enormous output. However, due to the elaborate and expensive production of these detailed objects, the present group must have already been costly in the eighteenth century.
Similar examples
A similar boat group of this model, also transporting butter, is illustrated in Frederik Muller & Cie, Amsterdam, 1958, lot 388. Two other examples, in which one of the vats is filled with wheels of cheese, are in the Rijksmuseum Twenthe, Enschede, illustrated by R.J. Charleston and D.F. Lunsingh Scheurleer, Masterpieces of Western and Near Eastern Ceramics, vol. VII – English and Dutch Ceramics, Tokyo 1979, ill. 106; by Lunsingh Scheurleer 1984, p. 324, no. 385; and in Vrienden van de Nederlandse ceramiek 54, 1969, p. 56, nos. 149 and 157.