[popup_trigger id="13756″ tag="span"]

[/popup_trigger]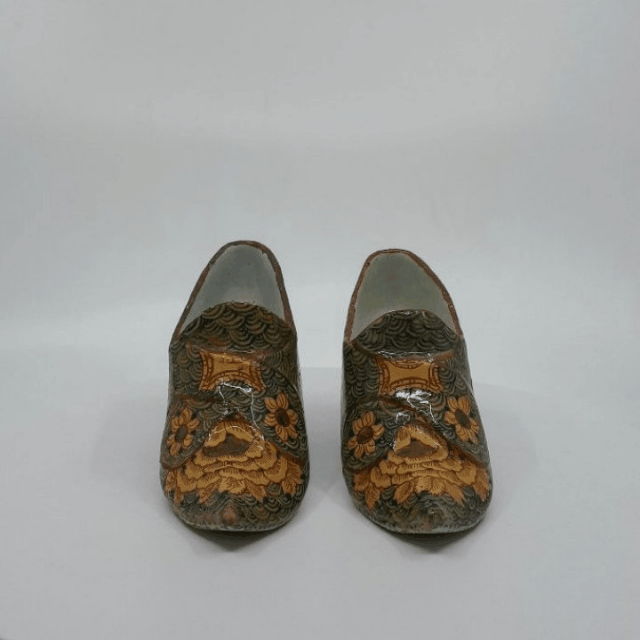 OBJECT
•D2046. Pair of Polychrome Models of Shoes
Delft, circa 1765
Each molded with an iron-red edged strap to the front, painted with a large yellow demi-flowerhead on the front and several smaller yellow flowerheads reserved on a yellow scale ground, and a blue dotted-edged sole continuing around the arch and edges of the heel.
Dimensions
Lengths: 12.1 cm. (4.8 in.)
Provenance
Salomon Stodel Antiquités, Amsterdam, 1998;
The Van der Vorm Collection, The Netherlands
Note
Delftware potters and painters are known to have looked to contemporary fashions in women's and men's shoes. The present pair includes detailed references to footwear construction, particularly the series of dots along the heel of each shoe that mimics the appearance of stitched leather heel covers. The form of this type of shoes features elements common in earlier women's footwear: the upturned and pointed toe, high tongue, and crossed latchets, which would have been secured with a buckle. These shoes, as most of Delftware shoes, come from a single mold, reflecting an economy in production as well as the lack of differentiation between left and right shoes.
Similar examples
A comparable pair of shoes of the same model but with a different decoration and dated 1758, in the Prinsenhof Museum, Delft (inv. no. LM 2168-I, RCE) is illustrated in Kievit 2015, p. 203. Another pair of the same model, but with different decoration is illustrated in Aronson 2019, p. 72, no. 34. A slightly larger pair is in the Kunstmuseum, The Hague (inv. no. 1056295). Other resembling models with a larger tab are illustrated in Aronson and Abraham 2010, pp. 150-151, De Jonge 1965, p. 301, ill. 191, De Jonge 1947, p. 236, no. 204, Schaap 2003, p. 59. Another similar pair, in the Rijksmuseum, Amsterdam (inv. no. BK-NM-12400-226), is illustrated in Van Dam 2004, p. 171, no. 114. A further example of the aforementioned model is in the collection of the Kunstmuseum, The Hague (inv. no. 1056294).