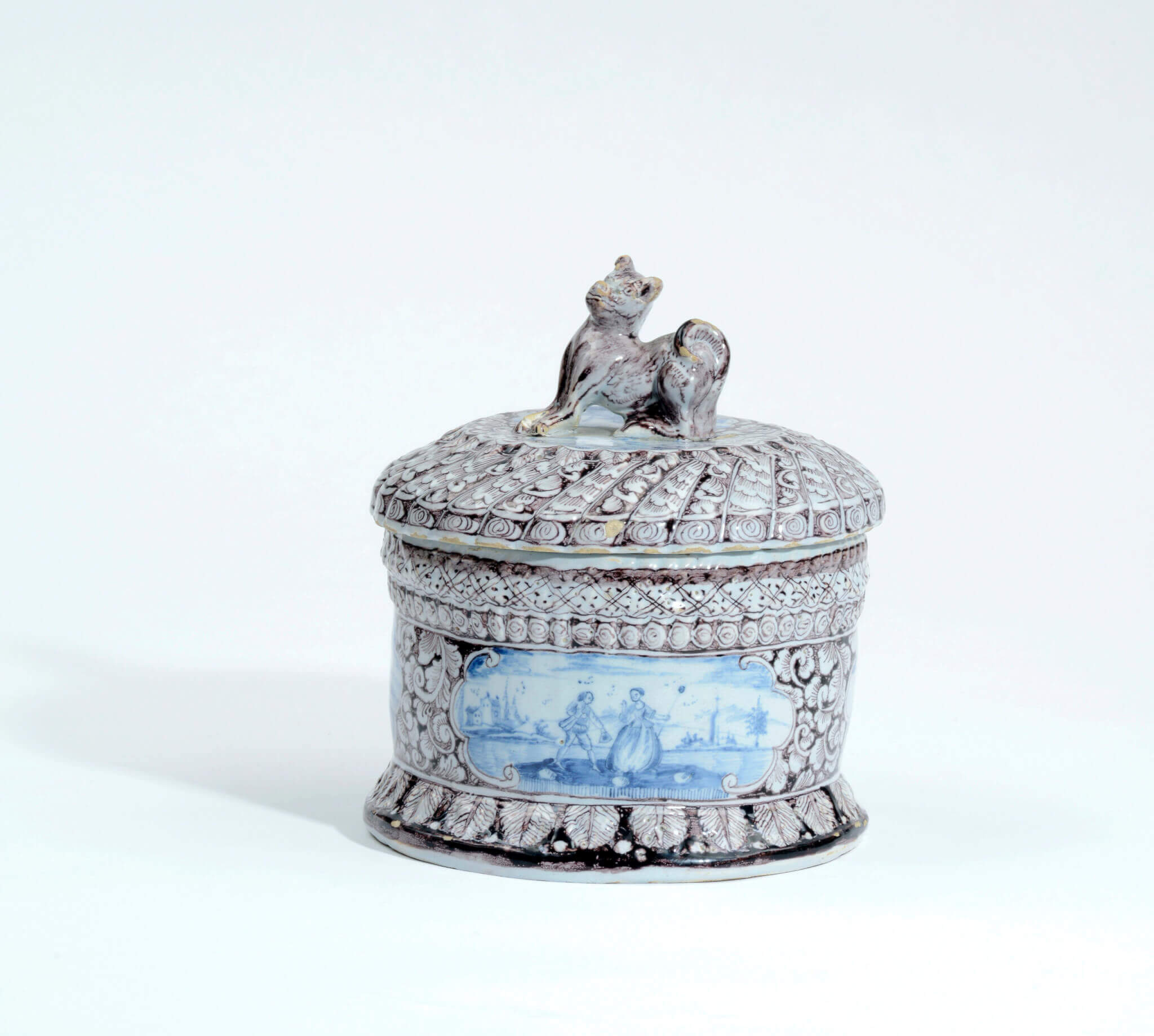 [popup_trigger id="13756″ tag="span"]

[/popup_trigger]
OBJECT
•D2040. Polychrome Tobacco Box and Cover
Delft, dated 1764
Of circular shape and painted in blue on the front and reverse with pastoral figures in a river landscape within panels reserved amidst foliate scrolls on a manganese ground beneath bands of whorls and trellis diaperwork and above a border of leaves on the spreading foot, the domed cover with raking panels of foliate motifs terminating in whorls at the rim and in a further border of leaves surrounding the seated dog finial on the flattened top, and inscribed and dated on the interior: "Gedraait gebakke en geschildert en dat alles onverhindert is dit doosje voortgebragt hoe is't mogelijk op ene dag:" (Turned, fired and decorated and everything unhindered this little box was made how is it possible, in only one day:) G:M:V. 1764:
Dimensions
Height: 15.8 cm. (6.2 in.)
Provenance
Salomon Stodel Antiquités, Amsterdam, 1996;
The Van der Vorm Collection, The Netherlands
Note
Tobacco, imported to the Netherlands via England or directly from the Americas and the Dutch East Indies, enjoyed great popularity as both a trade item and stimulant since its first appearance in Europe at the end of the fifteenth century. Initially a rare luxury good, and until the 1640s available only at pharmacies, tobacco was kept by its consumers in small amounts in pocket-sized boxes for consumption usually by chewing, smoking or snuffing. Larger quantities of cut or ground tobacco, however, were kept by pharmacists or tobacconists in covered earthenware jars in order to preserve their freshness (see Brongers, Niemeijer, pp. 181-186).
Later, in the eighteenth century, when tobacco prices decreased and tobacco became available to a wider range of consumers, who could afford to keep larger quantities on hand for individual consumption, the cut or powdered leaves were kept in decorative boxes made of silver, pewter or earthenware. Of various shapes, and often modeled after the elegant and more costly silver examples, the Dutch Delftware tobacco boxes, often abundantly decorated, were particularly popular, as they were both functional and ornamental.