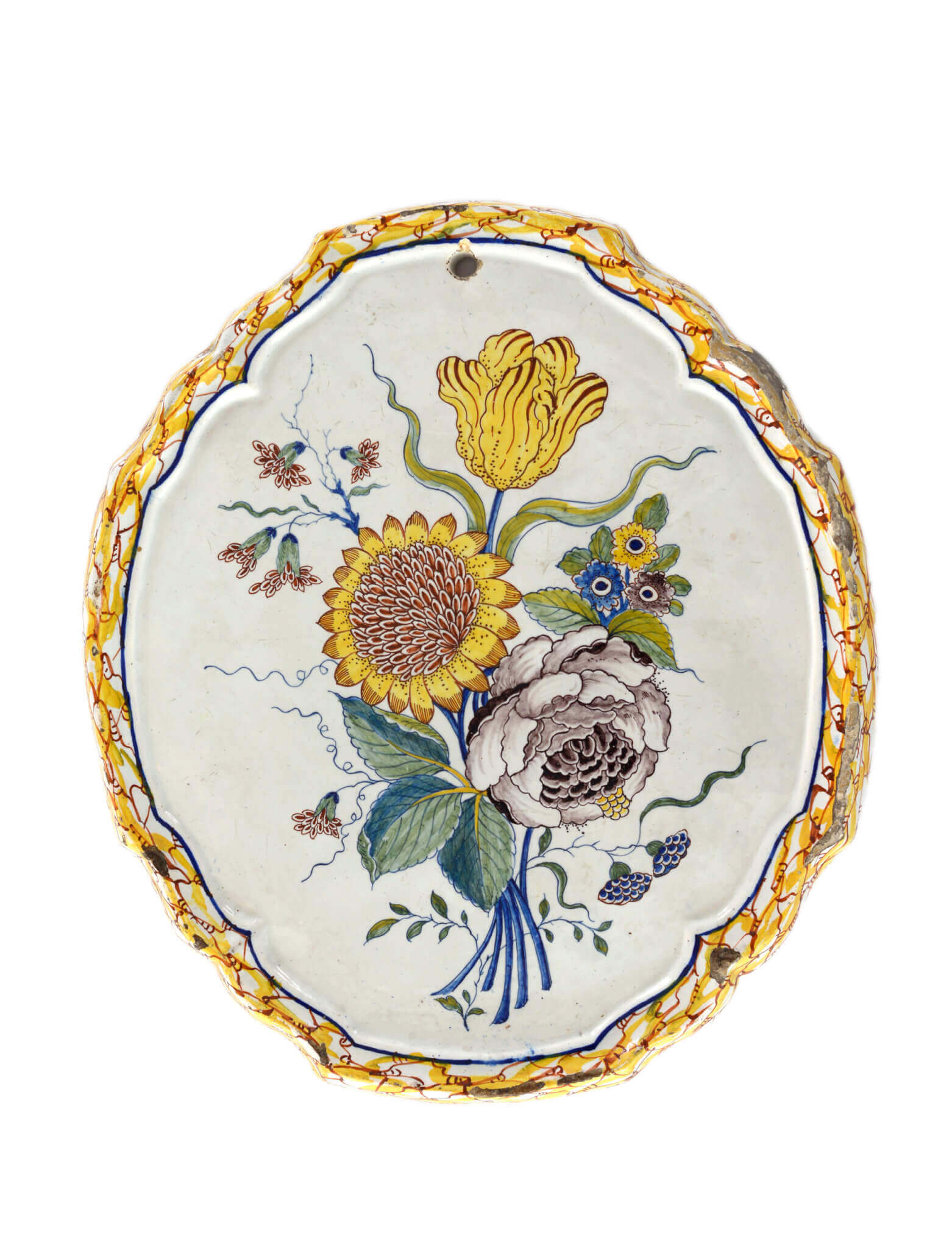 OBJECT
•D2032. Polychrome Oval-Shaped Plaque
Delft, circa 1765
Painted with a naturalistic floral bouquet within a molded self-frame marbleized in iron-red and yellow, the top pierced with a large suspension hole.
Dimensions
Height: 35.5 cm. (14 in.)
Provenance
The Hans Wolbers Collection, Belgium;
Aronson Antiquairs, 2004;
Swiss Private Collection
Note
"Porcelain paintings," as they were referred to in household inventories, were intended to be admired as if they were paintings on panel, canvas or copper. The  representations on the plaques are varied, and often reflect contemporary concerns and tastes. The floral bouquet and the baroque design of the plaque are in complete accordance with the taste of the day. The Delft painters became adept at combining various species of flowers in bouquets on Delftware similar to those in still life paintings during the second half of the eighteenth century. The design of lush bouquets on Delftware, composed of a range of cultivated garden flowers, are possibly inspired by engravings of Jean-Baptiste Monnoyer (1636-1699). Whereas the early flat, rectangular plaques were made of slabs of clay, by the eighteenth century,
baroque and rococo plaques were made in plaster molds with shaped borders in relief. The shapes became more stylish, varied and creative.
Similar examples
Although painted with different types of flowers, a similar shaped plaque in the Musée Adrien Dubouché in Limoges (inv. no. ADL 979) is illustrated in Lahaussois 2008, p. 161, ill. 8. Another rectangular plaque with the same decoration is in the Rijksmuseum, Amsterdam (inv. no. BK-NM-12234).