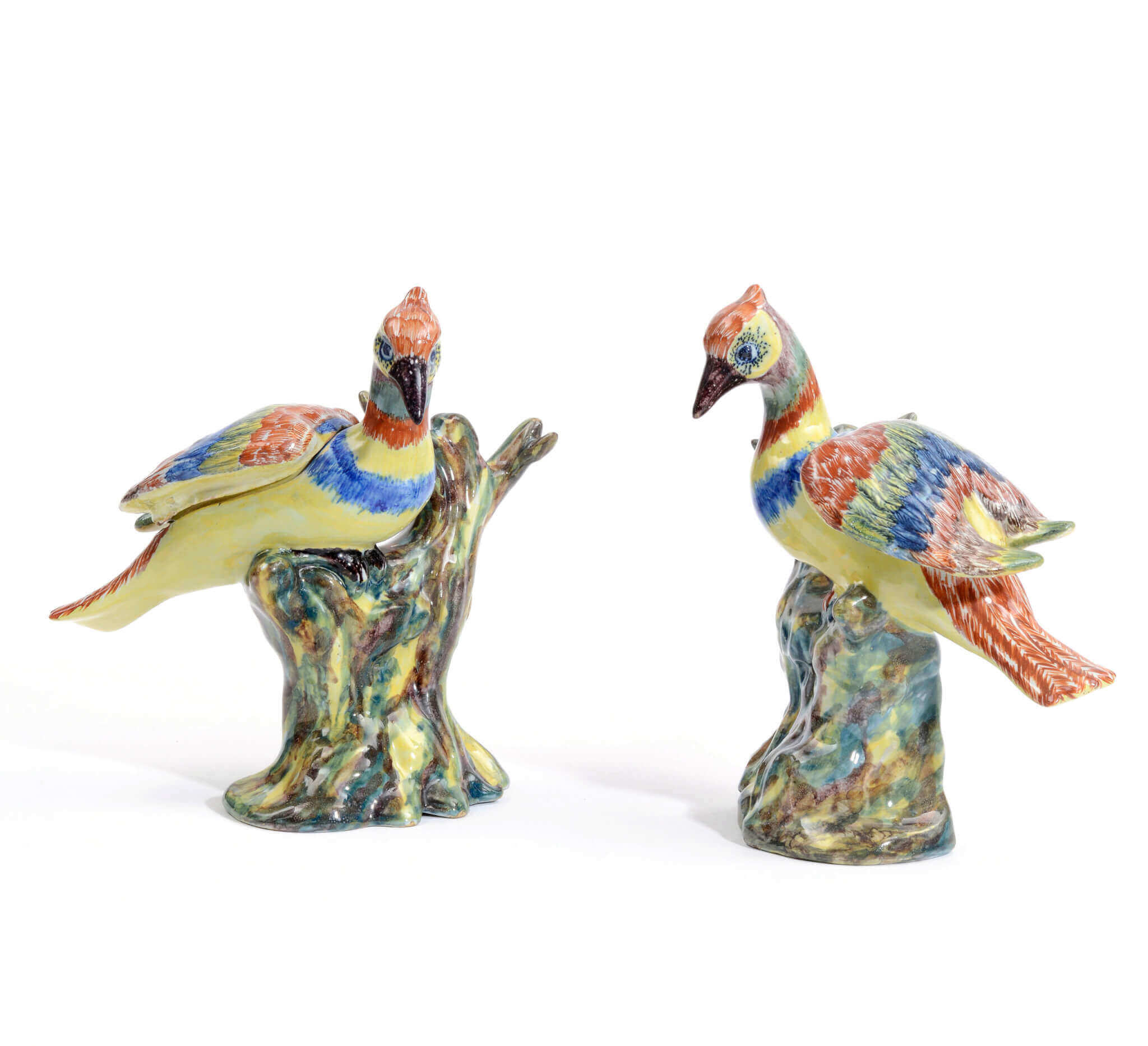 [popup_trigger id="13756″ tag="span"]

[/popup_trigger]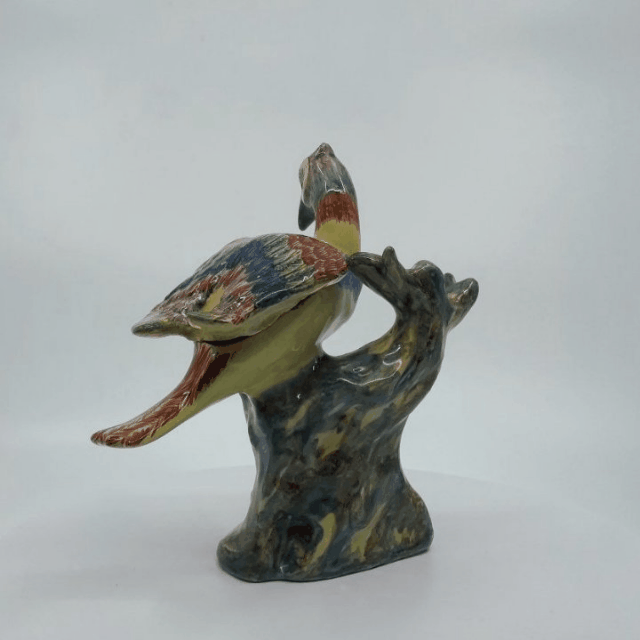 OBJECT
•D2030. Pair of Polychrome Bird Boxes and Covers
Delft, circa 1760
One numbered 11 or 12 on the interior of the birds and 12 or 15 on the covers in blue
Modeled affronté, each as a crested bird with finely painted colorful plumage, perched in the crotch of a bifurcated tree stump mottled in brown, green, yellow and manganese, the back and wings forming the cover.
Dimensions
Heights: 15.2 cm. (6 in.)
Provenance
The F. Smulders Collection;
The collection of S. Alberge, The Hague;
Private Collection, Belgium;
Aronson Antiquairs, Amsterdam, 2006;
The Van der Vorm Collection, The Netherlands
Exhibitions
Amsterdam, Rijksmuseum, Tentoonstelling van Oude Kunst, 1929, no. 450
Note
Delft potters were inspired by the animal world around them, such as cows, horses, cats and ducks, but also by animals that do not naturally occur in the Netherlands, such as these birds of paradise. Birds of paradise plumes were some of the most coveted products in Asia and had been part of Asian trade networks for at least 5000 years before Europeans reached the region in the late fifteenth century. Birds of paradise have been the focus of scientific curiosity and aesthetic desire in Europe since 1522, when the only ship to complete Magellan's circumnavigation of the world returned with five skins of the lesser bird of paradise along with its cargo of cloves. Portuguese sailors later brought bird of paradise skins from the Moluccas (Indonesia) back to Europe. When the skins of the birds of paradise, together with spices and other much coveted objects arrived in Europe in the sixteenth century, they were rapidly acquired by aristocratic collectors for their curiosity collections.
Their richly colored plumes captivated European imaginations, as did their unusual anatomic, for the legs of the birds had been removed during their preservation. This gave rise to European speculation that the birds, unable to alight, must remain perpetually in flight, suspended between heaven and earth. When Linnaeus published the first scientific description of the Greater Bird of Paradise in 1758, he invoked the bird's initial reception in Europe by naming the species the "footless" bird of paradise. Also in paintings the birds of paradise were a beloved theme. The birds' exotic and ascendant nature was powerfully symbolic: without their legs the birds were too close to the heavens to be contaminated with the exigencies of the everyday world. However, from the early seventeenth century some European naturalists got access to new kinds of skins that possessed legs and the birds of paradise were becoming terrestrialized.
Similar examples
An identical pair of bird boxes is illustrated in Lavino 2002, p. 62 (lower right).