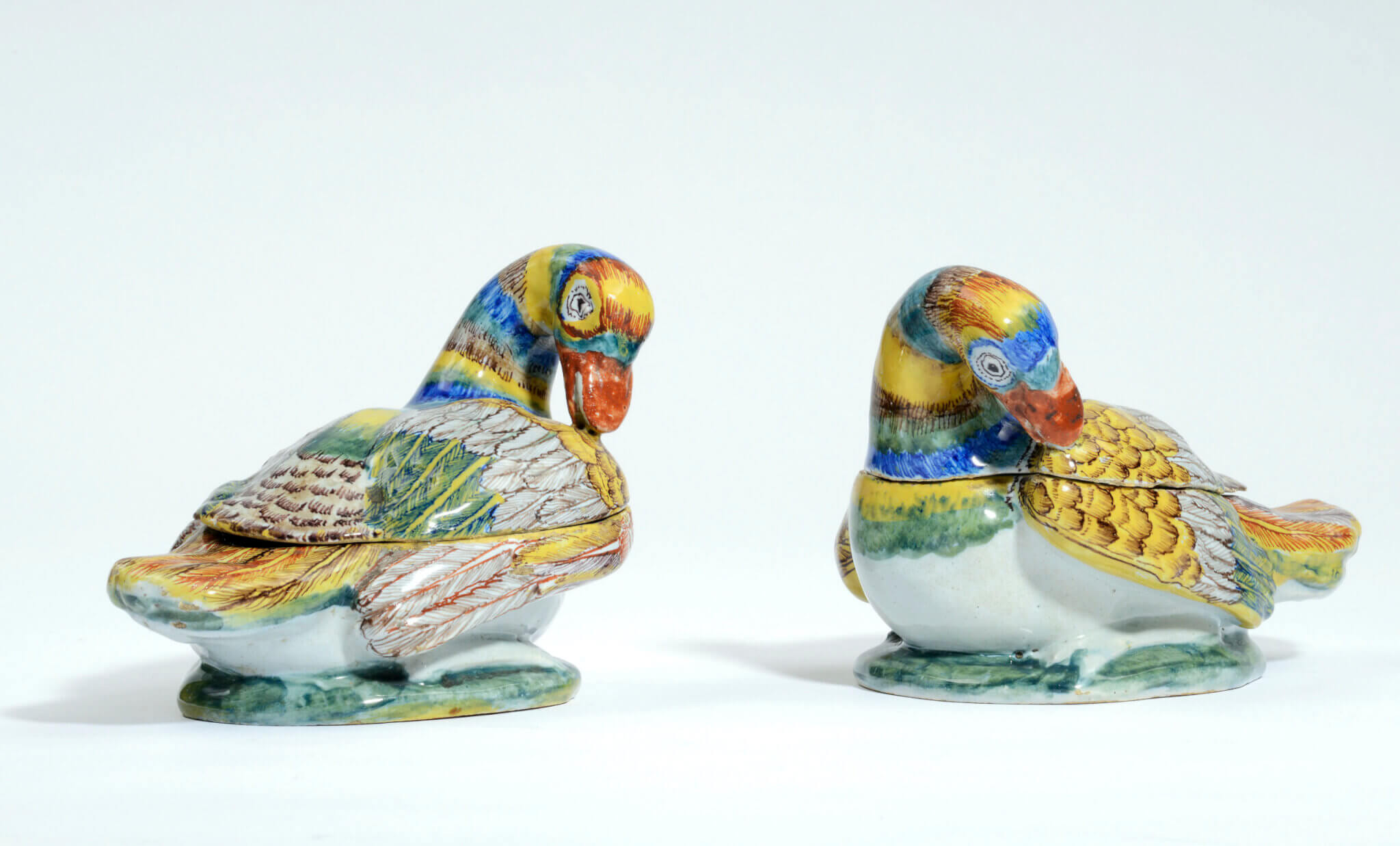 [popup_trigger id="13756″ tag="span"]

[/popup_trigger]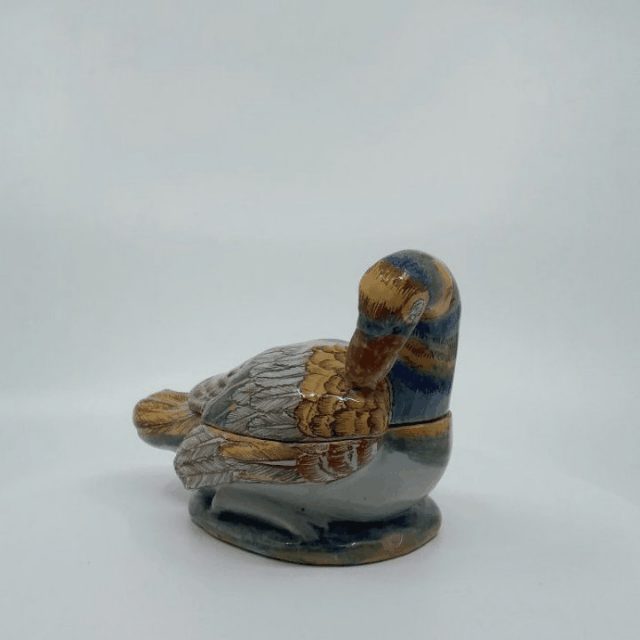 OBJECT
•D2026. Pair of Polychrome Duck Tureens and Covers
Delft, circa 1750
One numbered 3 in blue on the cover interior and 1 in manganese on the base, the other numbered 4 in manganese on the cover interior and base
Each with manganese eyes, an iron-red bill and well delineated colorful plumage, modeled affronté, preening one wing and seated on a green oval low mound base.
Dimensions
Heights: 11.8 cm. (4.6 in.)
Provenance
Heights: 9.6 cm. (3.8 in.)
Lengths: 13.3 (5.2 in.)
Note
These ornithological tureens form an interesting link between Meissen, China and Delft. Around 1750, zoomorphic boxes and small tureens were among the naturalistic wares produced in Meissen porcelain, and during the rococo era 'trompe l'oeil' ceramics were popularized through both Continental and English porcelain and Continental faience. Contemporarily, during the Qianlong dynasty (1736-95), these shapes also were produced in China as export porcelain for the European market. The connection is demonstrated through a pair of Meissen duck-form boxes with heads facing forward, modeled by Johann Joachim Kändler, circa 1740-48, in the Rijksmuseum, Amsterdam, illustrated in A.L. den Blaauwen, Meissen Porcelain in the Rijksmuseum, Zwolle/Amsterdam (Rijksmuseum) 2000, p. 413, no. 301; and a similar pair in late eighteenth-century Chinese porcelain, in the Peabody Essex Museum, Salem, Massachusetts, illustrated in William R. Sargent, The Copeland  Collection: Chinese and Japanese Ceramic Figures, Salem (Peabody Museum of Salem) 1991, p. 231.
Regarding another example (ibid., p. 181, no. 86), Sargent states that the Delft versions could have been made after either the European or Chinese examples, though it is far more likely that the Delft ducks inspired the Chinese Export porcelain examples.
Similar examples
A pair of Delft tureens of this model and size in the Lavino Collection is illustrated in Lavino 2002, p. 62 (top left). Another example similar to the left figure of the present pair, marked for the Drie Posteleyne Astonne (Three Porcelain Ash-Barrels) factory, in the Musées Royaux d'Art et d'Histoire, Brussels, is illustrated in Helbig, vol. I, p. 203, g. 151. Another tureen of this model from the collection of Dr. F. H. Fentener van Vlissingen, Utrecht, is illustrated in De Jonge 1947, p. 325, ill. 290. Two further examples are in the Historisch Museum, Arnhem, and a single one is in the Rijksmuseum Twenthe, Enschede (inv. no. BR0001 [R322]).