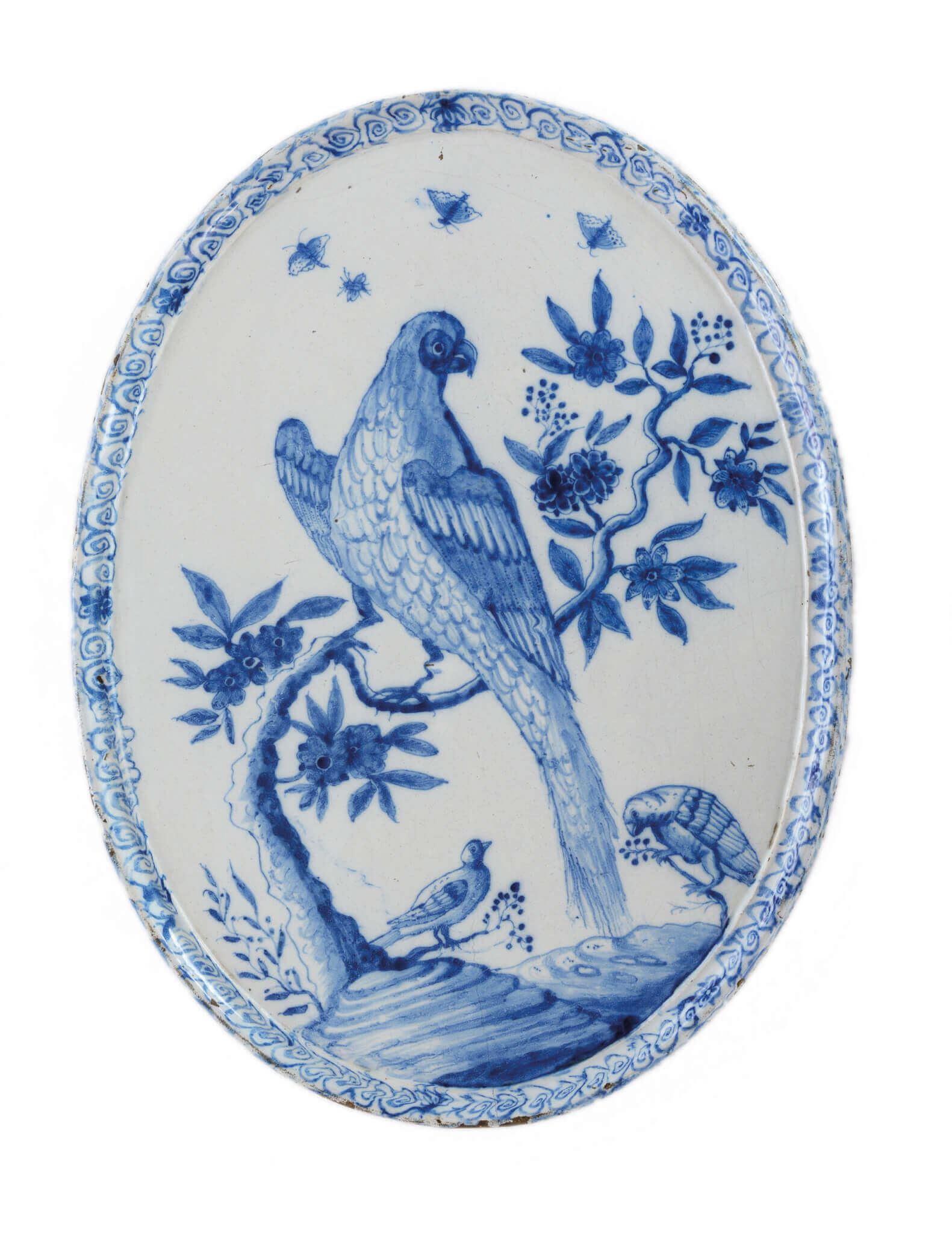 [popup_trigger id="13756″ tag="span"]

[/popup_trigger]
OBJECT
D2024. Blue and White Large Oval Plaque
Amsterdam, circa 1745
Attributed to De Twee Romeinen (The Two Romans) factory on the Prinsengracht in Amsterdam
Painted with a parrot perched on a flowering branch, above two other exotic birds perched on branches and pecking fruits, and below four fluttering insects, all within the molded self-frame with a scroll and floral border within the outer marbleized edge, the top pierced with two holes for suspension, the reverse glazed.
Dimensions
Height: 55 cm. (21.7 in.)
Provenance
Dutch Private Collection
Note
The imposing plaque is formed from a thick, heavy slab of clay and has a firmly molded high edge. The method of firing, on its long side, the marbled edge and the large dimensions are typical for the output of the Amsterdam tile factory De Twee Romeinen. Not only were the former tile makers better equipped to fire and paint large objects than their Delft colleagues, but the technical differences between the faience created by tile makers and Delft factories generally left observable traces on the finished objects. For example, impressions of wooden laths or traces of sand from the work bench are sometimes visible on the back of the objects, and smaller objects often have the same thickness as tiles. At the former tile factories, objects were not fired in saggars, as in Delft, but were stacked on their sides between blocks of tiles. This caused one or two bare patches along the downward side of a fired object.
There are further stylistic differences between the two producers. Tile factory plaques often have large-scale decoration filling the entire surface, with no use made of cartouches as at Delft. In addition many objects are partially marbled and the light blue is striking for objects made in Amsterdam.
Similar examples
Although the decoration is different, a somewhat smaller oval plaque attributed to De Twee Romeinen in the Harlinger Aardewerk Museum, is illustrated in Van Dam, "'Delfts' uit de provincie, Aardewerk uit Hollandse tegelfabrieken", in: Vormen uit Vuur, 1999, vol. 168/169, p. 54. In the same article, on p. 53 another oval plaque by the same factory is illustrated.