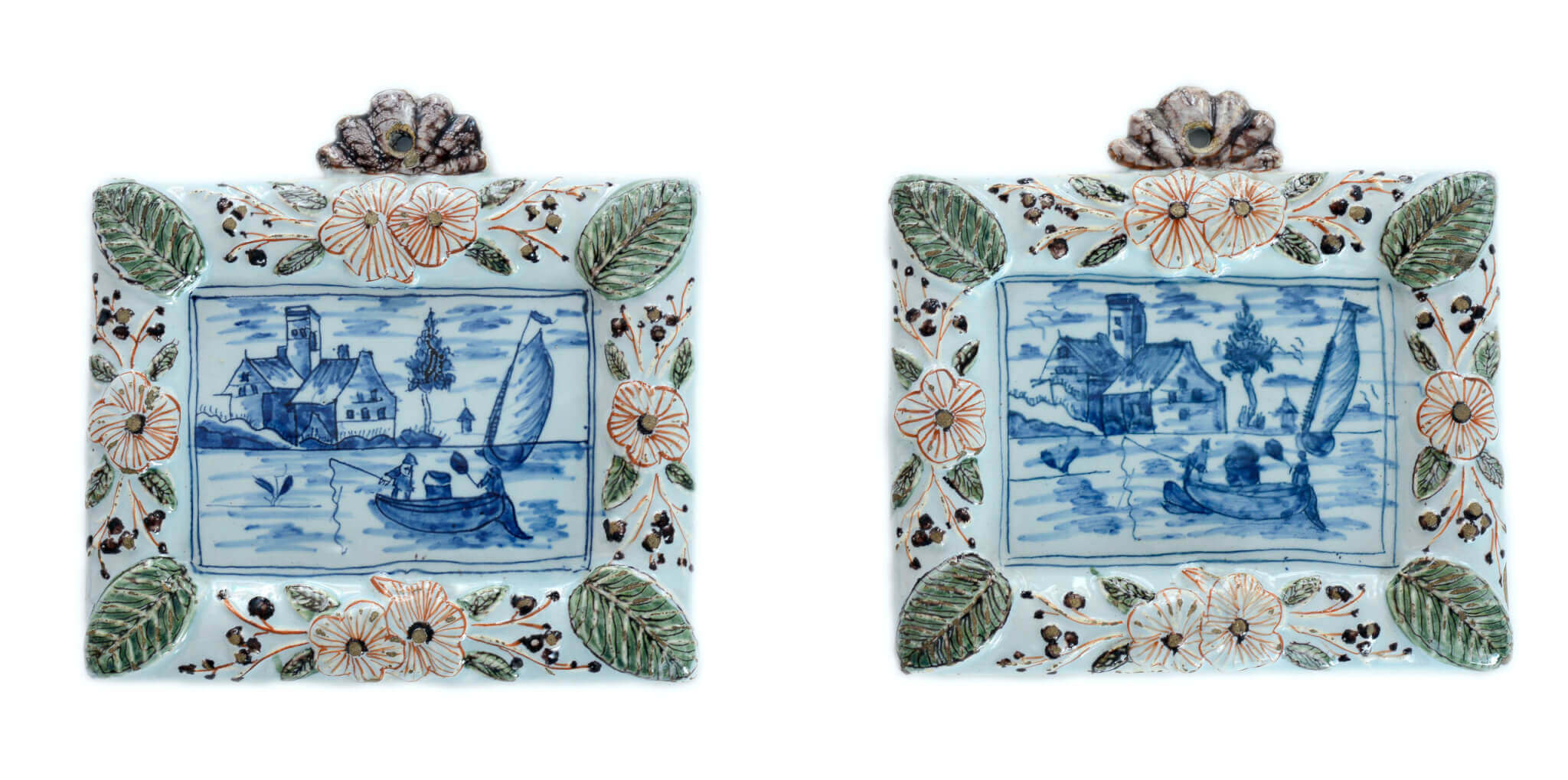 OBJECT
D2021. Pair of Polychrome Small Plaques
Delft, circa 1730
Each painted in the center in blue with a scene of figures fishing from a skiff near a sailboat before a large building, a tree and a gazebo on the far shore, the self-frame molded with sprigs of iron-red-delineated blossoms issuing stems of manganese buds and green leaves between a large green leaf at each corner, and the top with a manganese demi-blossom pierced with a suspension hole.
Dimensions
Heights: 12.8 cm. (5 in.)
Lengths: 12.3 cm. (4.8 in.)
Provenance
Aronson Antiquairs, Amsterdam, 2006;
The Van der Vorm Collection, The Netherlands
Note
Dutch Delftware plaques stand out amongst the many examples produced during the seventeenth century for their extreme delicacy and meticulousness. The "porcelain paintings," as they were referred to in household inventories, were intended to be admired as if they were paintings on panel, canvas or copper. Unfortunately, because of their similarity in appearance to prints and paintings, it is quite rare to find a contemporary representation that illustrates how they were exhibited in their original context.
Early seventeenth century blue and white rectangular plaques were drilled with a hole or adorned with a thin wooden frame for their decorative display on the wall. In some cases, the reverse of the plaque would be chamfered to imitate the wooden panels used by contemporary painters. Delftware designers continued to innovate as time passed, using trompe l'oeil techniques in plaque designs, as can be seen in the molded borders of this pair of eighteenth-century plaques.
Similar examples
A slightly larger plaque of a very similar model is illustrated by Lavino 2002, p. 131 (bottom, right).