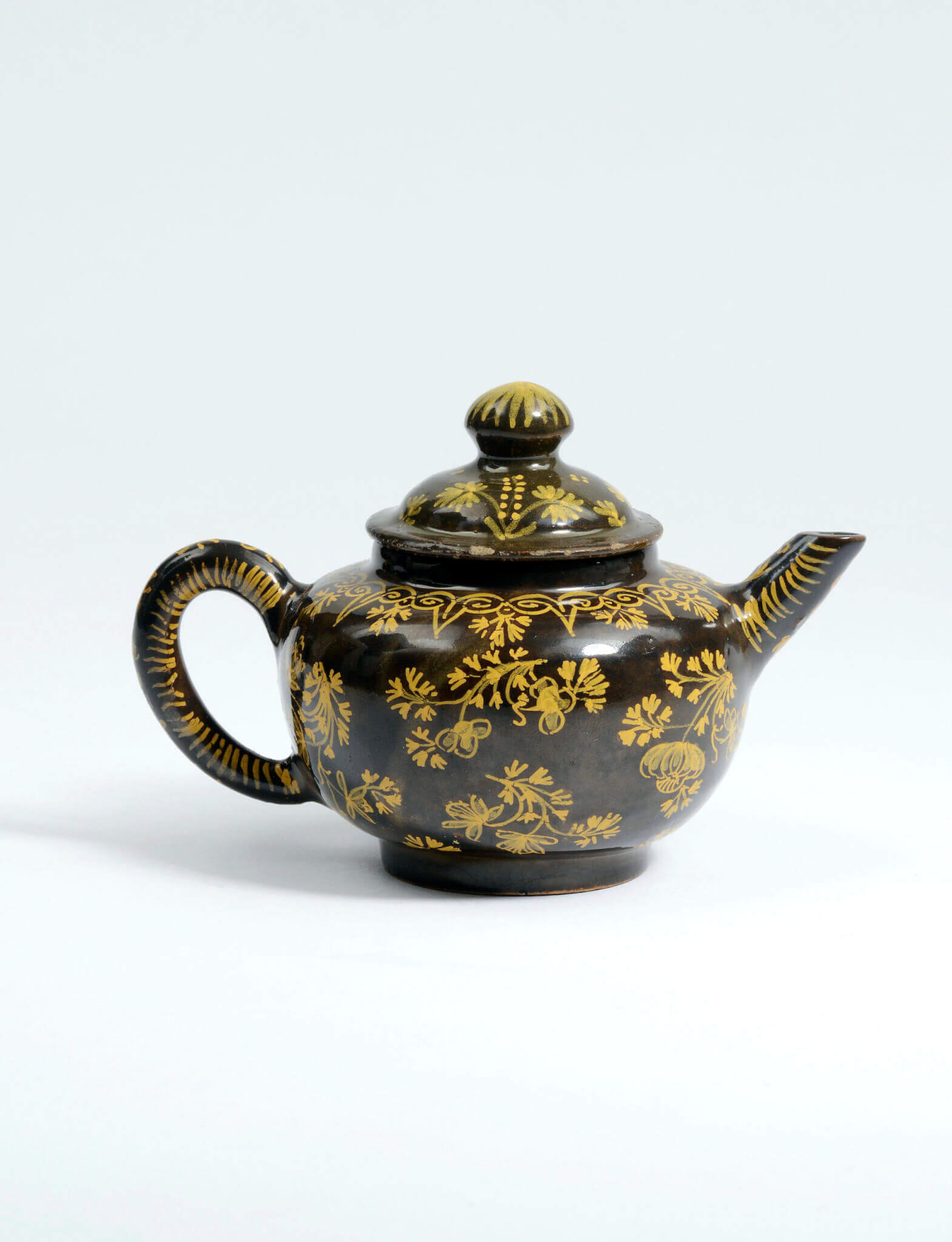 [popup_trigger id="13756″ tag="span"]

[/popup_trigger]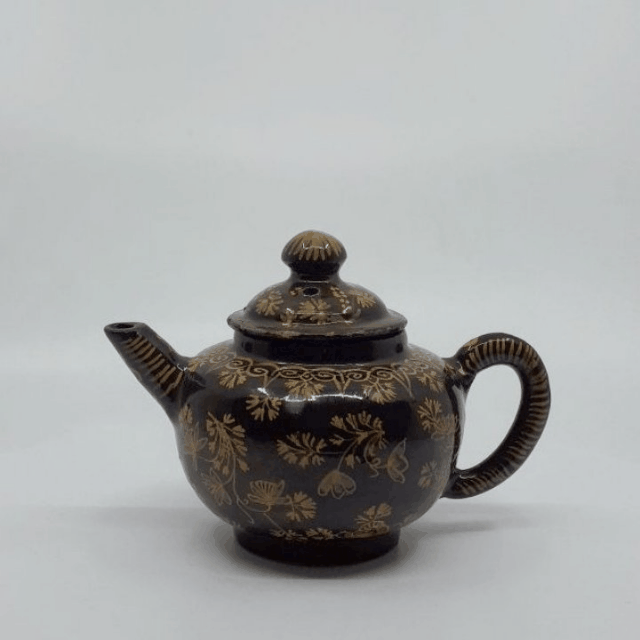 OBJECT
•D2013. Brown-Glazed Spherical Teapot and Cover
Delft, circa 1700
Marked LVD in yellow for Lieve van Dalen, the owner of Het Jonge Moriaanshooft (The Young Moor's Head) factory from 1692 to circa 1726
The spherical body with a brown ground painted in yellow with stylized floral sprigs and sprays beneath a whorl border, the short spout and loop handle with yellow scrollwork bands.
Dimensions
Height: 8 cm. (3.1 in.)
Provenance
Aronson Antiquairs, Amsterdam, 2004;
The Van der Vorm Collection, The Netherlands
Note
The largest assemblage of 'Brown Delft' is in the Albert Evenepoël Collection at the Musées Royaux d'Art et d'Histoire, Brussels, which has 16 pieces. The rare and lustrous brown ground color was a challenge for the Delft potters, who at the time were eager to imitate the effects of the prized lacquer wares being imported largely from Japan at the end of the seventeenth century. Several Delft factories tried their hand at the brown ground, but the most successful was Het Jonge Moriaanshooft under the 20-year proprietorship of Lieve van Dalen, whose mark appears on many of the surviving 'Brown Delft' wares, which include tea and table wares, various small useful wares and vases.
Early teapots are generally of a small size, not only because tea was an exotic and expensive luxury and consumed sparingly, but also because these teapots were used as infusion pots from which a small portion of the strong brew would be poured into a cup and then diluted with hot water from a kettle. The present teapot, however, is of a particularly small size referred to as a 'tasting pot.' As described in the exhibition catalogue, Thema thee: de geschiedenis van de thee en het theegebruik in Nederland, Rotterdam (Museum Boijmans van Beuningen) 1978, p. 32, before serving tea, the hostess would offer several blends in these small pots to be tasted by the guests so that they might select the one they would like to drink. K. Duysters, in Theepotten steengoed, Roodstenen theepotten uit Yixing en Europa, Arnhem (Historisch Museum het Burgerweeshuis) 1998, p. 31, comments further that tasting pots were brought along to the tea shops by ladies in order to sample the teas before choosing the kind they wished to buy.
Similar examples
A similarly marked and decorated small teapot in the Vromen Collection is illustrated by Boyazoglu, De Neuville 1983, p. 90, no. 109; in Van Dam 2004, p. 119, no. 69; and in Vrienden van de Nederlandse Ceramiek 48, ill. 15. Other marked examples with differing floral decoration are illustrated in De Jonge 1965, p. 215, ill. 125; and De Jonge 1970, p. 90, ill. 86; in Fourest 1980, p. 106, no. 99; in Helbig, vol. I, p. 39, g. 15; in Lunsingh Scheurleer 1984, p. 312, no. 351; and in Mees 1997, p. 112, Boijmans van Beuningen museum, Rotterdam (inv. no. A 4330), where it is referred to as an 'infusion pot'. A 'Black Delft' tasting pot similar to the present example in its small size, 7.5 (3 in.) high, is illustrated in Aronson 2010, p. 87, no. 46.