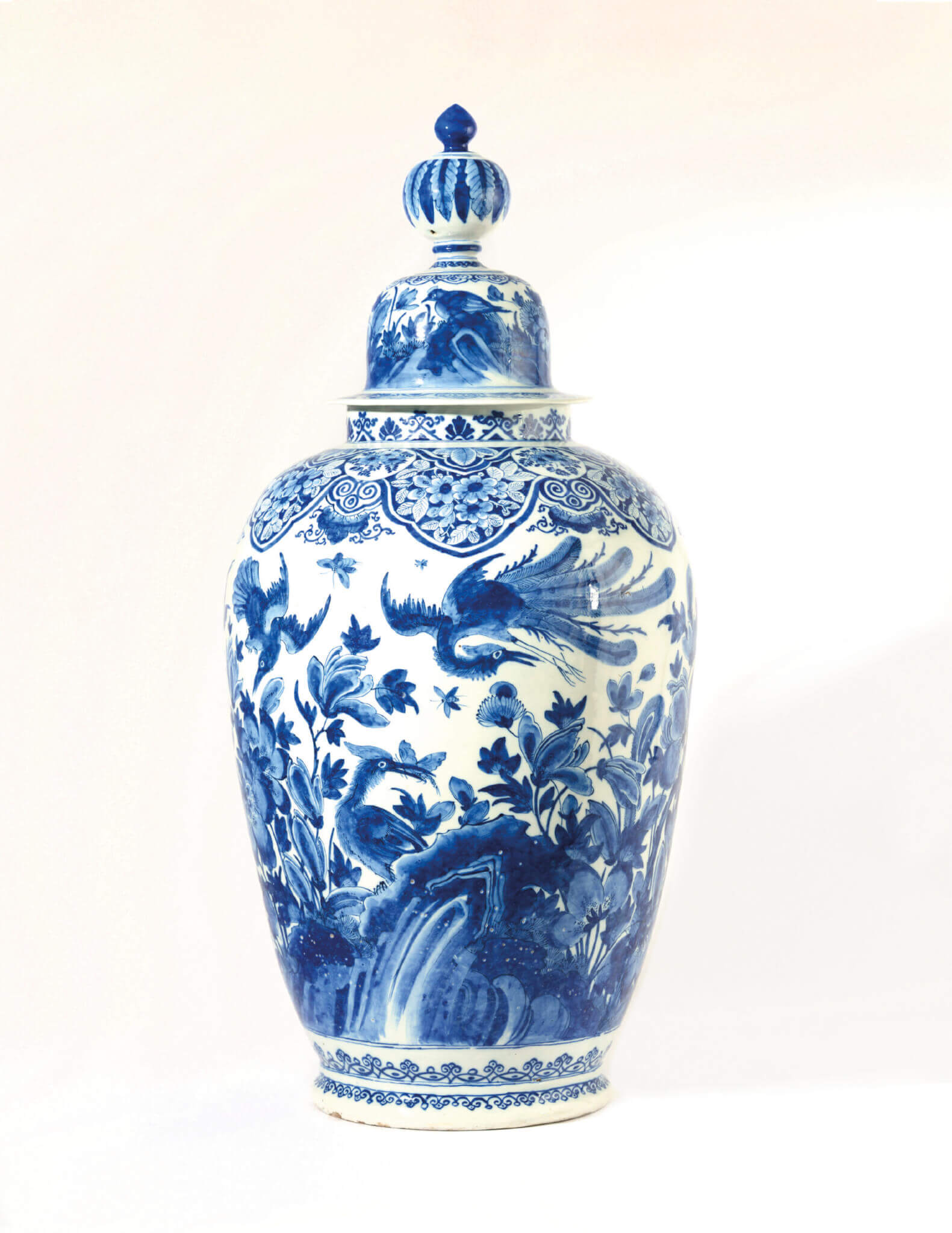 [popup_trigger id="13756″ tag="span"]

[/popup_trigger]
OBJECT
•D2009. Large Blue and White Vase and Cover
Delft, circa 1700
The ovoid body robustly painted with two phoenixes and four other birds in flight and perched amidst flowering shrubbery growing around rocks and flitting insects, all beneath a deep floral lappet and roundel border, the cover painted with two birds perched amidst flowering shrubbery, its wide rim with a border of ruyi-head and scroll devices and surmounted by a double-gourd-shaped knop decorated with a band of stiff leaves and a blue finial.
Dimensions
Height: 84.5 cm. (33.3 in.)
Note
Delft potters have often drawn their inspiration from Chinese imagery. The phoenix, or fenghuang, is one of the most highly revered creatures in Chinese mythology. The phoenix is believed to be the king of all birds and also a symbol of good fortune. According to Chinese tradition, the sumptuous animal appears to announce the beginning of a new era, and the imagery is often used to commemorate a new emperor's ascent to the throne. Emblematic of the Chinese empress, it also symbolizes virtue, duty, ritual, compassion, and trust.
Similar examples
Vases of this size are extremely rare. Around 1700 only a few factories had the skill and expertise to produce such a large and high quality object as the present vase. A blue and white large double-gourd-shaped vase of 70.7 cm. (27.8 in.) with identical decoration, illustrated in Aronson 2013, p. 37, no. 22, is in a private collection. Based on the identical decoration and exceptional size of both vases, it is possible that both vases were originally part of an extraordinarily large garniture. If this were true, then it was probably one of the largest garniture sets produced in the city of Delft, even larger in size than a five-piece garniture in the cashmere palette in the Rijksmuseum, Amsterdam (inv. no. BKNM-11467). Of this garniture, only the central vase with cover measures 80 cm. (31.5 in.) in height. The double-gourd-shaped-vases are only 58.5 cm. (23 in.), which is considerably smaller than the double-gourd-shaped vase in the private collection.