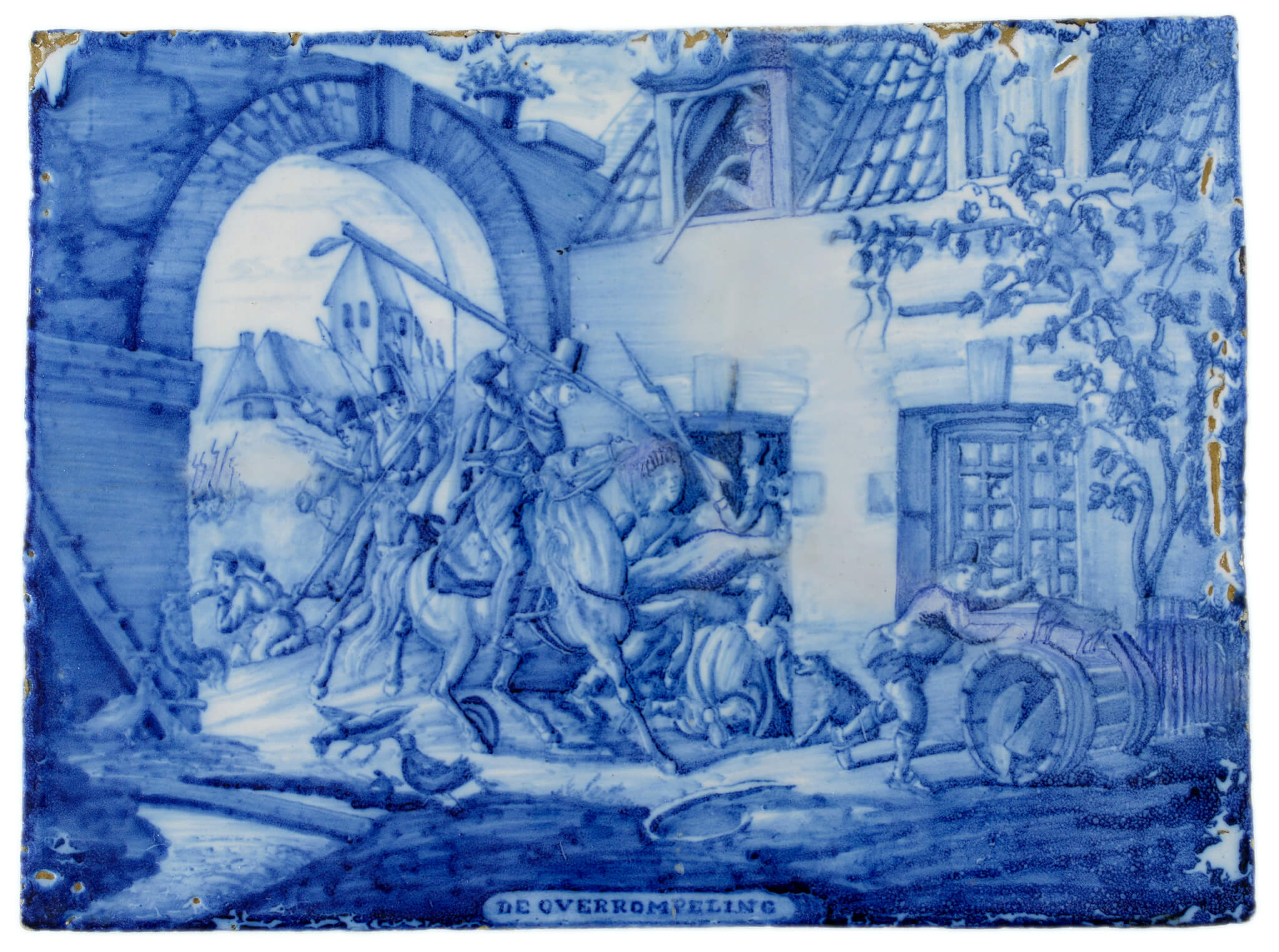 OBJECT
D2001. Blue and White Rectangular Plaque
Delft, circa 1670
Painted with a scene of a gated city, with horsemen and soldiers charging the town holding lances and weapons, an armed man pointing his weapon from the top story window within the gated city; painted underneath is another armed man and kneeling woman next to a dog, near a man pushing a barrel on which a cat stands, all above a small banderole inscribed DE OVERROMPELING.
Dimensions
Height: 21.7 cm (8.5 in.); Width: 29.5 cm. (11.6 in.)
Provenance
American Private Collection
Note
In the seventeenth century plaques were essentially large tiles, glazed on the front and some glazed on the back as well. The earliest examples as the present one, are all in blue and white, and were intended to be framed in wooden, predominantly ebony, frames and sometimes the reverse of the plaque was even chamfered to resemble the wooden panels used by contemporary painters.
Although it cannot be gauged how large any Delft factory's rather specialized production of plaques may have been relative to its manufacture of more useful or decorative wares, very little of that plaque production would have been possible without graphic sources for the decoration. While artistic license lent a certain freedom to the plaque-painter's compositions, they were almost unfailingly based on prints, either from the collections kept for this purpose by the potteries themselves, or supplied by a client for a special commission.The types of prints available to the Delft artist in the seventeenth and eighteenth centuries would have been woodcuts, etchings or engravings.
The Delft potters used to transfer the prints to plaques. With a needle held in a piece of wood, they would pierce the lines of an existing print or drawing to create a stencil. After the plaque had been formed and biscuit-fired in the kiln, its surface would be covered with a layer of white tin glaze onto which the stencil would be placed and then dusted with charcoal, which would leave a dotted outline for the painter to follow and complete the lines with cobalt-blue pigment. Stencils enabled the production of a series of virtually identical objects and by standardizing the image, helped raise the quality of their decoration.
To date we have not been able to identify the print source for this specific plaque.