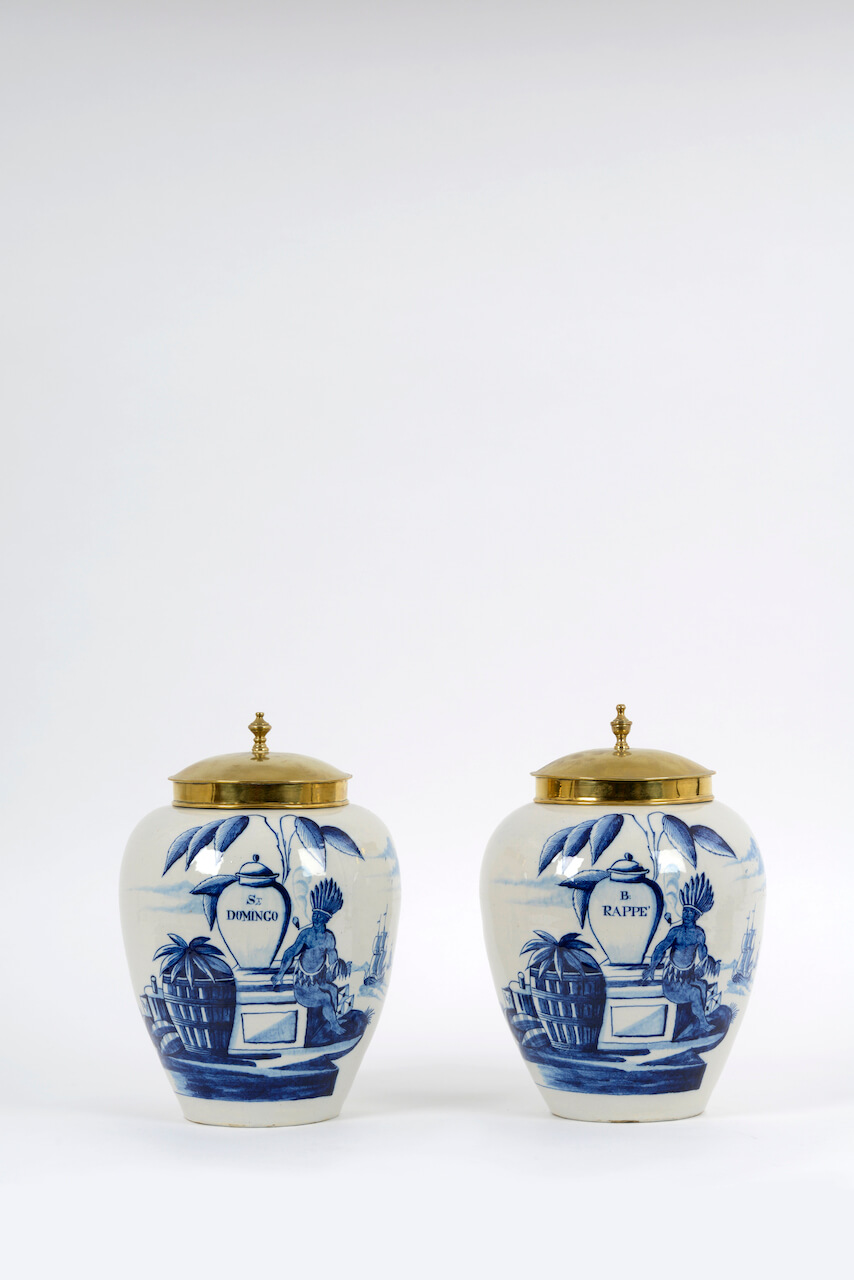 OBJECT
D1978. Pair of Blue and White Tobacco Jars with Brass Covers
Delft, circa 1795
Both marked BP in blue for De Vergulde Blompot (The Gilt Flowerpot) factory
Each painted on the front with an Indian chieftain smoking a pipe and seated on a pedestal beside a covered tobacco jar inscribed "B: RAPPE" or "St DOMINGO" before a tall leafy tobacco plant. To the right two ships under sail, and to the left a barrel revealing tobacco leaves beside other cargo vessels, one monogrammed VOC, all on a plateau beneath a cloudy sky. Each jar with a brass cover surmounted by a double-conical knop with ball finial.
Dimensions
Heights: 26.2 (10.3 in.)
Overall: 31.8 (12.5 in.)
Note
Tobacco, cultivated and used in the Americas for over 2.5 millennia, was first imported to Spain around 1528, found its way quickly to Portugal and by the middle of the century to France. Besides the brown leaves and the seeds, which had been brought back to Spain in 1559 and planted near Toledo on the orders of Philip II (1527-1598), King of Spain, Milan, Naples and Sicily and the Netherlands, the Iberian traders returned with the knowledge of tobacco's use and how to smoke it in pipes. Initially it was considered by the Europeans to be the "sacred herb" because of its presumed medicinal properties, but as soon as its importation was increased sufficiently by the Spanish and Portuguese, who developed a monopoly in the sixteenth century on the trade with South and Central America, its popularity began to expand and spread geographically. Sir Walter Raleigh (1552-1618), granted a royal charter by Queen Elizabeth I (1533-1603) in 1584 to explore and colonize uncharted lands, is credited for bringing back to England the first tobacco from Virginia, which became an enormously lucrative crop – "brown gold"– and a contributor not only to the colonization of the American colonies from the early seventeenth century onward, but also to the ultimately divisive slave trade.
By the end of the seventeenth century England had assumed control over large tobacco plantations along the southeastern coast of America: Virginia, the Carolinas and Maryland, and could supply Europe's requirements for this new and fashionable custom. In 1700 half of the total importation of 20,000,000 pounds of tobacco into Great Britain was exported to Amsterdam, where a large tobacco industry flourished. The tobacco leaves, already cured, fermented and dried on the plantations, arrived in Europe in the form of large rolls, which at the tobacco shops were often stored in large Dutch Delftware jars appropriately labeled with their contents. At a customer's request the tobacco was either cut to smoke or chew, or rasped to create snuff, as is indicated on the present jar inscribed "RAPPE" (from the French 'tabac rappé': finely grated tobacco for a strong, moist snuff). Once at the smoker's home, the tobacco could be stored in humidors or in specially designed jars or boxes, also made of Dutch Delftware, to keep it moist. Often small quantities of tobacco were kept in charmingly decorated Delft boxes, generally modeled after silver prototypes, which could be used as functional ornaments on a desk or table.
Similar examples
A pair of similar tobacco jars marked for De Vergulde Blompot factory, but one jar inscribed "CUBA", the other "HAVANA" is illustrated in Aronson 2015, pp. 138-139, no. 81.