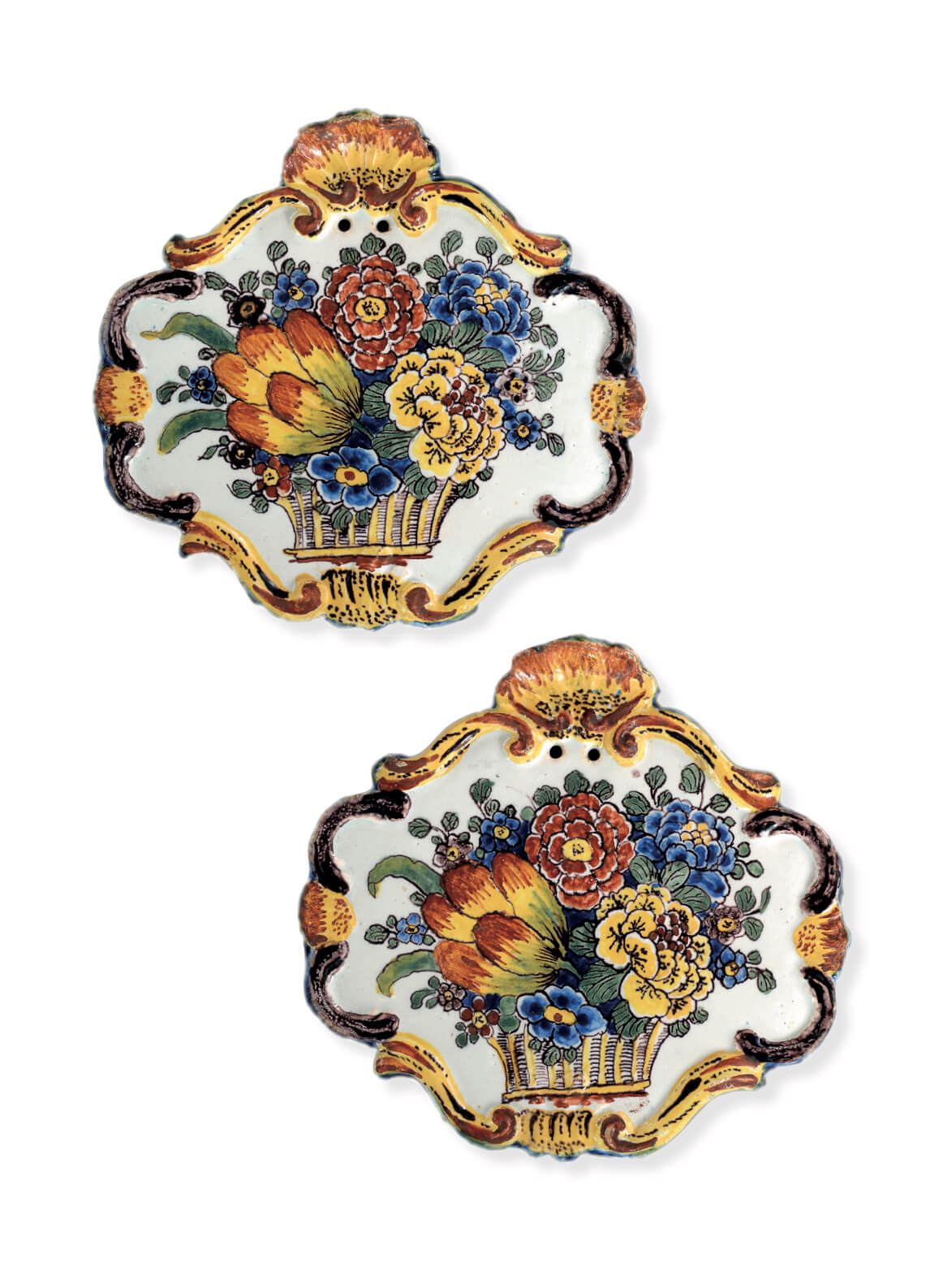 OBJECT
•D1975. Pair of Polychrome Small Floral Plaques
Delft, circa 1780
Unidentified MVD monogram in manganese
Each of cartouche shape and painted in the center with a lush arrangement of flowers in a yellow wicker basket within a self-molded frame of manganese C-scrolls and manganese- and iron-red-heightened yellow S-scrolls interrupted at the sides and bottom with shell devices and at the top with a scallop-shell-form crest above two pierced suspension holes. The reverse glazed.
Dimensions
Heights: 16.1 cm. (6.3 in.)
Lengths: 17.3 cm. (6.8 in.)
Provenance
The collection of Etienne Delaunoy, Amsterdam, and affixed with the collector's label, Collection Etienne Delaunoy, Amsterdam (Hollande);
The collection of Richard and Georgette Koopman, West Hartford, Connecticut;
Aronson Antiquairs, Amsterdam, 2005;
Dutch Private Collection
Literature
Described and illustrated in Aronson 2005, p. 63, no. 60
Note
Plaques or "porcelain paintings," as they were referred to in household inventories, were intended to be admired as if they were paintings on panel, canvas or copper. Still life paintings of flowers and fruits were a blossoming genre during Holland's Golden Age and Delft potters often used it as a source of inspiration. Flower baskets are frequently depicted on seventeenth-century Dutch floral still life paintings. Although Delftware painters were influenced by these paintings, they did not often have access to them, and would have used prints as their source of imagery.