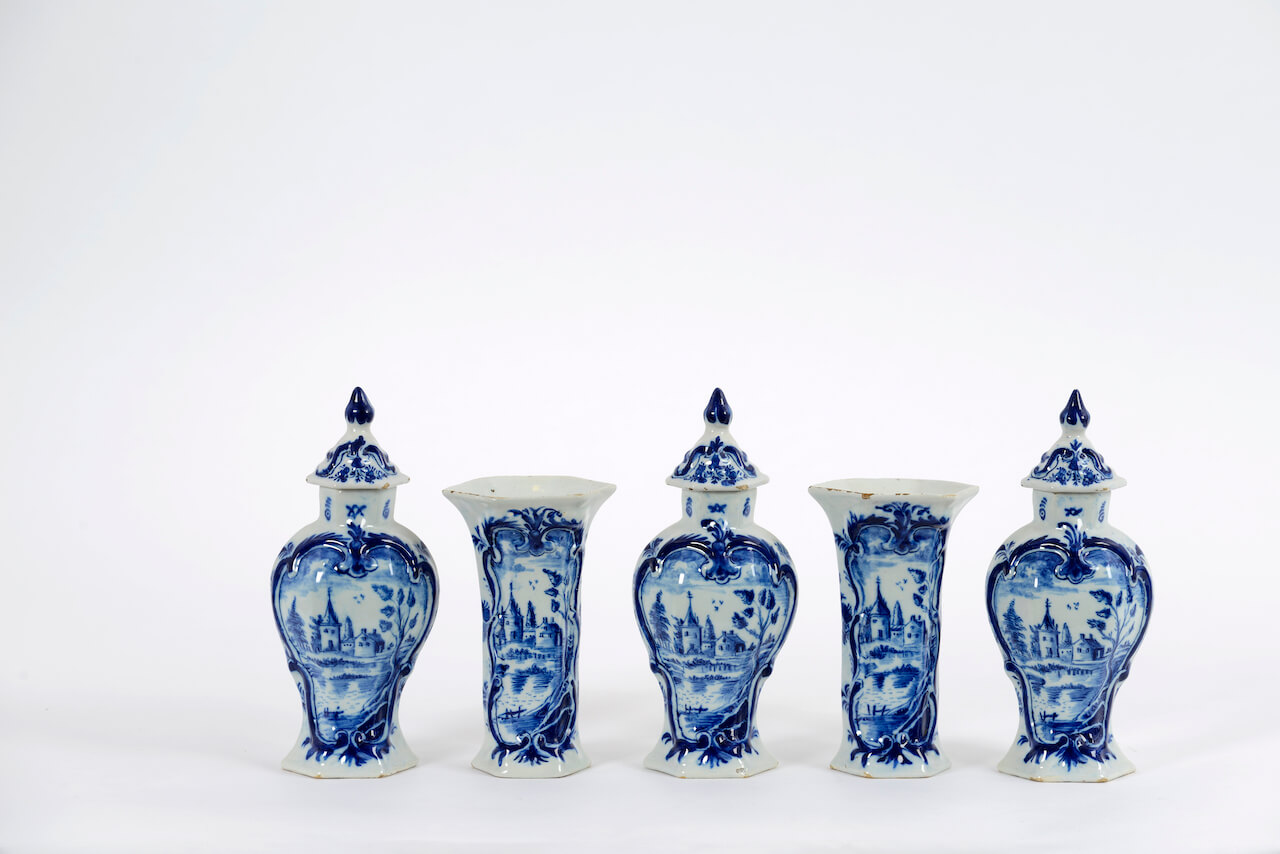 [popup_trigger id="13756″ tag="span"]

[/popup_trigger]
OBJECT
D1971. Blue and White Small Garniture
Delft, circa 1775
Each marked with a bottle and IHL in blue for Jacobus Harlees, the owner of De Porceleyne Fles (The Porcelain Bottle) from 1771 to 1786
Comprising three baluster-form vases and covers and a pair of beaker vases; each piece octagonal and painted with a landscape scene of a tower and building in a grassy landscape with trees and a fence in the foreground, all within a molded rococo cartouche issuing large floral sprigs onto the sides. The reverse with a leafy branch, and the covers painted within the molded cartouche at the front with floral sprays and on the reverse a leafy branch and surmounted by a pear-shaped knop.
Dimensions
Heights: 15.8 to 21.5 cm. (6.2 and 8.5 in.)
Note
Miniature garnitures often adorned so-called 'baby houses,' which was an eighteenth century term for a doll's house. The furnishings in these miniature mansions reflected contemporary tastes, which is useful for historians today in understanding the period. Although the present garniture is small, it is too large to have been used in a doll's house; garnitures in doll houses were often approximately 5 cm. ( 2 in.) in height. Therefore, this garniture must have been used in the interior, placed on or above a mantelpiece on a shelf or on a cabinet. In this setting, the garniture was purely decorative and served no other purpose, made "tot oogen lust en pronkery" ("for visual pleasure and splendor", as stated in 1711 by the Dutch poet and engraver Jan Luyken [1649-1712] in his treatise Het leerzaam huisraad [On educational household goods].
Similar examples
A blue and white garniture of approximatively the same size is illustrated in Aronson 2017, p. 87, no. 53. A blue and white baluster vase marked for Jacobus Harlees of the same model but with different decoration is in the Prinsenhof Museum, Delft (inv. no. PDA 300).