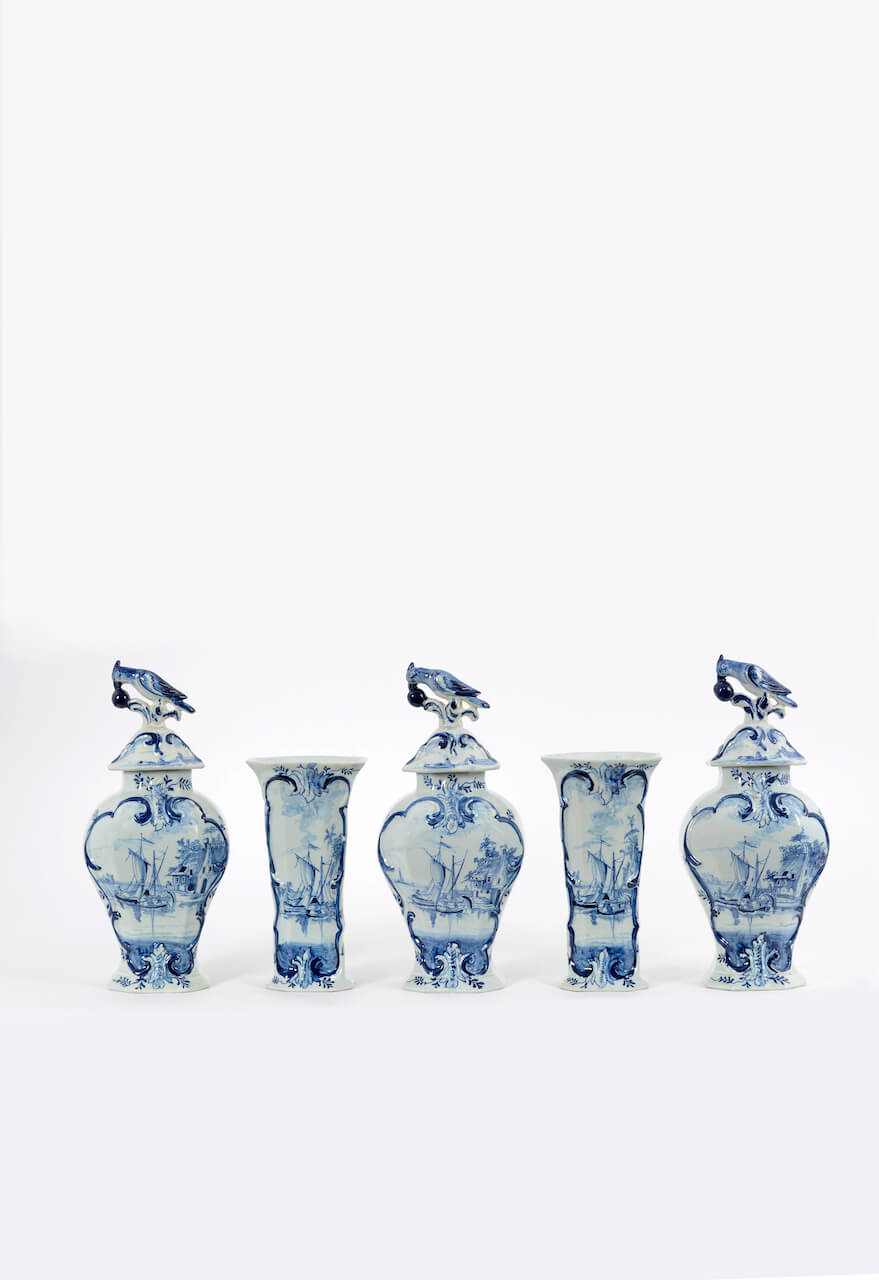 OBJECT
•D1970. Blue and White Garniture
Delft, circa 1775
Marked with an axe in blue for De Porceleyne Byl (The Porcelain Axe) factory
Comprising three baluster-form vases and covers and a pair of beaker vases; each piece octagonal and painted with a scene of a boat sailing near a building on the shore, all within a molded rococo cartouche issuing a molded flower at the top and bottom. The reverse with a leafy branch, and the covers painted within the molded cartouche at the front with a scene of a fisher boat near a bridge and on the reverse a leafy branch and surmounted by a parrot pecking at a fruit.
Dimensions
Heights: 23.5 to 33.2 cm. (9.2 to 13.1 in.)
Note
Consisting of three, five or sometimes seven vases, garnitures were prestigious luxury goods and highly fashionable decorations for the well-to-do. Although some models were timeless, their design and decoration often followed the latest fashion. The beginning of their production corresponds to a general keen interest for Chinese motifs and designs. By the eighteenth century, the arrival of the rococo movement encouraged the creation of a wide range of garnitures. This blue and white garniture perfectly illustrates the rise of the rocaille style with its rounded shape and relief scrolls. While the maritime scenes within the molded cartouches have a Western flourish, the finials of a bird pecking at a fruit reference oriental design. Garniture sets, such as the present, were displayed in prominent places in the interior. Starting in the 1730s, interior architects combined these with furniture, placing them on a mantelpiece, above a door or on an impressive piece of furniture. When placed above a cabinet or door, the garnitures were purely ornamental.
Similar examples
Although Delftware garnitures of this rococo shape are not uncommon, a set decorated with maritime scenes is rather rare. A single blue and white baluster-shaped vase decorated with a sailing boat and its cover with a bird pecking a fruit is illustrated in Boyazoglu 1980, p. 147, ill. 156, and on p. 148, ill. 157 a beaker vase with sailing ship within a rococo cartouche, marked for De Klaauw (The Claw) factory.