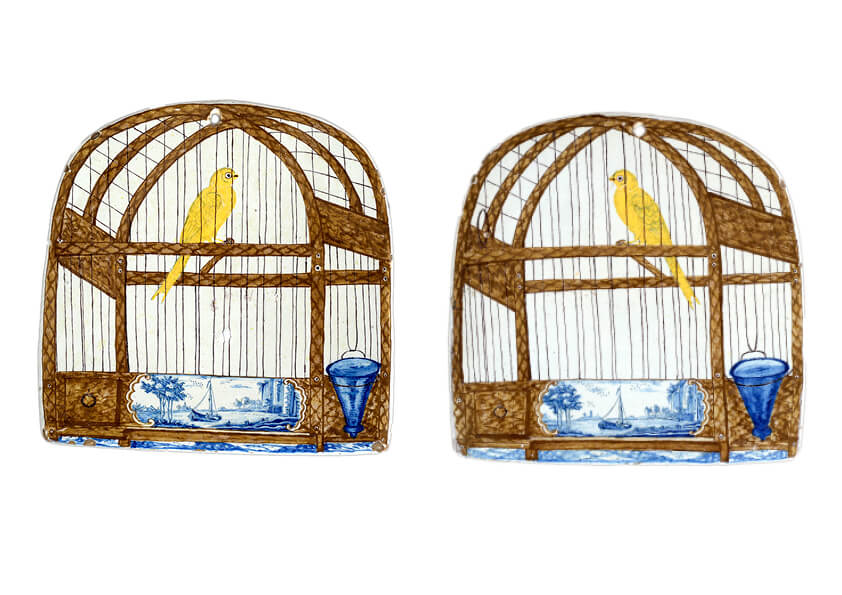 OBJECT
•D1969. Pair of Polychrome Birdcage Plaques
Delft, circa 1770
Painted in mirror image, each with a yellow canary bird perched within a wooden cage decorated on the front with a blue and white cartouche depicting a sailing boat in a river landscape, a blue feeding cup suspended at one end, and the arched top pierced with a hole for suspension.
Dimensions
Heights: 30 cm. (11.8 in.)
Lengths: 27 cm. (10.6 in.)
Provenance
Salomon Stodel Antiquités, Amsterdam;
Dutch Private Collection
Note
This pair of birdcage plaques demonstrates the trompe l'ceil (deceive the eye) technique, a style often used in old master paintings to captivate and fool the viewer. The Delft potters probably took inspiration from seventeenth-century still life paintings with trompe l'ceil effects. As can be seen on this pair of plaques, the painted depth and realism of the scene create an optical illusion. Not only in trompe l'ceil paintings, but also in seventeenth-century genre paintings birdcages are often depicted.
Similar examples
Birdcage plaques of this form with minor variations are illustrated by Lahaussois 1994, p. 124, nos. 154 and 155; Lavino, p. 117 (top right); Morley-Fletcher and McIlroy 1984, p. 232, no 1; Vandekar 1978, p. 11 (top left); and Aronson 2007, pp. 70-71, no. 53.