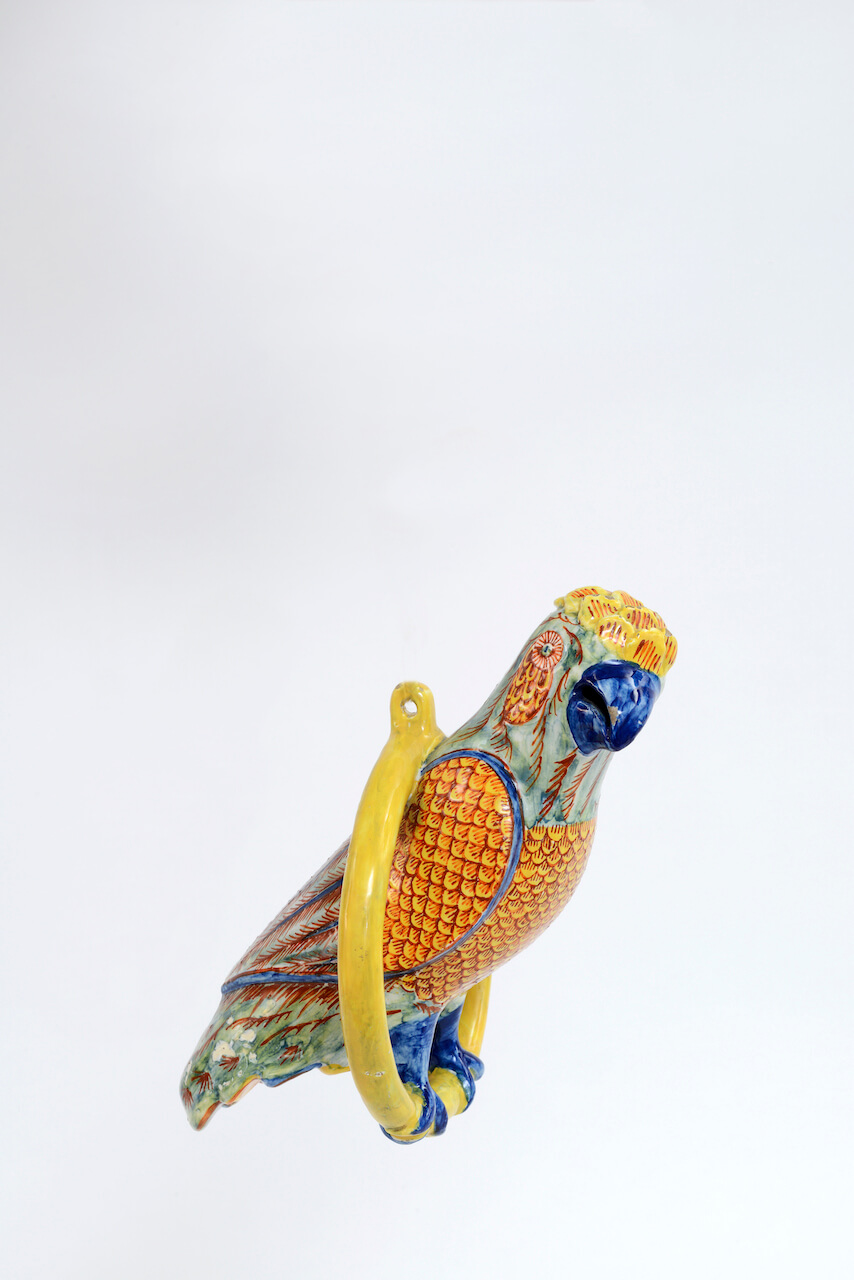 [popup_trigger id="13756″ tag="span"]

[/popup_trigger]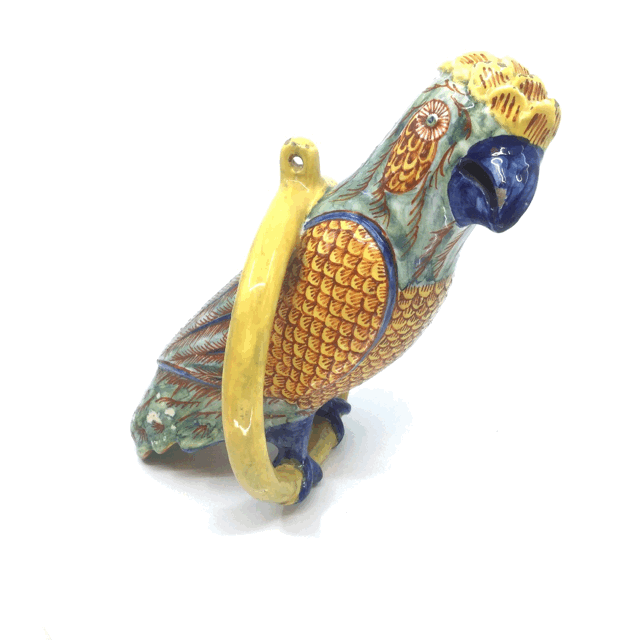 OBJECT
•D1968. Polychrome Figure of a Parrot on a Ring
Delft, circa 1770
Painted with finely and naturalistically iron-red delineated plumage on the yellow breast, wings and crest, a green back, tail and head dashed in iron-red, the beak and feet colored in blue, and modeled perched on a yellow ring with a suspension loop affixed at the top.
Height: 25.2 cm. (9.9 in.)
Provenance: C.J.J. Weegenaar Antiquair, The Hague, 1983; Dutch Private Collection
Note: Delft parrots were produced from the beginning of the seventeenth century until the end of the eighteenth century, showing their great popularity, as is discussed in Lunsingh Scheurleer 1984, p. 132. The basic form was a naturalistic rendering of a parrot, but some bird figures were modeled after the porcelain blanc de Chine hawks, illustrated in exh. cat. Blanc de Chine, 1985, p. 15, no. 19. With their strong legs, high chest and claws, they appear sturdy and serious. However, the plumage is painted with bright colors and patterns not seen in nature, making these forms beautiful ornaments for the interior. The Delftware birds were produced in several models, and are often seated on an oval base or a naturalistic pierced rock. Other examples are seated on a branch or, as the present example, in a ring that could be suspended from a higher attachment point.
Similar examples: Dutch Delft parrots perched on a ring seem to have been among the later models of this intriguing and popular bird, and their depiction in this pose also appears as the decoration on Delftware plates. According to C.J.A. Jörg and F.T. Scholten, "De Collectie Delfts aardewerk in het Groninger Museum," Groningen 1990, in M.M.V.V.C. (1990), 140, p. 44, these models might have been intended to serve as affordable substitutes for the rare and expensive live examples. A very similar parrot is illustrated by Boyazoglu 1983, p. 74, no. 151; and Boyazoglu, de Neuville 1980, p. 257, pl. 84. Others of this general size are illustrated by Lavino, pp. 46 (bottom, center), 129 (top, left) and 147 (top, left); by Mees 1997, p. 192 (center); in Nederlandse Vereniging van Vrienden van de Ceramiek, Mededelingenblad 140, p. 44, no. 83; and in Aronson 2003, p. 58, no. 56. A larger example is illustrated by Neurdenburg, Rackham 1923, pl. L, g. 81; several smaller examples are illustrated in Schaap 2003, pp. 60-61; Aronson 2000/2001, no. 37, and Aronson 2007, pp. 56-57, no. 42.