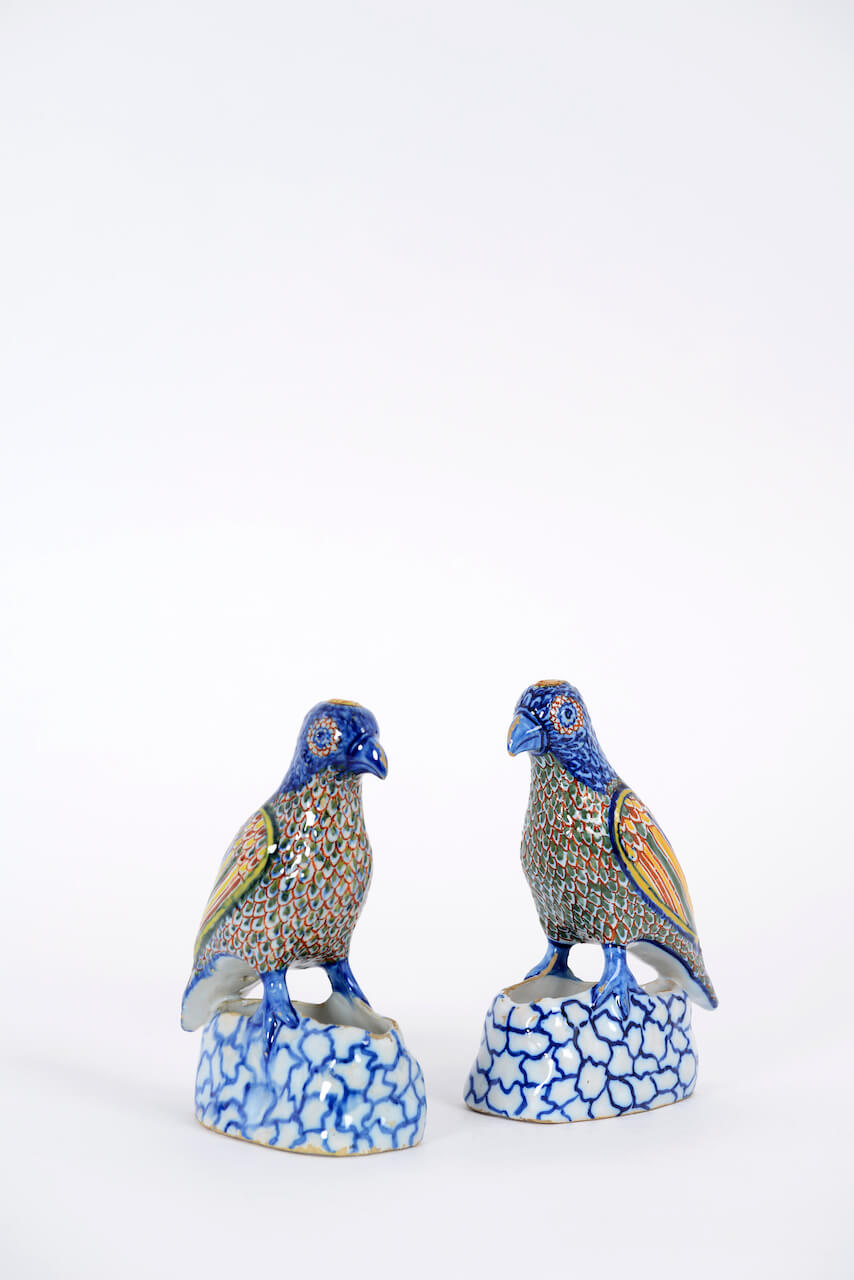 [popup_trigger id="13756″ tag="span"]

[/popup_trigger]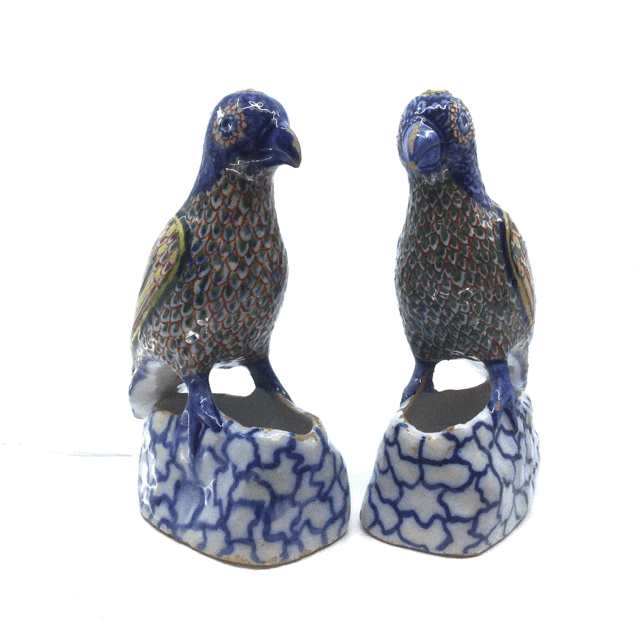 OBJECT
D2123. Pair of Polychrome Models of Parrots
Delft, circa 1775
Each with iron-red-delineated green and white plumage on the breast and lower body, a blue back and head, and blue, green, yellow and iron-red wings, the blue feet straddling the open top of an oval base painted in blue to resemble rockwork.
Heights: 17.5 cm. (6.8 in.)
Provenance: The collection of A. van Acker (1898 – 1975), the former Prime Minister of Belgium, Bruges; Aronson Antiquairs, Amsterdam, 1998; Dutch Private Collection
Note: The exoticism of parrots have remained since the eighteenth century when the colorful birds were popularly used as models in both porcelain and pottery. Like many Delftware objects, the ceramic parrots were first inspired by Chinese porcelain wares from the Kangxi period (1662-1722). The porcelain parrots found widespread appeal in both China and Europe for their colorful and exotic appearance, the earliest pieces often in the famille verte palette. Once the figures reached the Netherlands, they found a ready group of buyers. The bird was introduced into the Delft pottery repertoire, joining the more common animal imagery of dogs, cows and horses. The varying colors and shapes of parrots provided the Delft painters with many options for ornamental decoration.
Similar examples: Parrots, as exotic in the eighteenth century as they remain today, were particularly popular in both porcelain and pottery. In Delftware the same models were made over a long period of time, the earliest based on Chinese examples with the birds perched on variously shaped mound bases, and later modeled with the birds perched on rings for suspension. Made in several sizes, two parrots of the present size on a slightly different base are illustrated by Van Aken-Fehmers 2001, pp. 295 and 341, ill. 123, who also illustrates on p. 341, g. 1, five other parrots of this type. Another similar example is illustrated by Mees 1997, p. 192 (top). A similar pair on wedge-shaped bases is illustrated in Aronson 2007, pp. 44-45, no. 32.