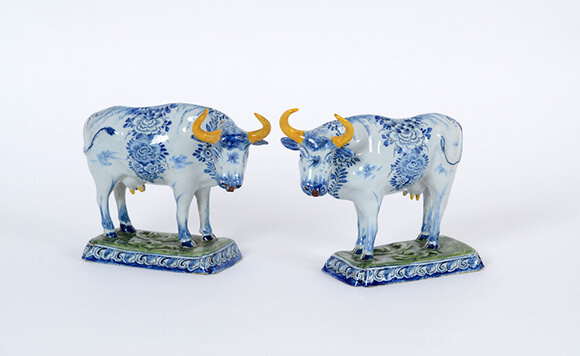 [popup_trigger id="13756″ tag="span"]

[/popup_trigger]
OBJECT
•D1963. Pair of Polychrome Figures of Cows
Delft, circa 1765
Each marked A in blue for De Grieksche A (The Greek A) factory
Each with a blue-spotted white hide, a blue forelock, hooves, muzzle, ears, spine and tail, a red lapping tongue and yellow horns, wearing garlands of flowers around its neck and beck, and modeled affronté, standing foursquare on the green grassy top of the blue chamfered rectangular base, its sides with a band of blue-delineated leaves and scrolls.
Lengths: both 22 cm. (8.7 in.)
Similar examples: While figures of cows were popular in the eighteenth century, they are mostly decorated in the most bright colors. A polychrome pair like the present one, with only blue garlands of flowers is rare. A pair with blue garlands and horns is illustrated in Aronson 2018, p. 89, no. 54; another one overall decorated in blue, but with yellow horns and udder is illustrated in Aronson 1990, no. 21.