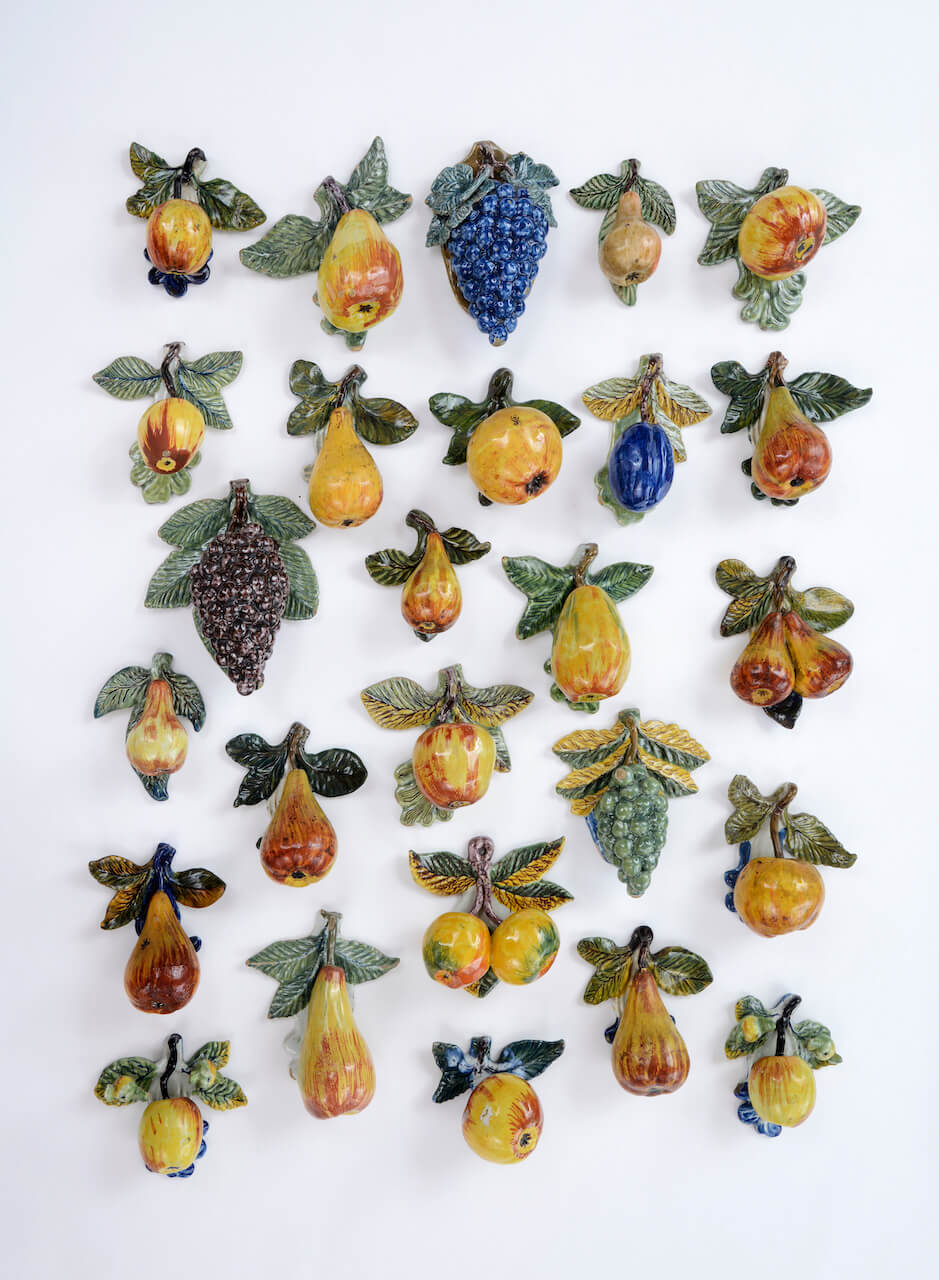 OBJECT
•D1948. A Collection of Models of Fruit
Delft, circa 1800
Comprising several kind of fruits such as apples, pears, clusters of grapes and one plum. Each is naturalistically colored and modeled resting on or suspended beneath a spray of manganese-veined leaves shaded in various tones of green and yellow and issuing from a manganese or brown stem.
Lengths: Approximately 11 to 15 cm. (4.3 to 5.9 in.)
Note:
Naturalistically modeled fruits of this type are an example of 'trompe l'œil' ornaments, which were fashionable in the Netherlands in the second half of the eighteenth century. Some Dutch Delftware fruits are so realistic and true to nature that they genuinely "tricked the eye." In spite of their naturalism, Schaap 2003, p. 62-63, suggests that these fruits were originally modeled after ornamental woodcarvings. Van Dam 2004, p. 173, pl. 116, illustrates a selection of this type of fruit (one plum, one cluster of grapes, and two pairs of apples and pears), and states that these were "small items to decorate the table at any time of the year." The table was the culmination of splendor, and it was seasonally adorned with beautiful flowers and luscious fruits; when these were unavailable, apples, pears and grapes made of Dutch Delftware were a charming and colorful substitute. A variety of examples is illustrated in Lavino, p. 58; and a garland composed of fifteen similar fruit models in the Musées royaux d'Art et d'Histoire, Brussels, is illustrated by Helbig, vol. II, p. 70, fig. 57; and by De Jonge 1965, p. 307, pl. 194: and De Jonge 1970, p. 142, ill. 149.