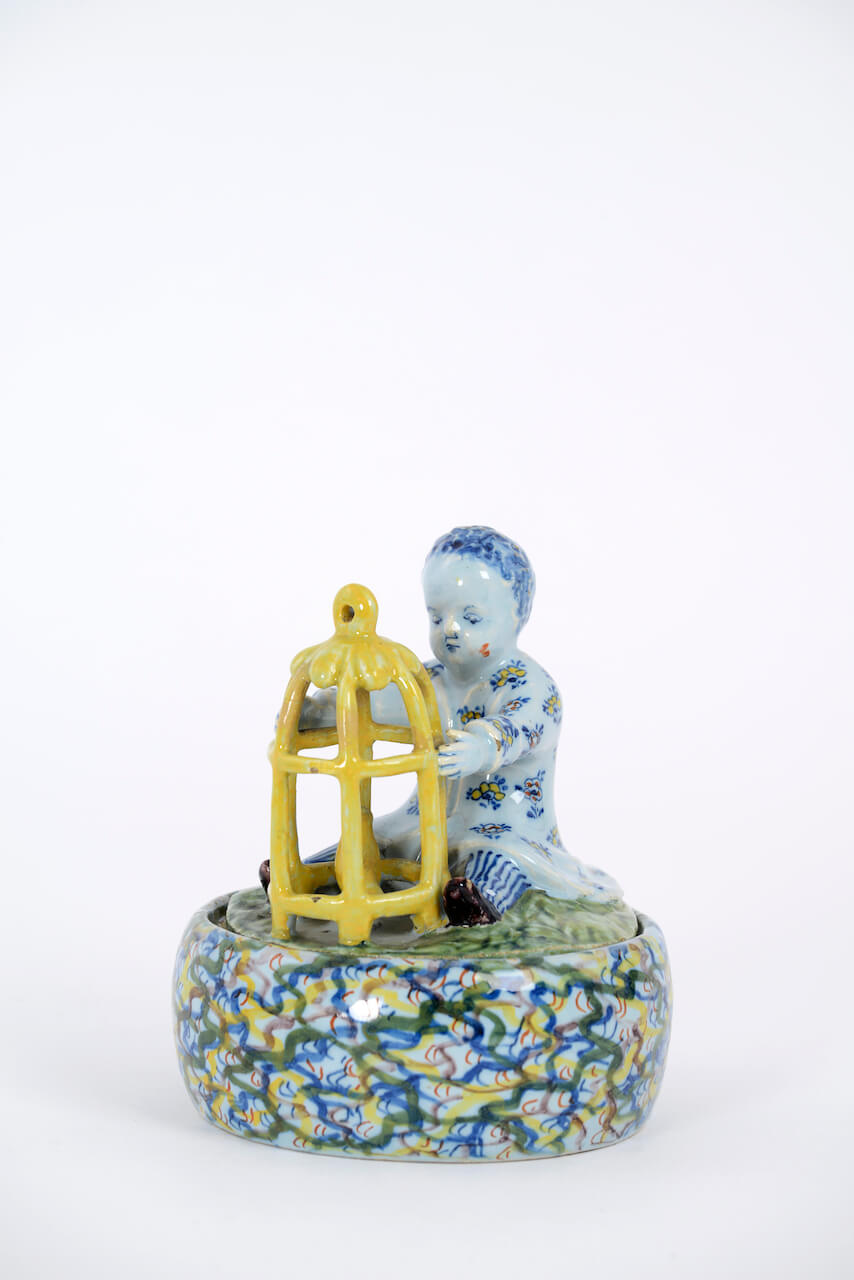 [popup_trigger id="13756″ tag="span"]

[/popup_trigger]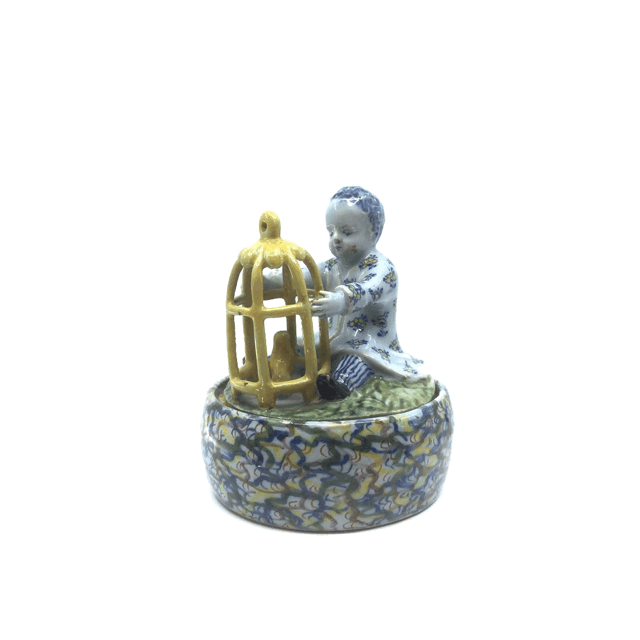 OBJECT
•D1942. Polychrome Child and Birdcage Tureen and Cover
Delft, circa 1770
The circular tub marbleized in blue, yellow, green, manganese and iron-red, the cover surmounted by a blue-haired lad wearing a yellow and iron-red flower patterned coat over blue striped breeches and manganese boots, seated on a grassy base and extending both hands to hold a yellow birdcage with a yellow bird.
Height: 13 cm. (5.1 in.)
Provenance: Salomon Stodel Antiquités, Amsterdam, 1986; Dutch Private Collection
Note: With the fashion of dinning à la Française, the range of tableware expanded quickly and complete services with matching decoration began to be produced. This enhanced the creativity of Delft potters who designed butter tubs and tureens of various sizes and shapes. Amongst them were created true-to-life vessels representing everyday's people activities or groups with a possible allegorical meaning, which might be the case with this tureen. A bird captured in a cage is often interpreted as a symbol of virginity. In the hands of a child, apparently a little boy, the birdcage, besides from serving as a toy, could be seen as a sign of innocence.
Similar examples: A similar example with a stand, marked AK * for Albertus Kiell, the owner of De Witte Ster (The White Star) factory from 1761 to 1772, in the A. Vromen Jr. Collection, is illustrated in De Jonge 1967, p. 61, no. 53; and De Jonge 1969, p. 139, ill. 146. A pair with similar lads, but seated next to a sheep and a basket of carrots and marked for Lambertus Sanderus of De Klaauw (The Claw) factory, is illustrated in Aronson 2016, pp. 80-81, no. 35.