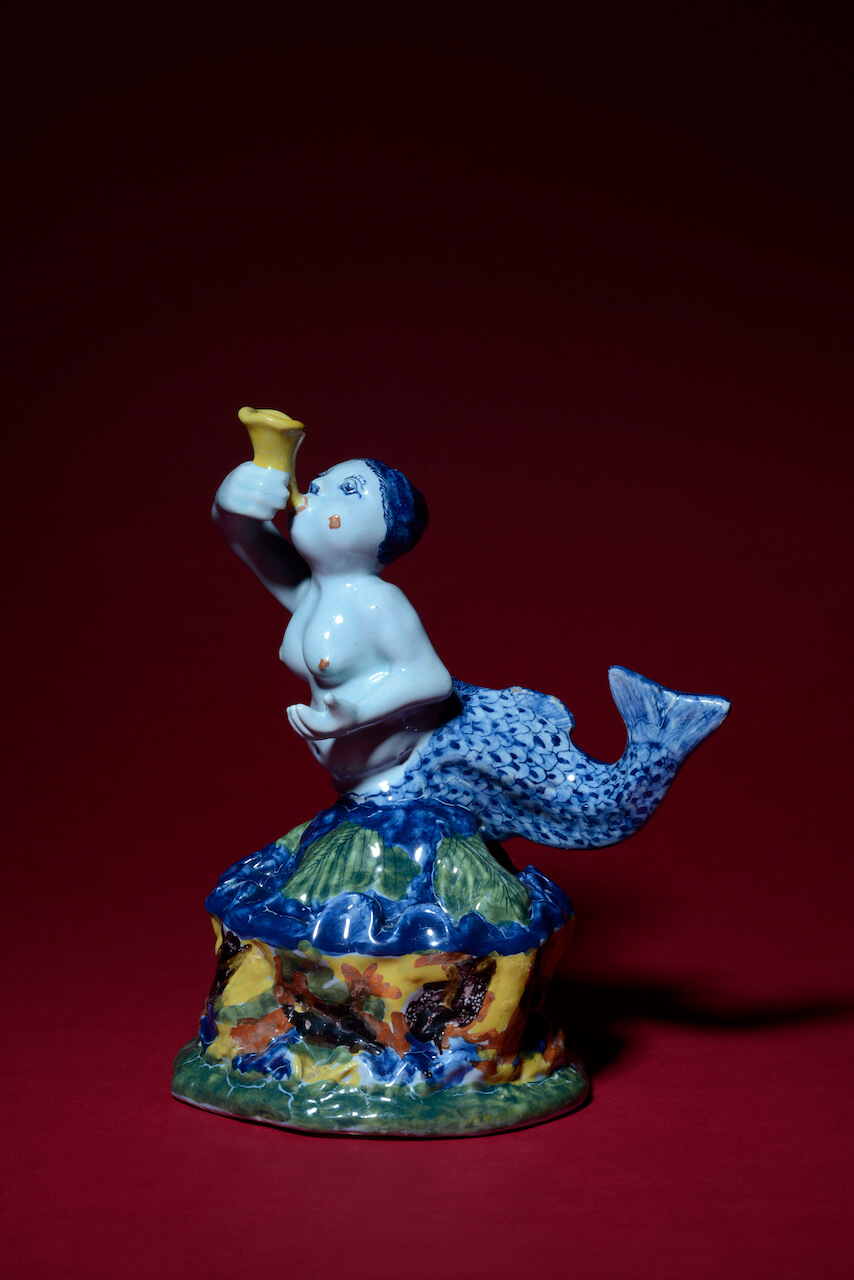 [popup_trigger id="13756″ tag="span"]

[/popup_trigger]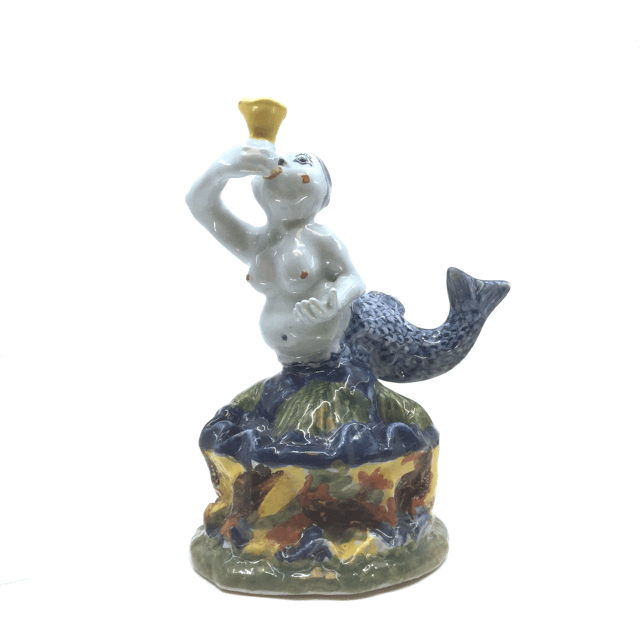 OBJECT
D1941. Polychrome Figure of a Mermaid
Delft, circa 1760
With blue hair, eyes and a scaly tail, modeled blowing a yellow horn held in her right hand, and supported on four green leaves rising from blue waves above yellow, manganese, iron-red and green rockwork on a green circular base.
Height: 19.6 cm. (7.7 in.)
Provenance: Sold at Christie's London, April 8, 1974, lot 77; Aronson Antiquairs, Amsterdam, 2009; Dutch Private Collection
Literature: Described and illustrated in Aronson 2009, pp. 100-101, no. 66
Note: Mythological sea creatures first appeared in Western art starting in the fifteenth and sixteenth centuries when classical works were translated from Italian and Latin. In one such work, the Naturalis Historia (History of Nature) by Pliny the Elder (circa 23-79 AD), contemporary readers long assumed that creatures such as nereids and tritons actually existed. Artists throughout the Netherlands, from painters to popular printmakers, cartographers and tile decorators produced images of the sea that were often detailed in classical literary sources. The sea was a vital part of Dutch daily life and culture, and images of ships, and all sorts of sea creatures were found on maps and emblem books of this period. Tile painters depicted fantastical creatures such as Nereids, tritons and mermaids, which were often depicted playing instruments or holding looking glasses. Another popular theme found on prints and tiles was the horn-blowing mermaid, which may have functioned as the inspiration for this Delftware figure. Tile painters combined these strange and otherworldly scenes with natural forms that actually inhabited the sea, including sea turtles.
Similar examples: An almost identical figure from the collection of M. Klop, antiquair in The Hague, is illustrated in H.P. Bremmer, Delftsch Aardewerk, Amsterdam 1906-09, part VII, no. 51.