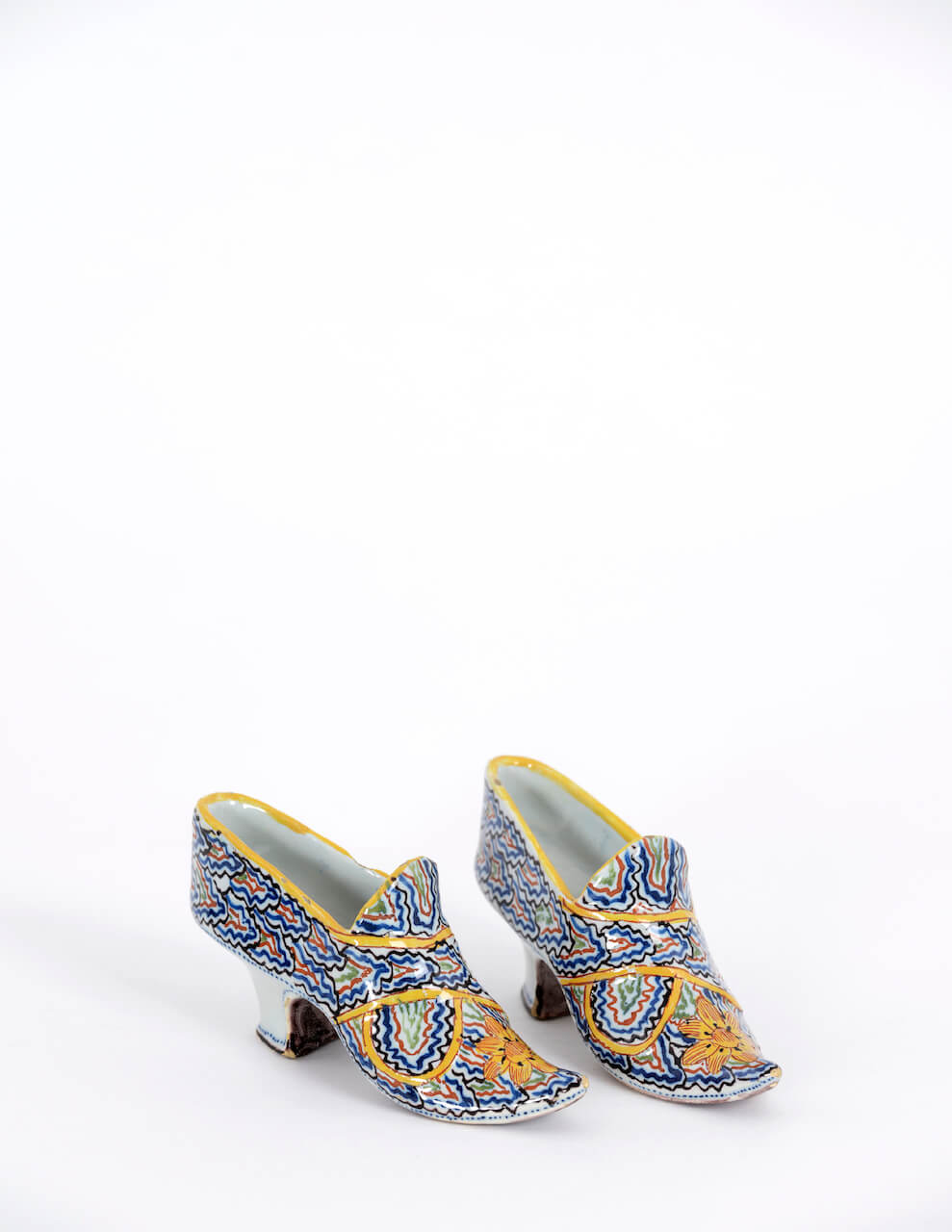 [popup_trigger id="13756″ tag="span"]

[/popup_trigger]
OBJECT
•D1934. Pair of Polychrome Models of Shoes
Delft, circa 1765
Each molded with a yellow-edged strap to the front painted with a large yellow flower head reserved on an iron-red, blue, green and manganese patterned ground, a blue dotted-edged sole continuing around the arch and edges of the heel, and a manganese sole.
Lengths: 12.3 cm. (4.8 in.)
Provenance: Salomon Stodel Antiquités, Amsterdam, 1996; Dutch Private Collection
Note: From the late seventeenth century onwards, various models of miniature shoes were produced in Dutch Delftware, ranging from blue and white, to polychrome and petit feu examples. The designs always followed the latest fashions in shoes. Most often the painted decorations refer to the use of materials on the real shoes, the so-called trippen. This is especially visible in the heels, which were covered by leather, what is suggested in ceramic shoes by a dotted line. These shoes, as most of Delftware shoes, come from a single mold, reflecting an economy in production as well as the lack of differentiation between left and right shoes.
Similar examples: A comparable pair of shoes of the same model but with a different decoration and dated 1758, in the Prinsenhof Museum, Delft (inv. no. LM 2168-I, RCE) is illustrated in Kievit 2015, p. 203. Another slightly larger pair is in the Gemeentemuseum, The Hague (inv. no. 1056295). Other resembling models with a larger tab are illustrated in Aronson and Abraham 2010, pp. 150-151, De Jonge 1965, p. 301, ill. 191, De Jonge 1947, p. 236, no. 204, Schaap 2003, p. 59. Another similar pair, in the Rijksmuseum, Amsterdam (inv. no. BK-NM-12400-226), is illustrated in Van Dam 2004, p. 171, no. 114. A further example of the aforementioned model is in the collection of the Gemeentemuseum, The Hague (inv. no. 1056294).