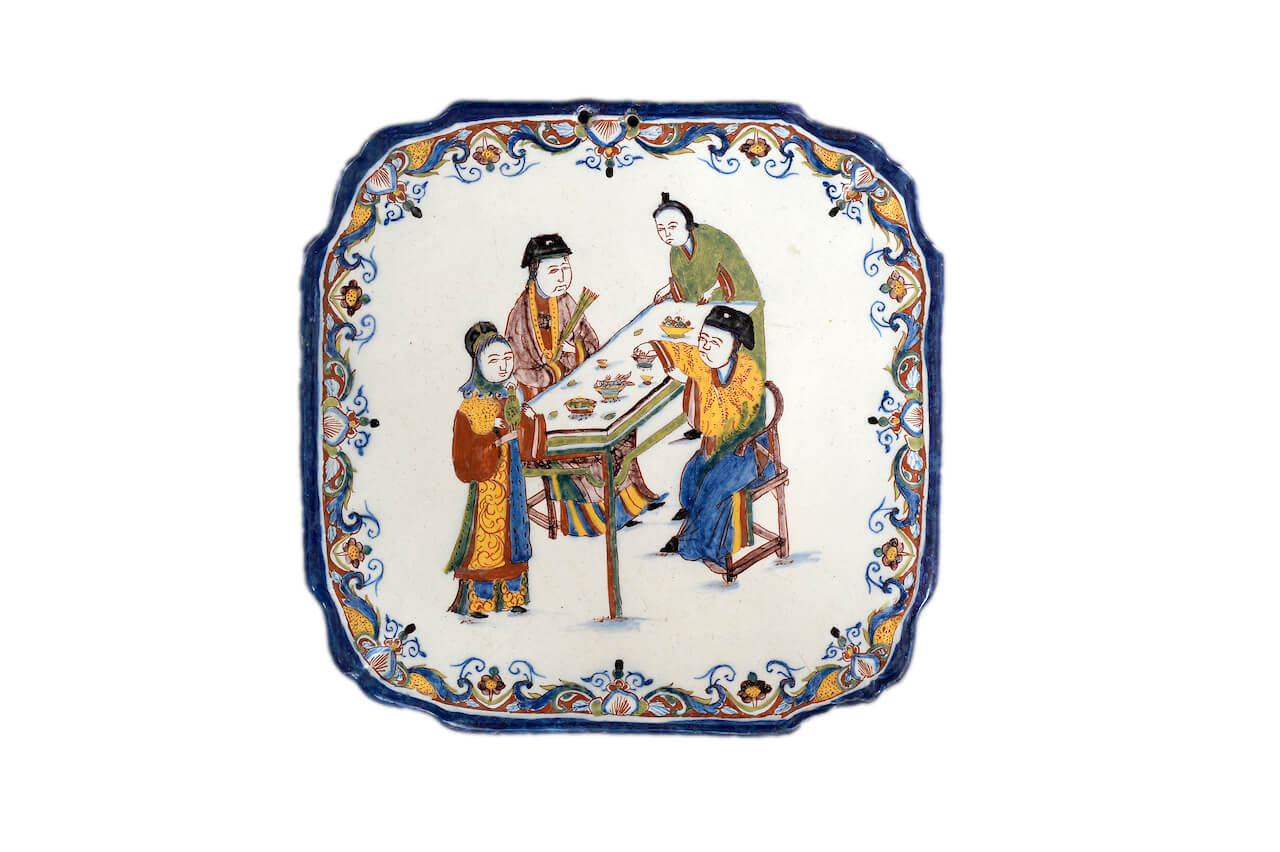 OBJECT
•D1932. Polychrome Chamfered Square Plaque
Delft, circa 1750
Painted with two Chinese men seated at a table set with food, to which one helps himself, a lady approaching with a vase at one end, and an attendant standing at the far end, the rim with a band of stylized scrolls, pierced at the top for suspension; the reverses glazed.
Height: 24.5 cm. (9.6 in.); Width: 24.8 cm. (9.8 in.)
Provenance: According to our archives, collection Decroix, Lille, sold at Drouot Paris, 7/8 November 1919, lot 29 (illustrated); Glerum Auctioneers, 13 March 1991, lot 480; Salomon Stodel Antiquités, Amsterdam
Note: By the end of the seventeenth century, Delftware plaques were marked by their refinement and creativity of design and decoration. The shapes of the pieces, whose contours were often cut out and molded, became increasingly stylized. The varied representations on the plaques often reflected contemporary concerns and tastes. Although guild membership granted Delftware painters compositional freedom, many plaques were inspired by canvas paintings or prints, which were often made after original paintings. The present motif was probably inspired by scenes on Chinese famille verte porcelain from the Kangxi period, which the Delftware painter then placed in a typical Western stylized band.
Similar examples: A similarly decorated oval plaque, but with the figures in an interior setting, is illustrated by Lahaussois, 1994, p. 121, no. 148. A plate with the same figural decoration is illustrated in Aronson 2004, p. 126, no. 146, another larger plate is in the Evenepoël Collection, illustrated by Helbig, Vol. II, p. 108, fig. 104, and another example (see below) is in a private collection.