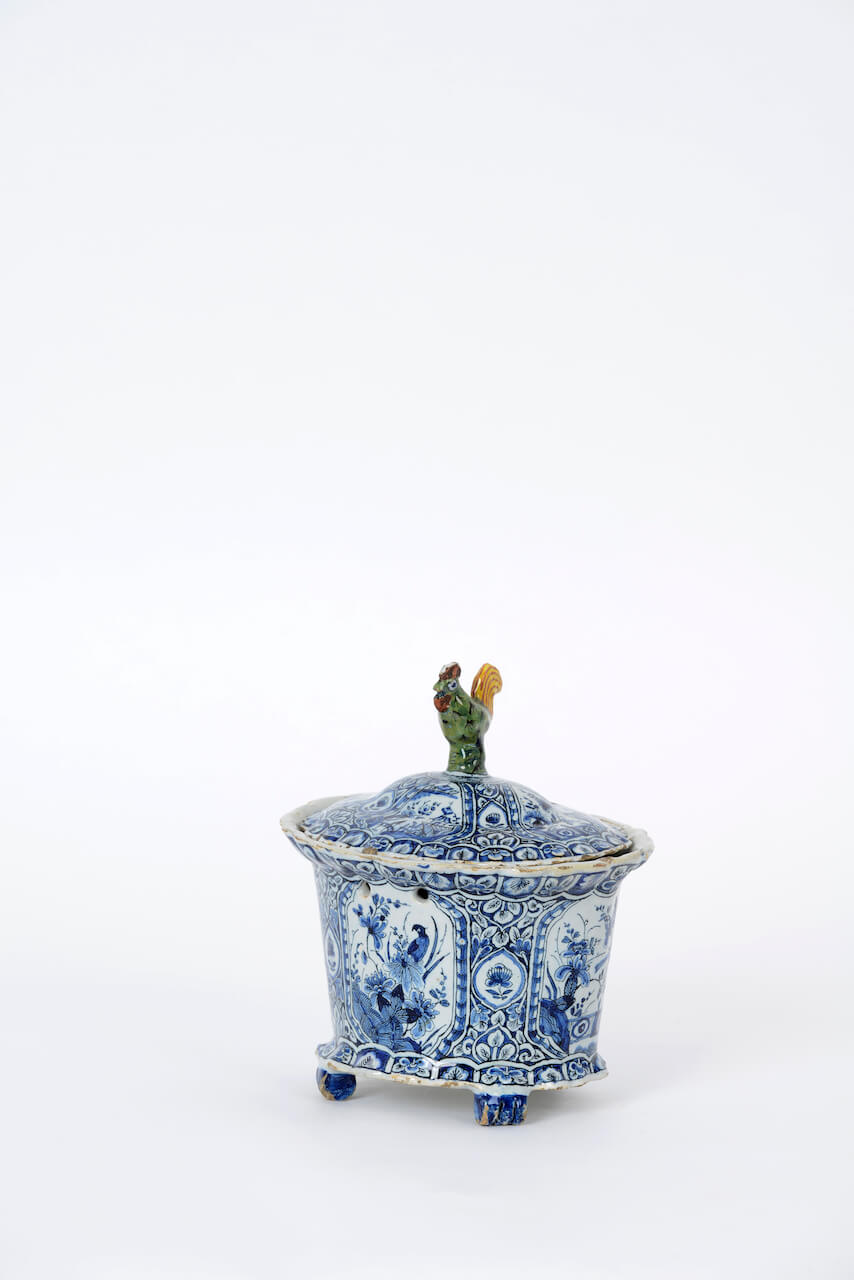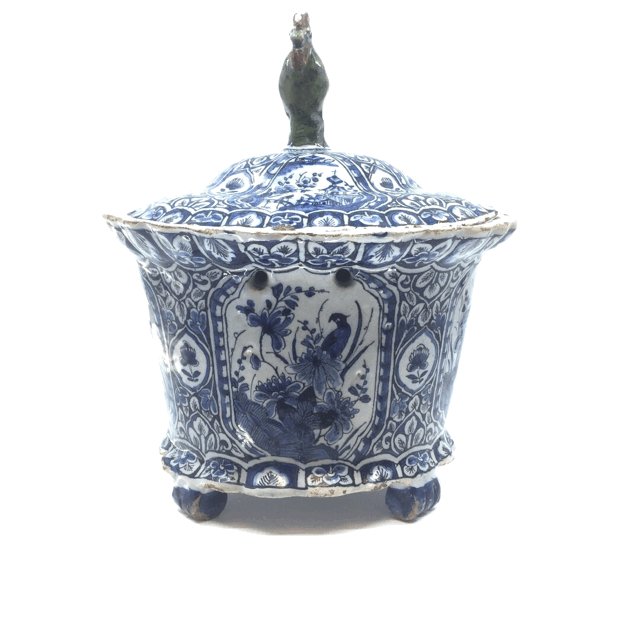 OBJECT
•D1930. Polychrome Basket and Cover
Delft, circa 1765
The slightly flaring cylindrical body decorated with four rounded octagonal panels depicting architectural landscapes in chinoiserie style reserved on a blue ground richly patterned with stylized flowers, leaves and scrollwork and alternating with small lozenge-shaped cartouches filled with a chrysanthemum sprig, the canted, fluted rims decorated with alternating panels of blossoms and leaves, the slightly domed cover similarly decorated and surmounted by a polychrome cockerel finial, and the underside of the box affixed with three blue paw feet.
Height: 20 cm. (7.9 in.)
Provenance: Salomon Stodel Antiquités, Amsterdam, 1988; Dutch Private Collection
Note: Faience baskets of this type were produced from the late seventeenth century to the end of the eighteenth century. Unlike the form, the decoration has been adapted to the fashion of the day. The purpose of baskets of this type is not quite clear. Based on the utensils painted on the interior of some of the examples, they must have served, among other functions, to hold objects such as pins, bits of fabric, combs. These ladies' toiletry or sewing baskets, probably intended for the use on the dressing table, would have made an ideal gift for a special occasion or a loved one. They would often have been made to order, judging from some dated examples. They must have been shaped on an oval, conically tapering mold. The base was attached by means of the bottom edge, which in this case has been pressed in at intervals to produce scalloping.
Similar examples: A toiletry or sewing basket of similar shape and size is illustrated in Aronson 2010, p. 157, no. 93. A comparable basket with a biblical decoration in the Gemeentemuseum, The Hague, is illustrated in Lunsing Scheurleer 1984, p. 211. ill. 84. Another blue and white 1694 dated basket of the same shape, but with pierced openwork, is in the collection of the Rijksmuseum, Amsterdam (inv. no. BK-NM-12400-102). Also in the Rijksmuseum, Amsterdam is a pair of blue and white 1740 dated baskets of comparable shape, but with pierced openwork and painted on the bottom with a comb, a bodkin, a small box and a pincushion (inv. no. BK-NM-12400-100).