[popup_trigger id="13756″ tag="span"]

[/popup_trigger]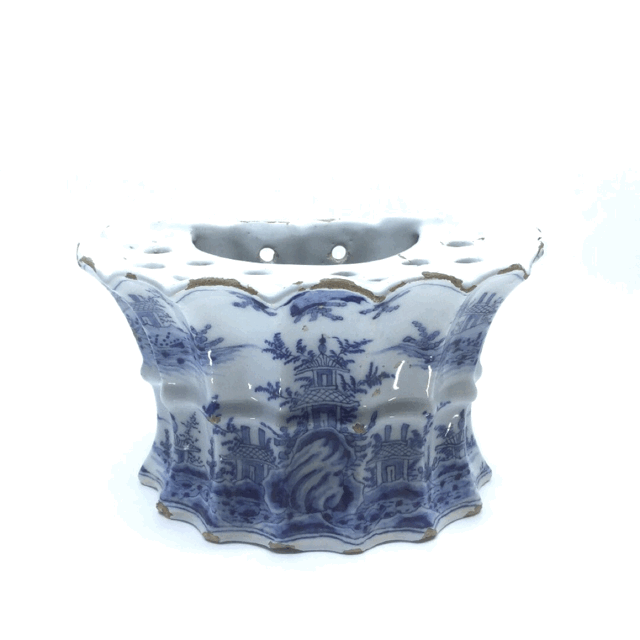 OBJECT
•D1929. Pair of Blue and White Flower Holders
Delft, circa 1760
One marked ITD / 12, the other marked ITD / 20 and both numbered i06 in blue for Jan Teunis Dextra, the owner of De Grieksche A (The Greek A) factory from 1758 until 1764
Each modeled as semi-circular and painted on the fluted front with a pagoda on a rock, flanked by two smaller pagodas in a landscape of rock work and shrubbery, both fluted sides with a scene of a figure in a sailing boat beneath a scene of pagodas amidst rocks and shrubbery, the slightly recessed flat top with a large semi-circular aperture, one pierced with fifteen small apertures and the other with eighteen for floral stems within a scalloped border, the fluted reverse pierced with two holes for suspension.
Heights: 9.5 cm. (3.7 in.); Lengths: 17.5 cm. (6.9 in.)
Provenance: Salomon Stodel Antiquités, Amsterdam, 1992; Dutch Private Collection
Note: The semi-circular shape of this pair of vases shows the rococo influence of the eighteenth century. Flower holders of this model are rarely seen in Delftware, but were commonly made in France in the eighteenth century. They were intended to be hung on a wall. As in the present pair, sometimes these vases have larger holes besides the smaller apertures. In Van Aken-Fehmers 2007, pp. 269-270, the author discusses semi-circular flower holders from the French cities of Niderviller and Strasbourg. These so-called vases à oignons were not only used for all cut flowers, but were intended for the cultivation of flower bulbs, which may explain the variety of aperture sizes.