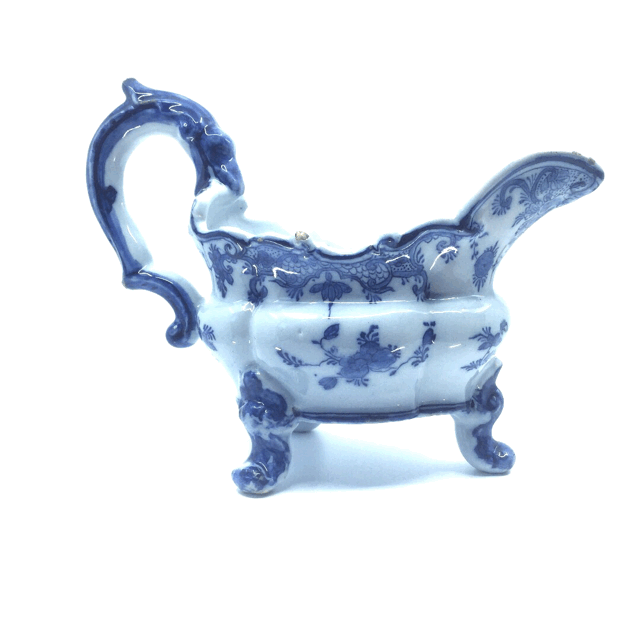 OBJECT
D1928. Pair of Blue and White Sauceboats
Delft, circa 1760
Each marked A / D / 12 and numbered 105 in blue, possibly for Jan Teunis Dextra, the owner of De Grieksche A (The Greek A) factory from 1758 until 1764
Each with a bombé-shaped lobed oval body decorated with flower sprays beneath a border of scalework panels, blossoms, foliate scrolls and floral garlands around the blue-edged scalloped and barbed rim and large spout, the zoomorphic double-scroll handle and three rococo-scroll feet decorated in blue.
Heights: 15.8 cm. (6.2 in.); Lengths: 20.6 cm. (8.1 in.)
Provenance: Salomon Stodel Antiquités, Amsterdam, 1989; Dutch Private Collection
Note: Changes in dining customs and refined entertaining from the beginning of the eighteenth century in Europe resulted in the production in both pottery and porcelain of large dinner services with a multiplicity of vessels, including sauceboats of various shapes. This pair of sauceboats, produced in a rococo style, indicates that the Delft factories produced tableware with contemporary style elements. The model of these kind of sauceboats is derived from silver examples. Initially, at the beginning of the eighteenth century, the Delftware industry produced round bowls with two pouring lips and two ears, as can be read in Van Aken-Fehmers 2001, p. 303. Such sauceboats were also part of the production assortment of other faience and porcelain factories, both in the Netherlands and abroad. Also in the Far East, sauceboats were copied in Japanese porcelain around 1720. In the second half of the eighteenth century, porcelain sauceboats were also commissioned in China. These Chine de commande objects were however often supplied with a stand.
Similar examples: A comparable single sauceboat decorated in a Chinese style is illustrated in Lunsingh Scheurleer 1984, p. 201, ill. 58. Another single sauce boat marked for De Porceleyne Byl (The Porcelain Axe) and one for De Drie Porceleyne Flessies (The Three Porcelain Bottles) in the collection of the Designmuseum Danmark are illustrated in Houkjaer 2016, p. 139 and 166, nos. 13 and 35. A pair of sauce boats marked for De Drie Porceleyne Flessies in the Gemeentemuseum, The Hague is illustrated in Van Aken-Fehmers 2001, p. 303, no. 97.