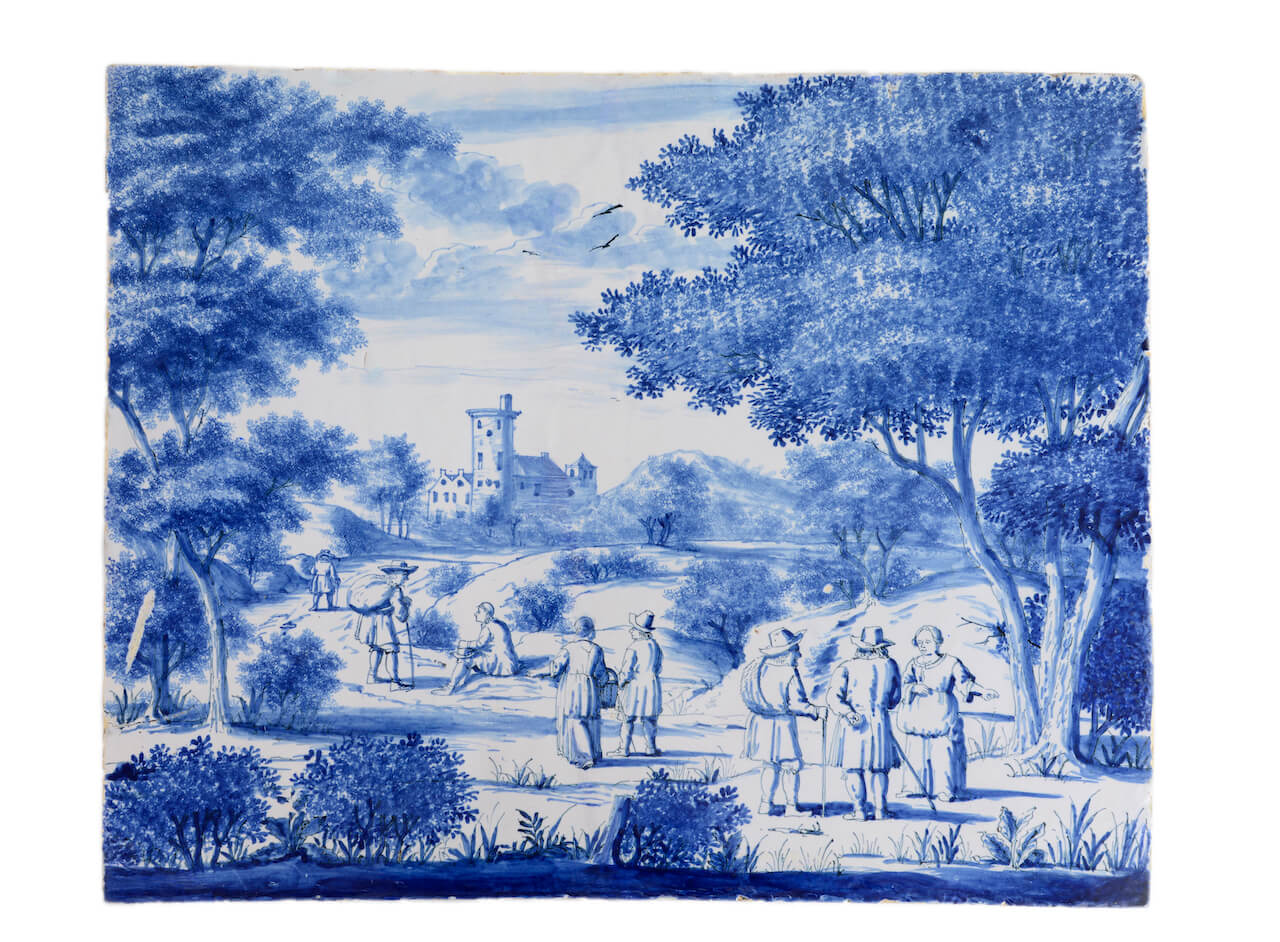 [popup_trigger id="13756″ tag="span"]

[/popup_trigger]
OBJECT
•D1926. Blue and White Large Plaque
Delft, circa 1730
Painted as a hilly landscape scene with trees, bushes and a large rustic building in the background, and several groups of people; a group of two men and a woman conversing in the foreground with one man wearing a hat and a long coat and the other with a knapsack, a woman carrying a basket strolling with a man, another group of two men, one standing with a knapsack and conversing with a seated man holding his hat on his lap, and a man strolling in the background.
Height: 50.4 cm. (19.8 in.); Width: 61.2 cm. (24.1 in.)
Provenance: A Belgian Private Collection, before 1913 and thence by family descent
Note: Objects painted with landscape scenes have a long tradition in the Delftware industry. One characteristic scene consists of gallant figures in a hilly landscape, sometimes with a church, mill or other buildings in the distance, and with trees typically foliated with 'stamped' leaves. These scenes were probably derived from unknown prints, however it has also been suggested that they were inspired by the paintings of Frederik van Frijtom (1632-1702), whose output evolved from canvas paintings in the style of Jacob Isaaksz. van Ruisdael (1628/29-1682) to his works on Delftware plaques and dishes. The embellished scene and disparity of elements suggest that the design was adapted from more than one source. Furthermore, two painting styles are combined: the so-called trek, seen in the precisely drawn dark outlines of the figural groups, which are doubtless taken from engravings, and the sponged technique used for the freely painted landscape.
Similar examples: A plaque of this size is rare, since only a few plaques of comparable or larger sizes are known. A plaque with the depiction of a military camp with tents, from circa 1670 of 63.5 x 101 cm. (25 x 39.8 in.) is in the Rijksmuseum, Amsterdam (inv. no. BK-NM-476). In the same collection are two plaques with landscape scenes by Van Frijtom of 64 x 105.5 and 45 x 60 cm. (25.1 x 41.5 and 17.7 x 23.6 in.) (BK-NM-475 and BK-18748). Although there are no other comparable plaques, there are several other objects decorated with landscapes of this type. A large bowl dated 1732 marked for Jacob van der Kool, the owner of De Grieksche A (The Greek A) factory from 1722 to 1757 is decorated with a circumferential landscape including figures, but with slightly differing trees and is in the collection of the Winterthur Museum, Winterthur, Delaware (inv. no. 1963.0579). A ewer marked for Louis Victor, the owner of De Dubbelde Schenkkan (The Double Ewer) factory from 1688 to 1715, decorated with a similar scene of people in a landscape is in the Gemeentemuseum in The Hague (inv. no. 0400509). A dish, marked for De Roos (The Rose) factory showing the same style of landscape, in the Musée national Adrien Dubouché, Limoges is illustrated in Fourest, p. 79, ill. 66. Another plate from a private French collection depicting figures conversing in a hilly landscape with similarly sponged foliage dated to the early eighteenth century, is illustrated in Boyazoglu 1980, p. 143, ill. 150. Another plate, marked for De Lampetkan (The Porcelain Ewer) dated around 1700, is in the collection of the Museum Boijmans van Beuningen, Rotterdam (inv. no. A 4027). Although all reference material suggests a date near 1730, the physical aspects seen on the plaque could support an earlier date around 1700.