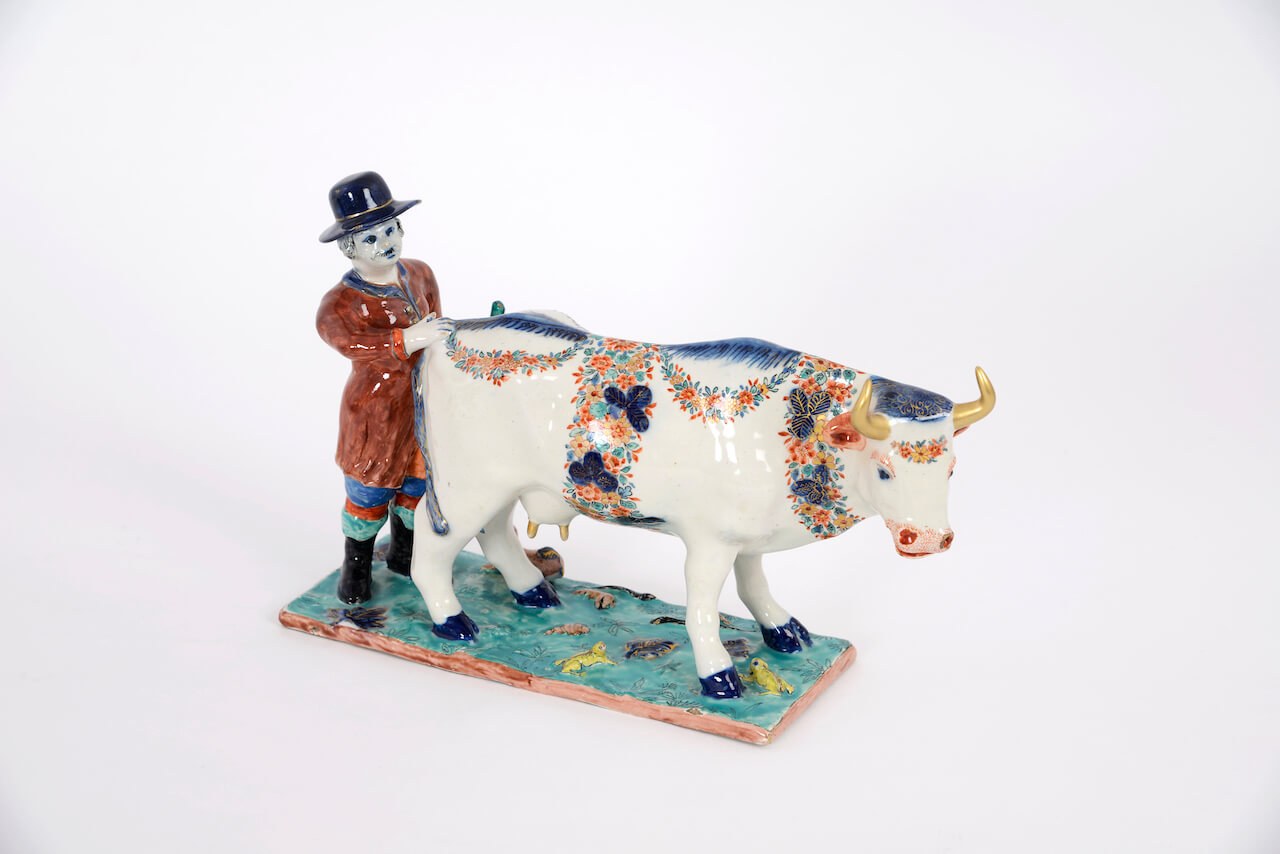 [popup_trigger id="13756″ tag="span"]

[/popup_trigger]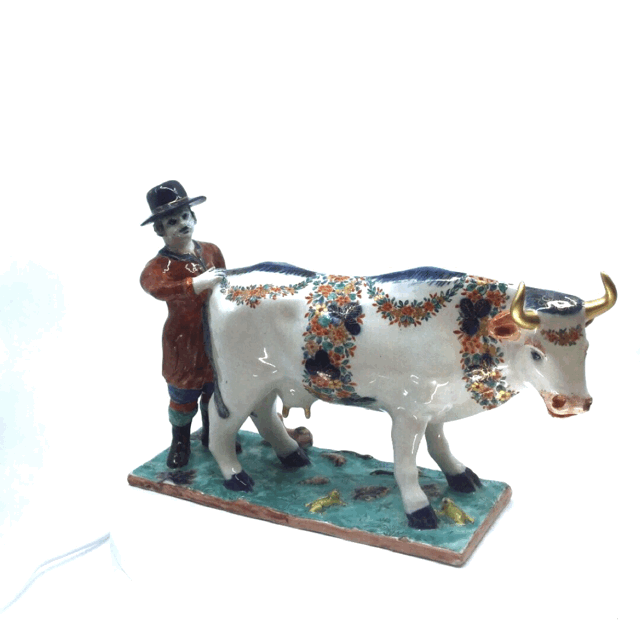 OBJECT
•D1924. Polychrome Petit Feu and Gilded Group of a Cow and Cowherd
Delft, circa 1725
Marked AR in iron-red for Adriaan van Rijsselbergh, master gold painter at De Grieksche A (The Greek A) factory from 1713 to 1722, and probably working for himself and other factories through his death in 1735 The golden-horned cow bedecked with garlands of iron-red and gold flowers and blue and green leaves, the cowherd wearing a rustic costume, holding a green staff, standing beside a small tan recumbent dog and patting the cow's rump to urge her over the tan-edged green rectangular base molded with yellow frogs, black snakes, tan shells and gilt-veined blue leaves amidst the black-delineated grasses.
Height: 19.3 cm. (7.6 in.)
Provenance: The Vanhyfte Collection, Belgium; Aronson Antiquairs, Amsterdam, 2003; Dutch Private Collection
Literature: Described and illustrated in Aronson 2003, p. 20,
no. 18
Note: Delftware cows decorated in a polychrome petit feu and gilded palette are very rare; approximately six pairs are known. Even more rare is the present group of a cow decorated in this elaborate color palette with a cowherd standing behind him, as there are no other similar examples known to date. A polychrome group of a cow and a cowherd painted in the grand feu colors is illustrated in Aronson 2007, p. 53, no. 38. The festive and elaborate garlands on the cows relate to the 'Guild' Ox,' which was paraded around town by the Butcher's Guild once a year on the patron saint's day, usually accompanied by a drummer and other musicians. Besides the flower garlands around the animal's neck and back, its horns would be gilded, similar to the horns on the present cow.