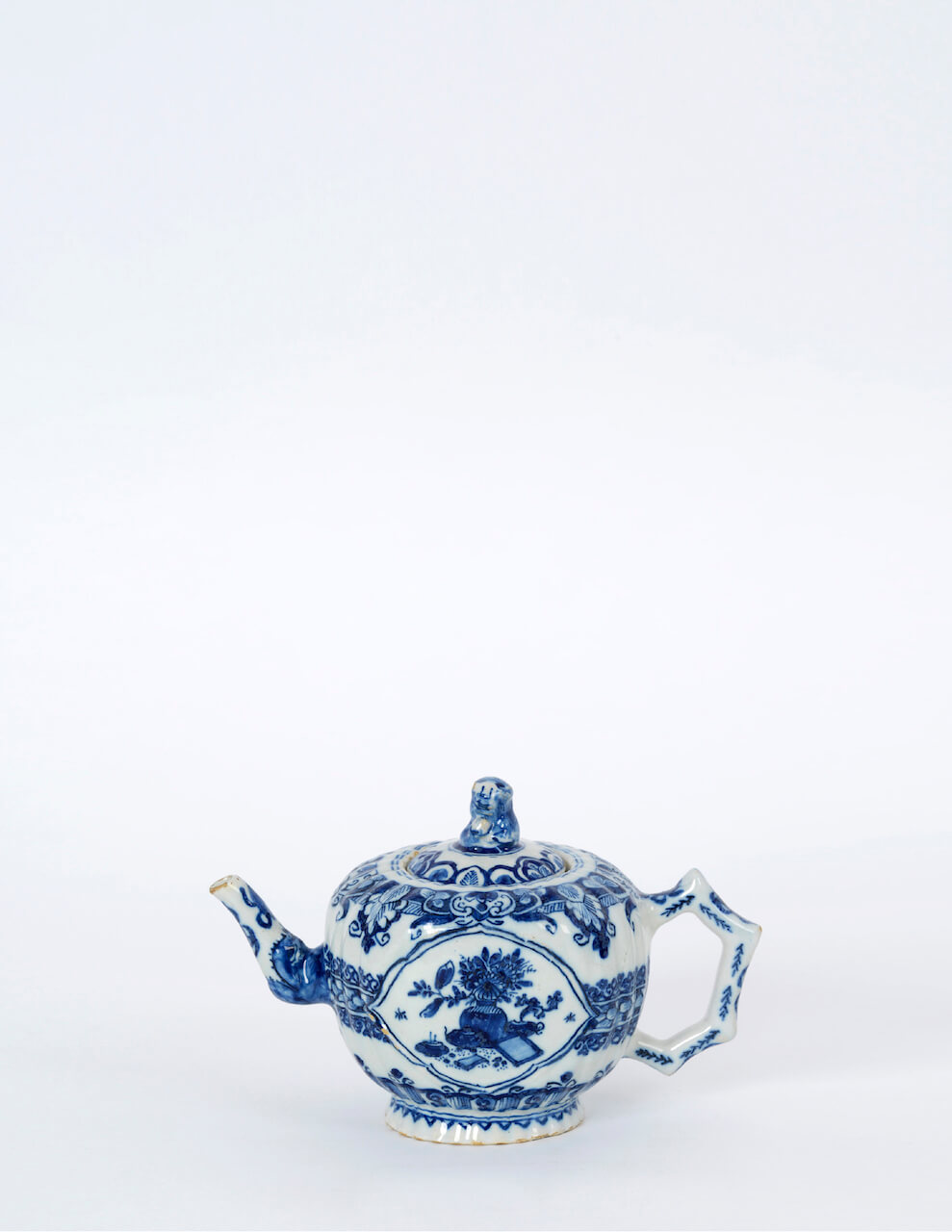 [popup_trigger id="13756″ tag="span"]

[/popup_trigger]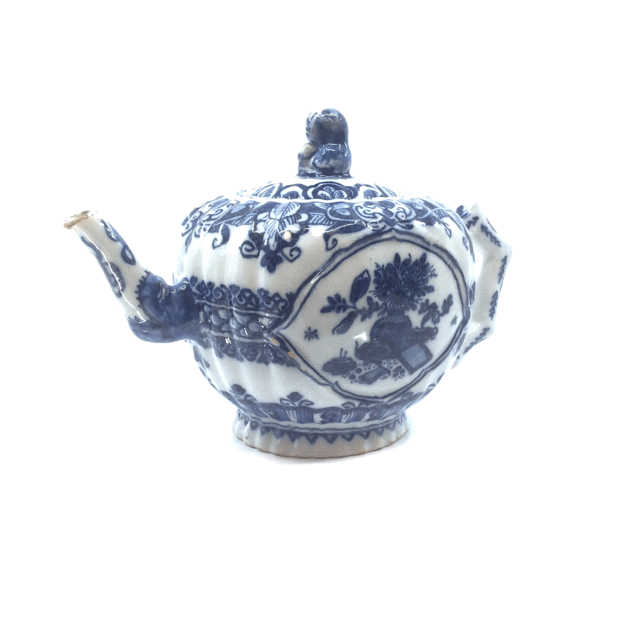 OBJECT
•D1916. Blue and White Teapot and Cover
Delft, circa 1710
Marked LVE in blue on the base for Lambertus van Eenhoorn, the owner of De Metaale Pot (The Metal Pot) factory from 1691 to 1721, or his widow Margaretha Teckmann until 1724
The fluted spherical body painted with a petal and scrollwork band; the flattened sides reserved with a lightly molded lozenge-shaped panel painted with a garden urn filled with flowers amidst various objects such as a teapot; the lower body and shoulder with elaborate floral borders; the angular handle with Chinese symbols; the spout issuing a mythical beast from the open mouth and the knop formed as a seated kylin.
Height: 12.5 cm. (4.9 in.)
Note: Tea and coffee first appeared in Holland in the last quarter of the seventeenth century. The precious tea leaves were imported from China by the Dutch East India Company (VOC). At the time, it could take up to two years for the Dutch trading ships to complete a round trip. Drinking tea was initially a luxurious pastime reserved for the elite. The practice of drinking tea became increasingly fashionable amongst the upper class who expressed their good taste by acquiring the necessary accoutrements. In response to the demand for tea wares, Delftware factories produced magnificent objects for tea services. As the popularity for tea grew over the next century, importations of the tea leaves rose and consequently the prices fell. Tea imports rapidly became one of the most profitable traded commodities. By the second half of the eighteenth century, the consumption of tea spread to every social class and became an indispensable article to daily life. By the end of the eighteenth century, almost every household owned a tea service.
Similar examples: A similarly shaped and marked teapot is illustrated in Aronson 2003, p. 9, no. 8. Another example in the cashmere palette is illustrated in Aronson 2004, p. 50, no. 51. An unmarked teapot with an angular handle and kylin-shaped knop decorated in the cashmere palette in the Rijksmuseum, Amsterdam (inv. no. BK-NM-12400-211) is illustrated in Van Dam 2004, p. 112, ill. 62. A polychrome teapot with an angular bamboo handle and marked with a D is in the Musée des Arts Décoratifs in Paris and illustrated in Lahaussois 1994, p. 145, ill. 91; another of similar shape and decoration is illustrated in Boyazoglu 1980, p. 247, ill. 68. An unmarked pair of small blue teapots of rather similar shape with seated kylin-shaped knops is illustrated in Aronson 2007, p. 31, no. 21.