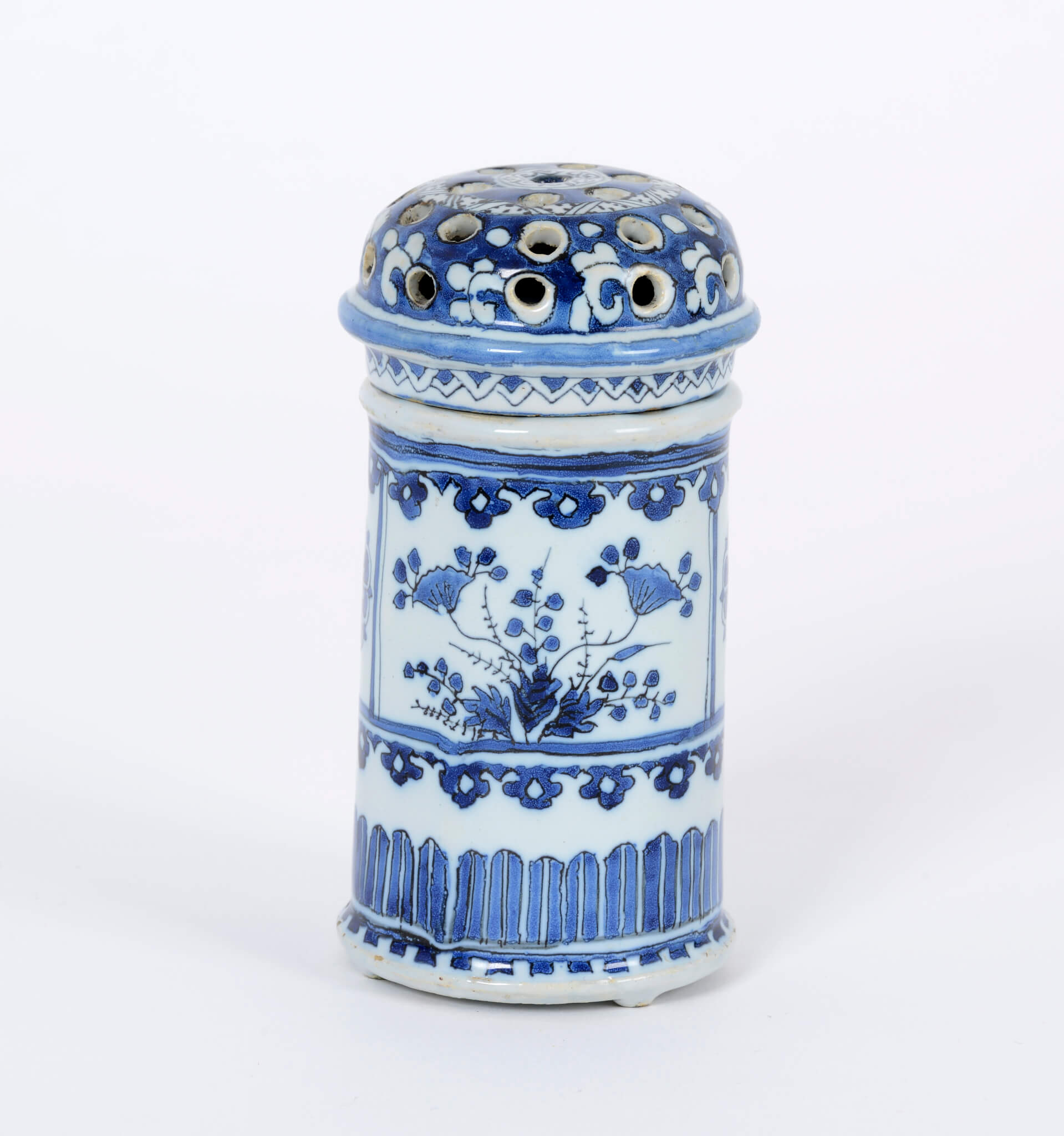 [popup_trigger id="13756″ tag="span"]

[/popup_trigger]
OBJECT
•D1913. Blue and White Sugar Caster and Cover
Delft, circa 1690
Marked AK in blue for Adrianus Kocx, the owner of De Grieksche A (The Greek A) factory from 1687 until 1701
The cylindrical body painted on the front and reverse with flowering plants alternating with Tudor roses between trefoil bands above a border of 'fluting' and beneath the threaded neck, the pierced and threaded cover with a blue ground reserved with scrolls, dots and a herringbone band.
Height: 12.3 cm. (4.8 in.)
Provenance: The Dr. Günther Grethe Collection, Hamburg; Aronson Antiquairs, Amsterdam, 2004; Dutch Private Collection
Literature: Described and illustrated in Aronson 2004, p. 73, no. 86
Note: In the second half of the seventeenth century, the French influence could be felt throughout Europe. During meals, the grandeur of the French court was displayed by the largest dinner services seen at the time. This set the standard for the other royalty in Europe, and created the wish for large services consisting of plates, dishes, platters and bowls of different sizes, but with matching shapes and decorations. The Delft potters quickly took up the challenge to create the like in tin-glaze earthenware and looked around for examples to emulate in Delftware. Often, they found them in silver objects. Delftware was a wonderful medium to combine objects of silver, copper, glass, pewter and earthenware, since it could be shaped in a wide variety of forms. Among the newly desired objects of use were saltcellars, spice boxes, cruet sets, butter tubs and also sugar casters. Casters like the present were filled with sugar candy that had been finely ground in a mortar, which resulted in a coarser sugar than we are used to today.