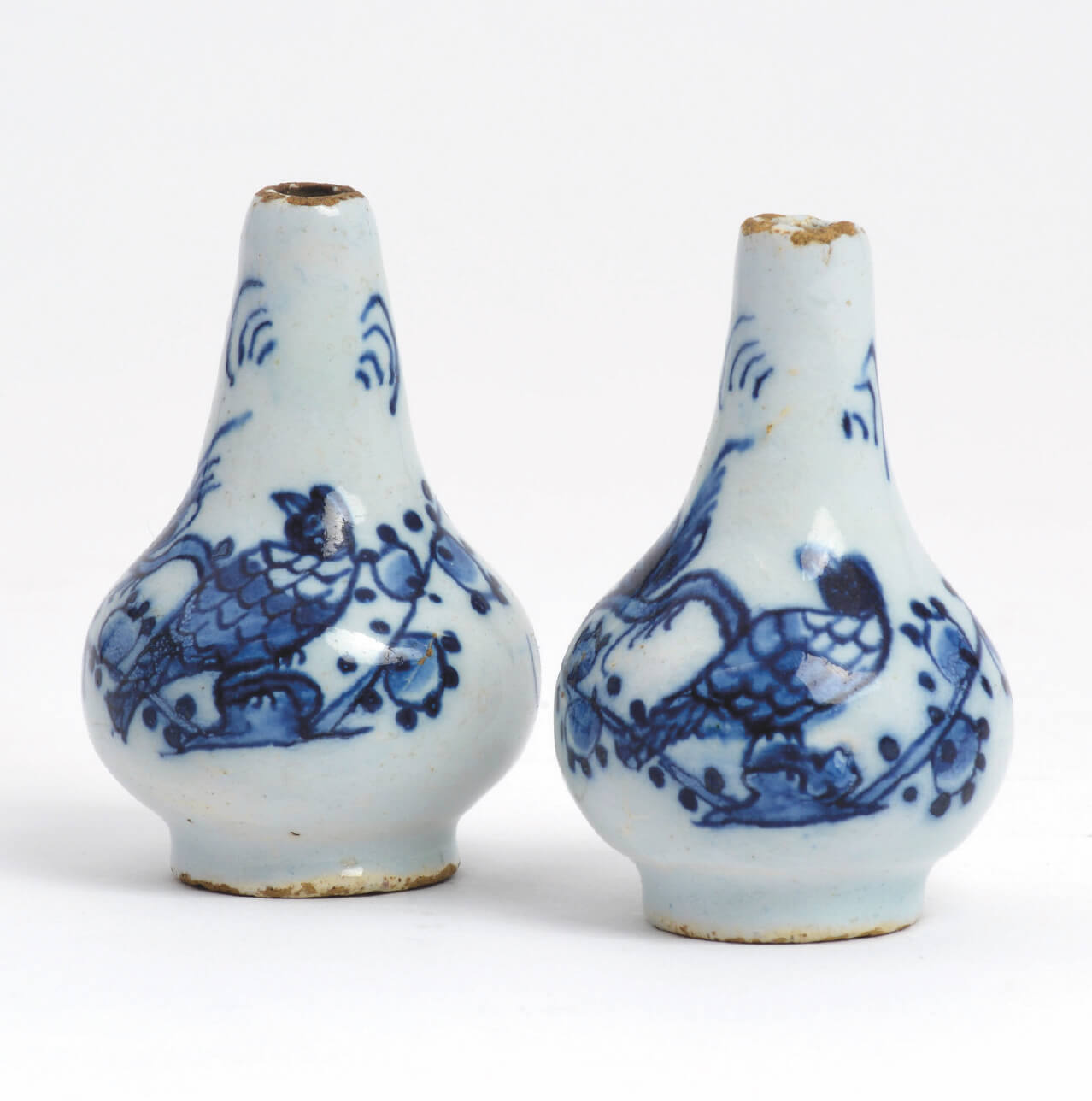 [popup_trigger id="13756″ tag="span"]

[/popup_trigger]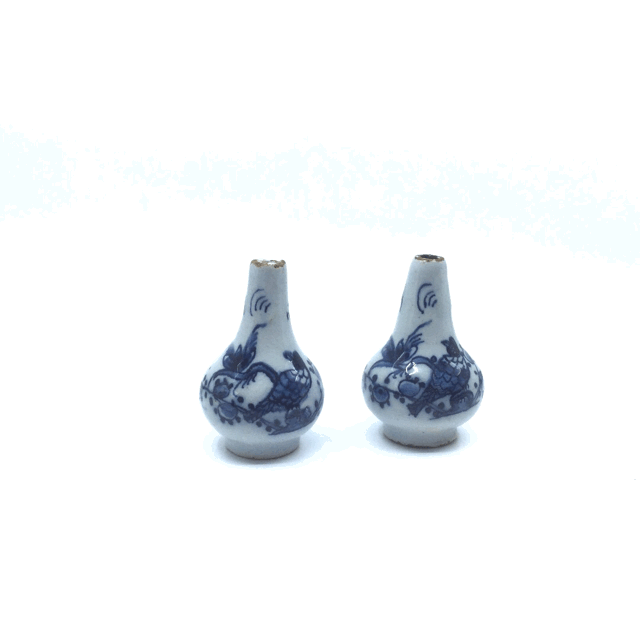 OBJECT
D1912. Pair of Miniature Blue and White Bottle Vases
Delft, circa 1700
Each painted around the teardrop-shaped body with a bird perched on a rock flanked by two fruiting sprigs on the front, a vertical fruiting sprig on the reverse.
Heights: both 6 cm. (2.4 in.)
Note: During the Golden Age of Holland, miniatures were often sold at annual markets or kermis and were called poppengoed (doll's ware). Rapidly, they played an important social role amongst wealthy Europeans. In a certificate issued January 18, 1666, the Delft notary G. van Assendelft distinguished two different uses of the aforementioned objects. The pieces whose dimensions were larger (groot poppengoed or large doll's wares) were conceived as children's toys, while the smaller objects (poppengoed) were intended to distract adults. Some of the Delftware miniatures were created by 'thuiswerkers', who were home-based craftsmen who fired small pieces like tea wares and doll wares in small personal ovens. The most elaborate and rare miniatures were produced by the larger factories like De Vergulde Blompot (The Gilt Flowerpot) or De Witte Ster (The White Star).   Some books mention that apprentices executed miniatures as a test to obtain the title of master. However, no documents or prints from the guild materials prove this assumption. On the contrary, it has been proven that apprentices were expected to make a perfectly dimensioned life-size object. During the eighteenth and nineteenth centuries, small-scale objects were presented as models to potential customers. However, most of the Dutch miniature furniture was probably made to decorate doll's houses or as children's toys. From the fifteenth century, miniature objects were a fixed part of the curiosity cabinet (kunstkabinet), where they were grouped as artificialia, which are objects that are created or modified by man. They were also displayed on mantelpieces in art rooms, shelves or as wall decoration. Like Petronella de la Court, the wife of a rich Amsterdam silk merchant, miniatures became a favorite attraction of wealthy ladies who collected and displayed them in their magnificent doll's houses. Each room in these doll's houses were decorated with the utmost precision. The passion was certainly encouraged by a certain spirit of competition. Petronella de la Court's doll's house contained more than 1600 miniature objects. According to Pijzel-Dommisse, she spent a total of  20,000 guilders, which equals the price of a real canal house in Amsterdam. For art historians, miniatures function as an important tool in understanding the past, for they reveal how objects were designed, used and displayed.
Similar examples: A miniature blue and white bottle vase of the same model is illustrated in Aronson 2011, pp. 20-21, no. 10.