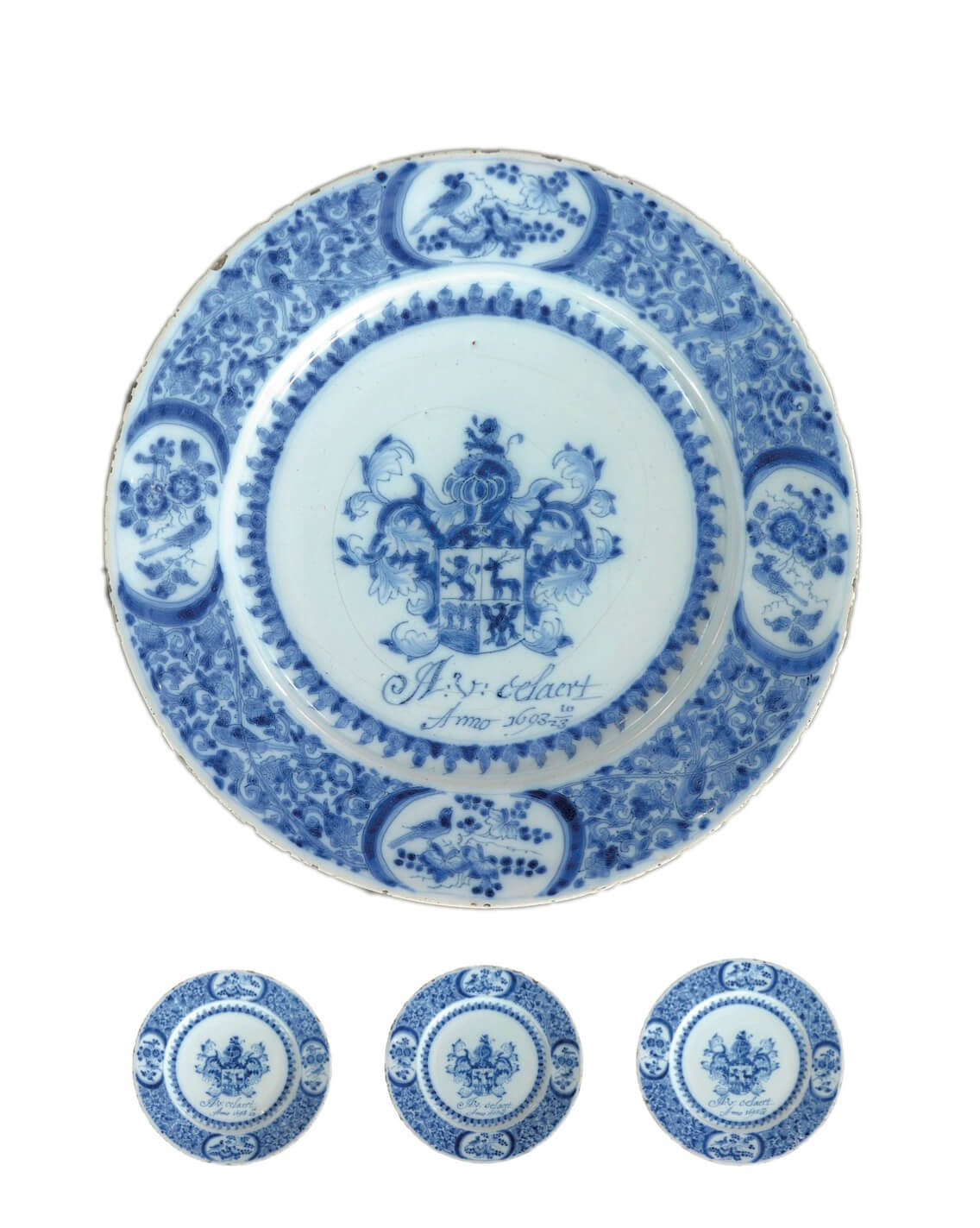 [popup_trigger id="13756″ tag="span"]

[/popup_trigger]
OBJECT
D1908. Set of Four Blue and White Armorial Plates
Delft, dated 1693
Each decorated in the center with a quartered shield depicting a lion rampant, a stag, three stylized trees and an eagle beneath a demi-lion rampant crest and helmet within foliate mantling and above the inscription A:v: celaert Anno 1693 10/23, the cavetto with a demi-ruyi-head border, and the rim with a broad ornamental border of foliate scrolls and birds and reserved with four oval vignettes, each depicting a bird perched on a flowering branch.
Diameter: 25.5 cm. (10.4 in.) Provenance Van Nie & Winnubst Antiquairs, Amsterdam, 1987; Dutch Private Collection
Note: From the first decade of the seventeenth century, wapengoet such as jugs, plates and other objects with armorial decorations became increasingly popular. These armorial wares were often commissioned for special occasions, such as a birth or a wedding. Although at first objects were only decorated with the coats of arms of cities, in the beginning of the seventeenth century the wares were now marked with the newly ascribed coats of arms of individual citizens. The families without coats of arms could order pre-decorated plates with fantasy coats of arms. The Delft factories not only received commissions for plates from Dutch families, but also from abroad. The style of the Delft armorial wares varied greatly and continually followed the latest fashions. One such change was the placement of the coats of arms on the dishes. During the last quarter of the seventeenth century, Delftware painters followed Italian and French examples that depicted the coats of arms on the broad rim of the dishes. Towards the end of the seventeenth century, however, the painters moved the symbols to the center of the dish, and gradually increased the size of the crest with elaborate decorations, as can be seen on the present set of four plates.