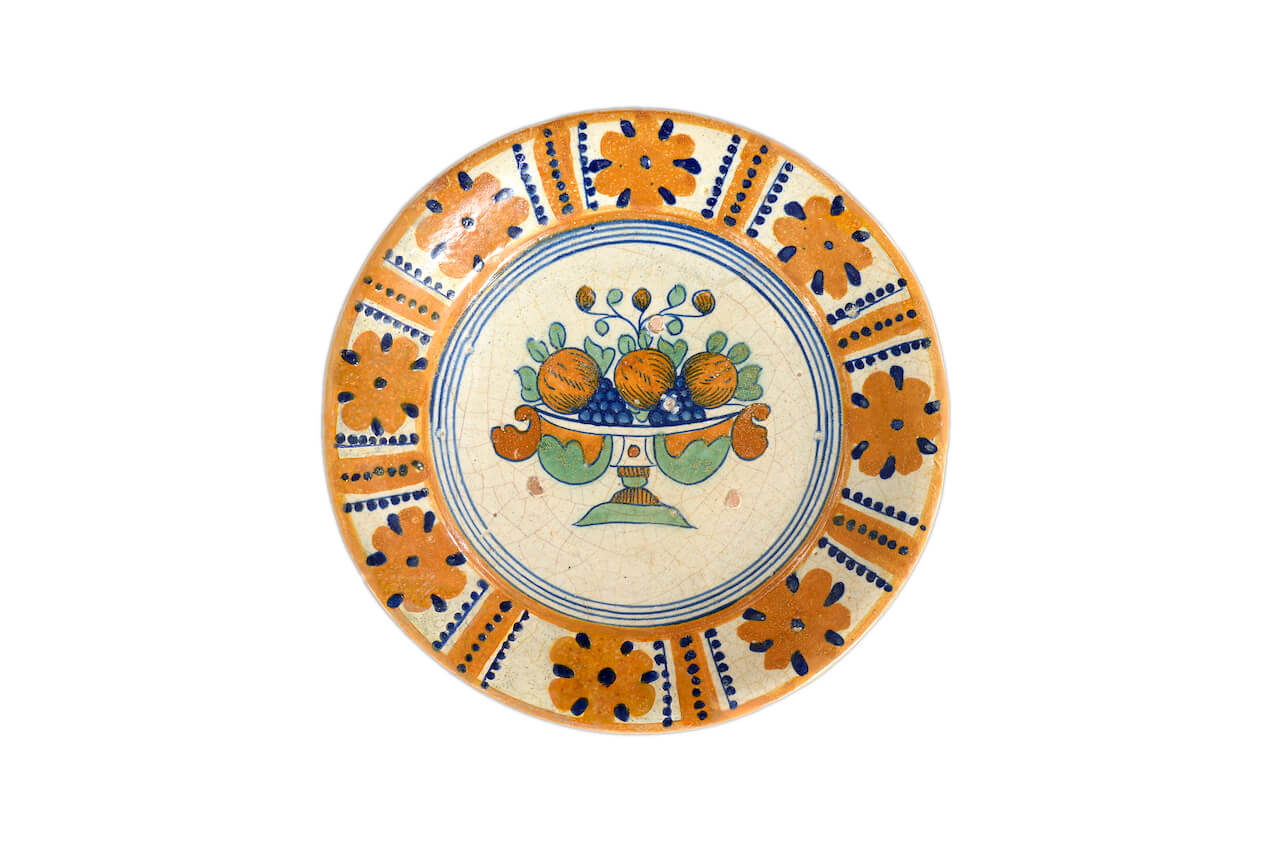 [popup_trigger id="13756″ tag="span"]

[/popup_trigger]
OBJECT
•D1903. Majolica Polychrome Plate
Haarlem, circa 1630
The center painted with an ochre and green footed bowl with foliate handles, filled with an arrangement of three ochre apples, two bunches of blue grapes and green and ochre leaves, the cavetto encircled by four concentric blue lines, and the rim painted with ochre and blue blossoms, all separated by narrow ochre panels and three blue dotted lines, the reverse lead-glazed.
Diameter: 24.5 cm. (9.6 in.)
Provenance: The R.J. Bois Collection, North-Holland
Note: Early Netherlandish majolica consisted mainly of dishes and porridge bowls covered on the front in an opaque white tin glaze, and on the reverse with a less costly transparent lead glaze. Majolica can be distinguished from Delftware not only by the clear glaze on the reverse, revealing the buff-colored body of the clay, but also by the three small spots of glaze damage on the front (prunt marks). These marks were created when the pieces were stacked on top of one another in the kiln, separated by ceramic triangles that were broken away after the firing. In that process, the point where the triangles had rested left a small unglazed mark. Majolica objects were often decorated with southern European patterns, such as colorful fruits derived from Italian grotesque ornaments. This imagery appeared on ornamental tazza and on tiles produced around the same period. In fact, tiles decorated with colorful tazzas seem to have enjoyed a strong popularity.
Similar examples: Plates painted with fruit-filled tazza are not uncommon in majolica. In Aronson 2015, p. 17, no. 7 is a dish depicting a fruit-filled bowl. A similar dish in the Fries Museum, Leeuwarden, is illustrated in Lunsing Scheurleer 1984, p. 33. Another dish with a similar 'Renaissance fruit dish' decoration within a floral border, and dated in the center 1632, is in the Frans Hals Museum, Haarlem (inv. no. OA 91-48), illustrated by Biesboer 1997, p. 125, pl. 145. An identical example with the central pomegranate split open and ascribed a date of circa 1620-45, is in the collection of the Rijksmuseum, Amsterdam (inv. no. BK 18020), illustrated in Hudig 1929, p. 13, fig. 4.