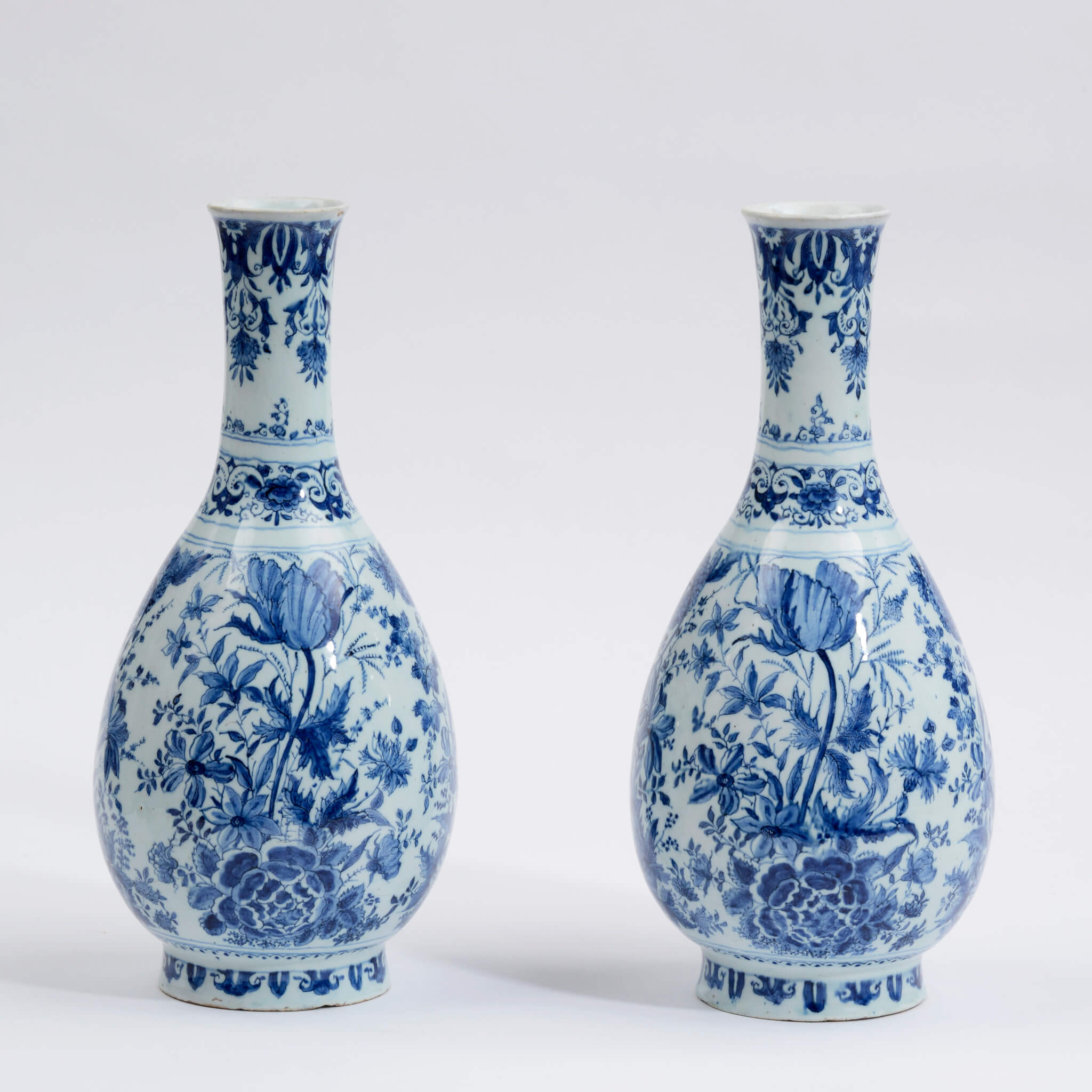 OBJECT
•D1899. Pair of Blue and White Bottle Vases
Delft, circa 1695
Both marked AK n:11 in blue for Adrianus Kocx, the owner of De Grieksche A (The Greek A) factory from 1687 to 1701
Each painted around the elongated teardrop-shaped body with a continuous scene of tulips, carnations, peonies and other flowering plants and foliage, the foot encircled with a lappet border, the slightly flaring cylindrical neck with with a large lambrequin border issuing blossoms and foliate scrolls above floral and foliate scroll border.
Heights: both 31.2 cm. (12.3 in.)
Note:
During the Dutch Golden Age, the craze for tulips was so high that their price exceeded the value of a canal house in Amsterdam. The tulip quickly became a status symbol in Europe because of its exoticism, and a profusion of varieties followed the original cultivation. The tulip mania reached its peak during the winter of 1636/1637. However, the collapse of the tulip market did not diminish the Dutch appetite for flowers in art. The Dutch flower paintings persisted, and flower and tulip imagery remained a popular theme on Dutch Delftware. Flowers played an important role on plaques, plates and border decoration. A passion for flowers in the garden and the interior is also seen in this delicately painted pair of late seventeenth-century Delft vases.
Similar examples:
The bottle shape of the present pair of vases was regularly used during the ownership of Adrianus Kocx. The decoration is however more uncommon. An obelisk with similar decoration also marked AK n:11 in the collection of Musées royaux d'Art et d'Histoire, Brussels, is illustrated in Helbig p. 111, ill. 77 and a pair of double-gourd shaped vases with a similar decoration is illustrated in Aronson 2019, pp. 24 & 25, no. 11.