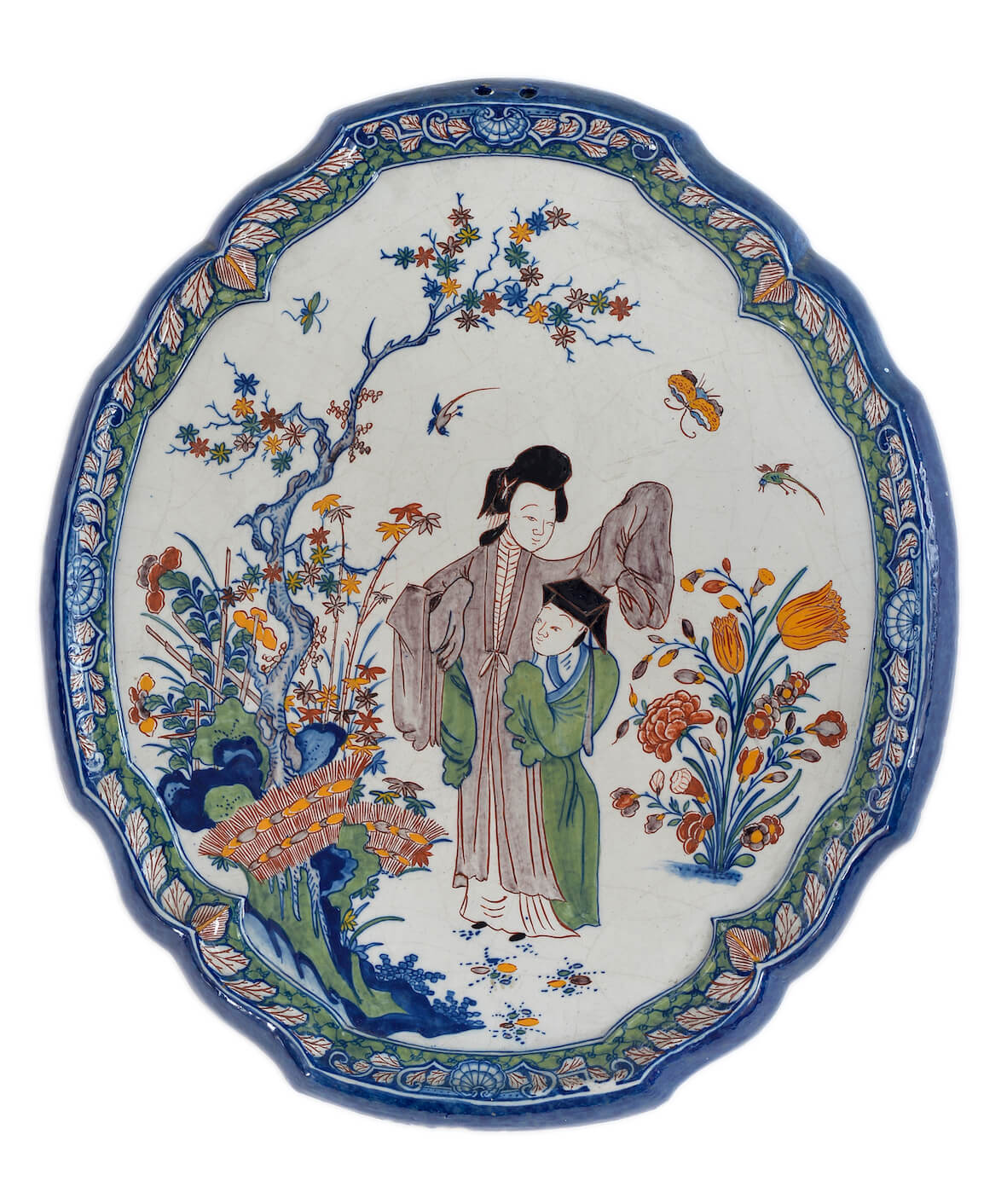 OBJECT
D1888. Polychrome Oval-Shaped Large Plaque
Delft, circa 1760
Painted with a boy wearing a green robe and black hat standing behind a 'Long Eliza' wearing a light manganese robe and putting his arms around her middle, both standing amidst yellow, manganese and iron-red flowering branches, bamboo and rock work beneath two exotic long-tailed birds, a butterfly and insect in flight, the molded self-frame decorated with a green marbleized inner border reserved with an outer border ofiron-red delineated leaves with a blue shell at the top, bottom and sides.
Height: 41.9 cm. (16.5 in.)
Provenance: The Van Gelder Collection; sold at auction on June 24th and 25th, 1953, lot 276, and illustrated in the catalogue; Collection Monsieur et Madame Deltcheff, France
Note: Decorative plaques with a scalloped and foliated edge are characteristic for Delftware production. They displaced the earlier plaques made witha plain wooden frame, and were produced throughout the eighteenth century. Throughout their long production, Delftware plaques followed developments in taste and design. The colors ranged in quality, but usually matched the subjects such as chinoiserie scenes and bouquets. The richness of design, and use of black and pale mauve on this particular plaque is sufficient evidence that it belongs to the golden age of Delftware production. The Long Eliza motif, taken from Chinese famille verte porcelains, became particularly popular from the 1710s. The outstanding female Oriental figure, who is placed in a nondescript landscape, is often accompanied by children. The Delftware objects reflected the poetic and merry vision of the Orient, which found its way throughout the decorative arts.