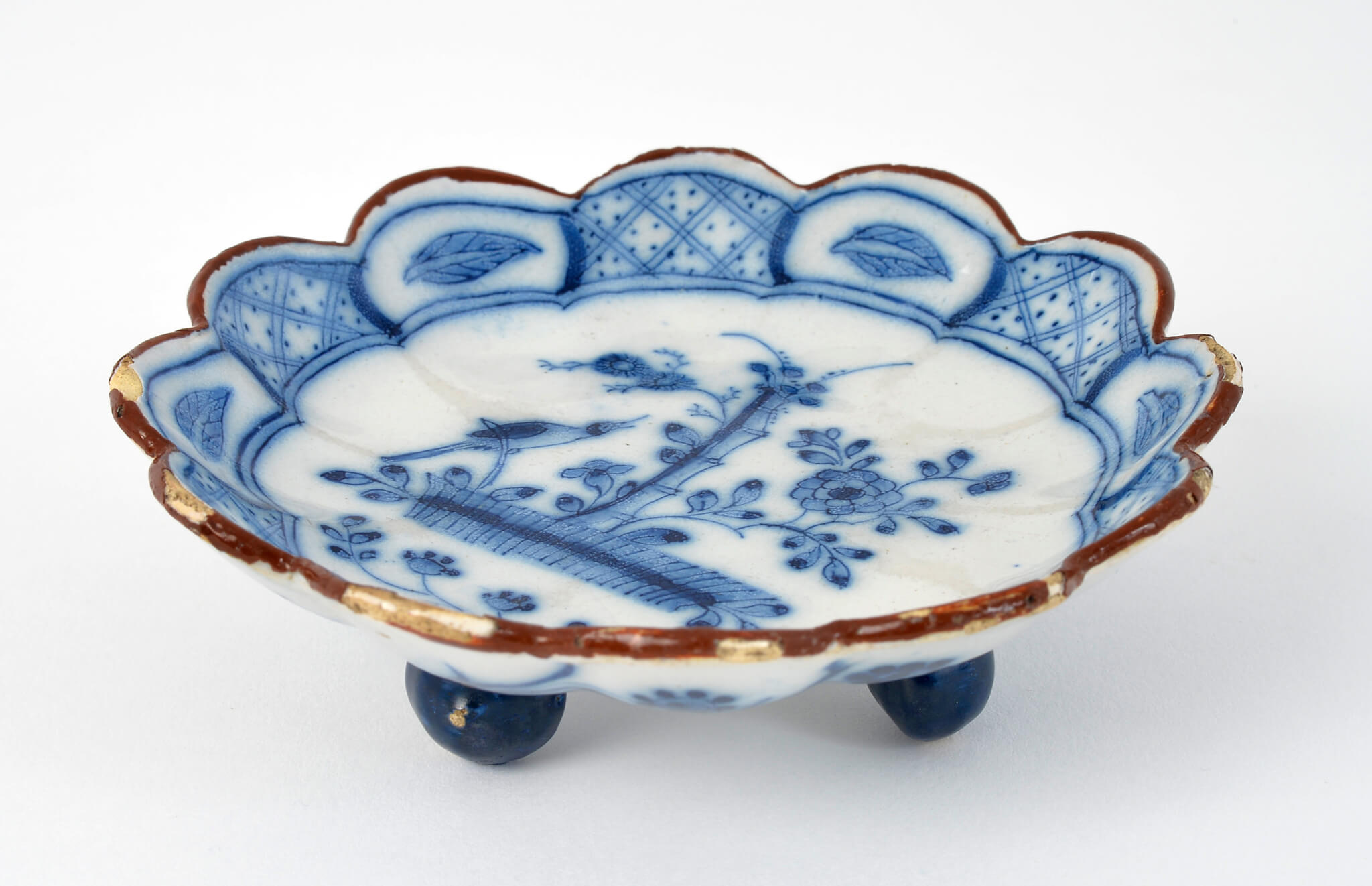 OBJECT
•D1839. Blue and White Footed Sugar Dish
Delft, circa 1750
Marked with an unidentified X mark in blue
Painted with a long-tailed bird perched on a branch of bamboo beside flowering branches with large peonies and bamboo. The upstanding rim decorated on the interior with six panels depicting a leaf, alternated with six trelliswork panels and edged in iron-red, the bottom painted with three large floral sprigs and affixed with three feet.
Dimensions
Diameter: 12.3 cm. (4.8 in.)
Note
The flower shape of the object probably derives from a Japanese porcelain dish. In Japan, small dishes like this one were used for the Kaiseki (懐石), a meal preceding the tea ceremony. They were intended to display fresh seasonal ingredients that were prepared in ways to enhance their flavor. This Delft dish may have been used during tea time for serving rock sugar, referred to in Dutch as Kandij (hence the word "candy"). An example of a footed sugar dish, with a spoon resting in it, is found amongst the tea utensils in the painting 'Het nieuwe lied' ('The new song') by Jan Josef Horemans (II), 1740-1760, in which a cheerful company is having tea and coffee, and smoking while listening to a song played by a lady on the harpsichord. Two low sugar dishes filled with rock sugar also appear amongst a red teapot and other tea utensils in the anonymous painting 'Het theebezoek' ('The tea visit'), 1715-20, illustrated in C.W. Fock (ed.), Het Nederlandse interieur in beeld 1600-1900, Zwolle 2001, p. 217, ill. 168. Other tea necessities of the period would have included a tray, a water kettle, a teapot, often accompanied by a pattipan (teapot stand), a milk jug, a waste or slop bowl, a spoon tray, a tea canister or caddy, and cups and saucers.