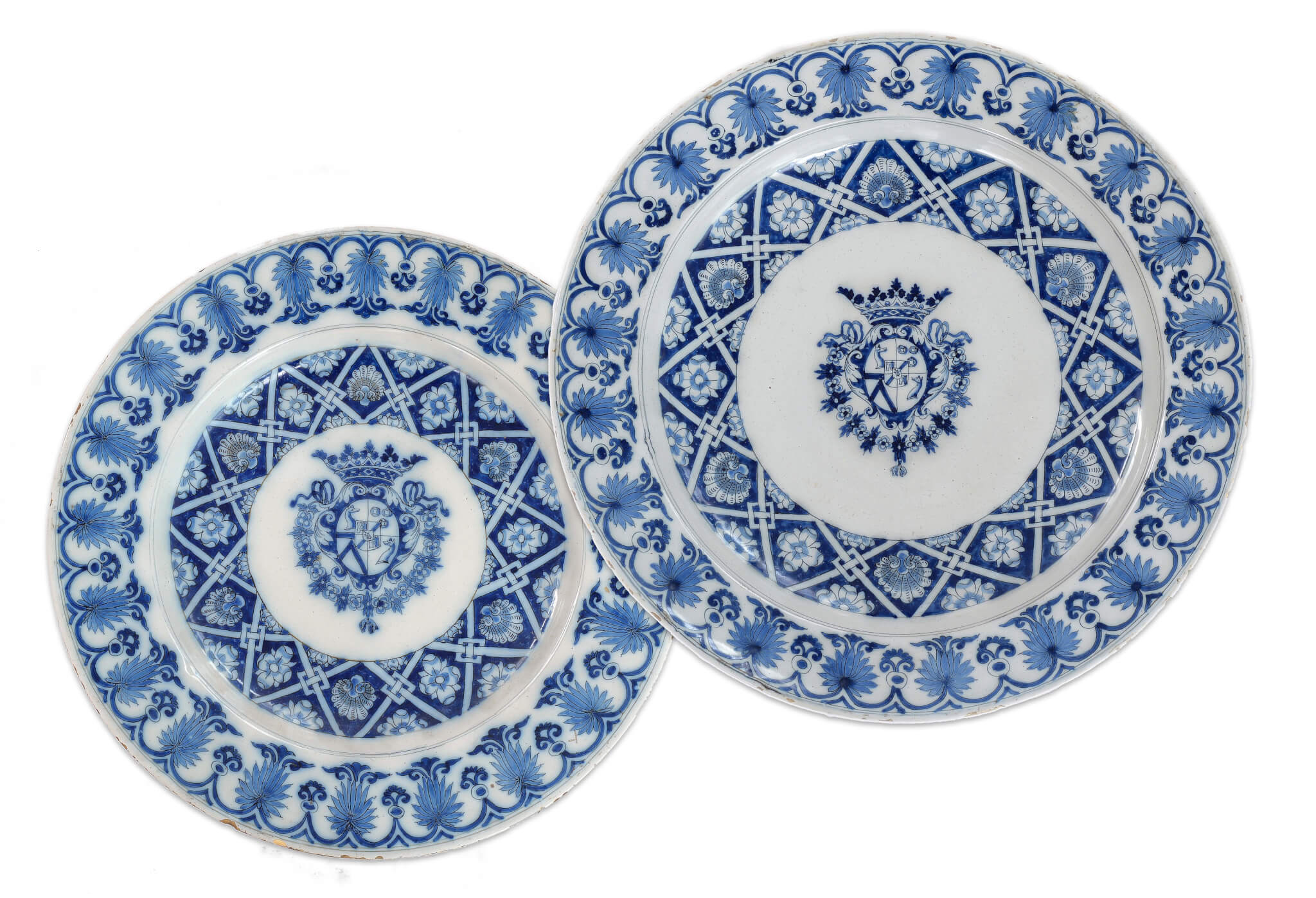 OBJECT
D1820. Two Blue and White Armorial Chargers
Delft, circa 1690
Each marked AK in blue for Adrianus Kocx, the owner of De Grieksche A (The Greek A) Factory from 1686 until 1701
Each painted in the center with the coat of arms of the House of Windisch-Graetz within a scrollwork medallion below the coronet and between a beribboned floral garland, encircled by a wide band consisting of interwoven belt and buckle motifs alternating flower heads, and the rim with a stylized floral and scroll border.
Diameters: 35.2 and 40 cm. (13 55/64 and 15 3/4)
Provenance:
The J. van Soest Collection, Rotterdam
Note:
Armorial dishes were often commisioned for special occasions, such as a birth or a wedding. From the first decade of the seventeenth century, wapengoet (armorial wares) became increasingly popular. The wares were decorated with the newly ascribed coats of arms of individual citizens. The coat of arms on these two chargers belongs to the House of Windisch-Graetz (or Windisch-Grätz), an aristocratic family from Windischgraz in Lower Styria (today Slovenj Gradec in Slovenia). In 1574, the family received the Bohemian inkolat, which granted them the right to acquire a noble estate, participate in the state councils, and apply for positions reserved for the member of the estate.
In 1551, the dynasty acquired the title of Freiherren, which traditionally refers to the third titled rank within the nobility below earl and count. These armorial chargers may have been commissioned at De Grieksche A (The Greek A) factory during the ownership of Adrianus Kocx from 1686 to 1701 by Gottlieb of Windisch-Graetz (1630 – 1695) or his son Ernst Friedrich (1670 – 1727). Since Gottlieb was stationed in The Hague, first as envoy, later as ambassador, from 1691 to 1693, it is most likely that he ordered the service. The career of his son Ernst Friedrich concentrated on court positions during the reign of Charles VI, which makes him a less likely candidate.